Alumni news
Alumni News Fall 2022
Career updates from past classes, starting with a note from the class of 1995.
1995
Sarah Purdy, MPH, was awarded an Order of the British Empire in June for her clinical research, teaching, and leadership in primary care and the broader field of medicine. She is the pro vice-chancellor for student experience at the University of Bristol.
1997
Onyekachi Ifudu, SM, published The Kidney Protection Project: A Primer for Kidney Failure Prevention in Nigeria (Amazon, 2022). The book focuses on improving awareness and debunking myths about kidney failure. Ifudu is a physician in New York.
1999
Bryan G. Nelson, SM, received the 2021 Sages of Clinical Services Award from UnitedHealth Group. The recognition is given to clinical professionals who personify integrity, compassion, relationships, innovation, and performance in their work. Nelson is the president and chief executive officer of MenTeach, a nonprofit working to increase the number of men educating young children.
2000
Sandro Galea, MPH, received a leadership award from the Interdisciplinary Association for Population Health Science at its annual meeting in September. Galea, a physician, epidemiologist, and author, is dean and Robert A. Knox Professor at Boston University School of Public Health. He previously held academic and leadership positions at Columbia University, the University of Michigan, and the New York Academy of Medicine. He has published extensively in peer-reviewed literature and is a regular contributor to a range of media about the social determinants of health and mental health, and the consequences of trauma.
2005
J. Nwando Olayiwola, MPH, was named one of Fierce Healthcare's Most Influential Minority Executives in Healthcare in April 2021 for her work in fighting racism using the health system. She is the chief health equity officer and senior vice president of Humana, Inc., and an adjunct professor at the Ohio State University College of Medicine and College of Public Health.
2006
Dzifa Kpodzo, MPH, became the chief of plastic and reconstructive surgery at Albany Medical Center in June. Her surgical interests include eyelid, aesthetic, and gender affirming surgeries. In 2012, Kpodzo was the first African American woman to graduate from the Harvard Plastic Surgery Residency Program. She also holds a medical degree from Harvard Medical School.
2008
Jocelyn Kelly, SM, was announced as a 2022 Burke Fellow in July. She is an instructor in emergency medicine at Harvard Medical School and the director of the Harvard Humanitarian Initiative's Gender, Rights and Resilience program. As a Burke fellow, Kelly will develop an evidence-based intervention to improve human and climate resilience in fragile settings.
2009
Jesse Ehrenfeld, MPH, is the first openly gay president-elect of the American Medical Association (AMA). He was elected June 14 at the AMA House of Delegates' annual meeting and will become president in June 2023. Ehrenfeld, an anesthesiologist and LGBTQ health expert, is an associate dean and professor of anesthesiology at the Medical College of Wisconsin.
2012
Norrisa Haynes, MPH, joined the Yale faculty in August as an assistant professor. Following her residency training at Columbia University College of Physicians and Surgeons, Haynes worked for Partners in Health in Haiti at Hôpital Universitaire de Mirebalais as a junior attending physician. During those two years, she also worked as a Harvard Medical School instructor and Brigham hospitalist. She later started a cardiology fellowship at the University of Pennsylvania's Perelman School of Medicine. She has published extensive research addressing racial and ethnic health disparities, notably SHARP: Safe Haircuts As We Reopen Philadelphia, a community-based initiative between barbershop owners and medical providers during the COVID-19 pandemic.
2013
Claudia Suemoto, SM, received a Busse Research Award at the 22nd World Congress of Gerontology and Geriatrics in June in recognition of her significant contributions to aging research. She is an associate professor of geriatrics at the University of São Paulo Medical School.
2017
Junaid Nabi, MPH, was named a Millennium Leadership Fellow by the Atlantic Council in August 2021. The program recognizes future leaders in international affairs between the ages of 25 and 35. As a fellow, Nabi is addressing misinformation in global health and developing health technology solutions for care delivery. He is a senior researcher at Harvard Business School.
2020
Bryan Buckley, DrPH, was elected to the executive board of the American Public Health Association in October 2021. He is a research fellow at the MedStar Health Institute for Quality and Safety and an adjunct assistant professor at the Georgetown University School of Medicine. Buckley made headlines in Washington, D.C., news outlets in October 2021 for performing cardiopulmonary resuscitation on a man experiencing a heart attack on a bike trail.
2021
Lora Council, MHCM, was named chief population health officer of Yuvo Health in March. The company supports the growth of community-based health care providers. She focuses on innovation and quality-driven initiatives.
---
In Memoriam Malavika Subramanyam, '09, ScD
Malavika Subramanyam, a passionate academic and dance enthusiast, died April 22. As an associate professor in the Humanities and Social Sciences program at the Indian Institute of Technology Gandhinagar, she studied the effects of socioeconomic context, neighborhood of residence, and macroeconomic factors on undernutrition, obesity, insulin resistance, and diabetes. She was previously a teaching assistant in the Harvard Chan School Department of Social and Behavioral Sciences, where she influenced an entire generation of students.
---
Biostatistics faculty and alumni honored
Seven faculty and alumni of the Harvard Chan School Department of Biostatistics were named American Statistical Association 2022 Fellows in May. They were recognized for their professional contributions, leadership, and commitment to the field of statistical science.
The honorees were Beth Ann Griffin, PhD '06, SM '03, senior statistician at the RAND Corporation; Steve Horvath, ScD '00, professor of human genetics and biostatistics at the Fielding School of Public Health at the University of California, Los Angeles; Haiyan Huang, professor of statistics and director of the Center for Computational Biology at the University of California, Berkeley, who was a postdoctoral fellow at the Harvard Chan School Department of Biostatistics from 2001 to 2003; Knashawn Morales, ScD '01, SM '97, associate professor of biostatistics at the Perelman School of Medicine at the University of Pennsylvania; Lu Tian, ScD '02, professor of biomedical data science at Stanford University; Michael Wu, PhD '09, professor in the Public Health Sciences Division at Fred Hutchinson Cancer Research Center; and José Zubizarreta, associate professor of biostatistics at Harvard Chan School.
Contributors
JL
Jessica Lau
Jessica Lau is a writer in the Office of Communications at Harvard T.H. Chan School of Public Health.
From the Issue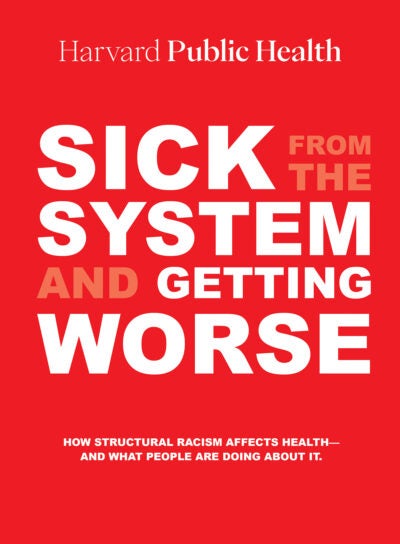 Fall 2022
Structural Racism