Alumni news
Alumni News Winter 2023
Honors, career moves, and items of note, starting with the class of 1997
1997
Scarlett Bellamy, SM, ScD '01, was announced as the chair of biostatistics at the Boston University School of Public Health in November. Currently a professor of epidemiology and the associate dean for diversity and inclusion at the Drexel University Dornsife School of Public Health, her research focuses on evaluating the efficacy of studies that promote healthy behaviors. Her appointment at Boston University begins in July.
2000
Andrea Foulkes, ScD, professor in the Department of Biostatistics, received the 2022 Lagakos Distinguished Alumni Award. The award honors former biostatistics chair Stephen Lagakos and recognizes alumni whose research, leadership, and commitment to teaching have had a major impact on the theory and practice of statistical science. Foulkes delivered her award lecture in October, entitled "Biostatistics and Infectious Disease Research: New Challenges in the Prevention and Treatment of Long-COVID."
2002
Ronnie Sebro, SM, PhD '07, was promoted to professor of radiology and orthopedics at the Mayo Clinic College of Medicine and Science in August. He specializes in musculoskeletal radiology.
2003
Melody Goodman, SM, PhD '06, was promoted in September to professor of biostatistics at the New York University School of Global Public Health, where she is also the vice dean for research. She studies the social risk factors that contribute to health inequities in urban areas, with the goal of developing culturally competent, region-specific, and evidence-based solutions through collaborative activities with communities.
2011
Miguel Marino, PhD, was elected to the National Academy of Medicine in October for being a world leader in primary care biostatistics. He is an associate professor in the departments of family medicine and biostatistics at Oregon Health and Science University. Additionally, as the co-founder of the Primary Care Latino Equity Research Lab, he pioneers novel quantitative approaches to study racial and ethnic populations using electronic health record data.
2012
Sihai Dave Zhao, PhD, was appointed in September as the director of computational genomics at the Carl R. Woese Institute for Genomic Biology at the University of Illinois Urbana-Champaign. As an associate professor of statistics, he uses large-scale genomic data to study complex biological systems.
2014
Megan Srinivas, MPH, won election to the Iowa House of Representatives on November 8. She is an infectious disease physician who ran on addressing the social determinants of health. Read an interview with Srinivas in the Spring 2022 issue of Harvard Public Health.
2021
Xihao Li, PhD, a postdoctoral research fellow in the Department of Biostatistics, received a Trans-Omics for Precision Medicine Fellowship from the National Heart, Lung, and Blood Institute. His research focuses on developing novel statistical methods to analyze large-scale genomic and other types of data.
---
Managing metabolic diseases with artificial intelligence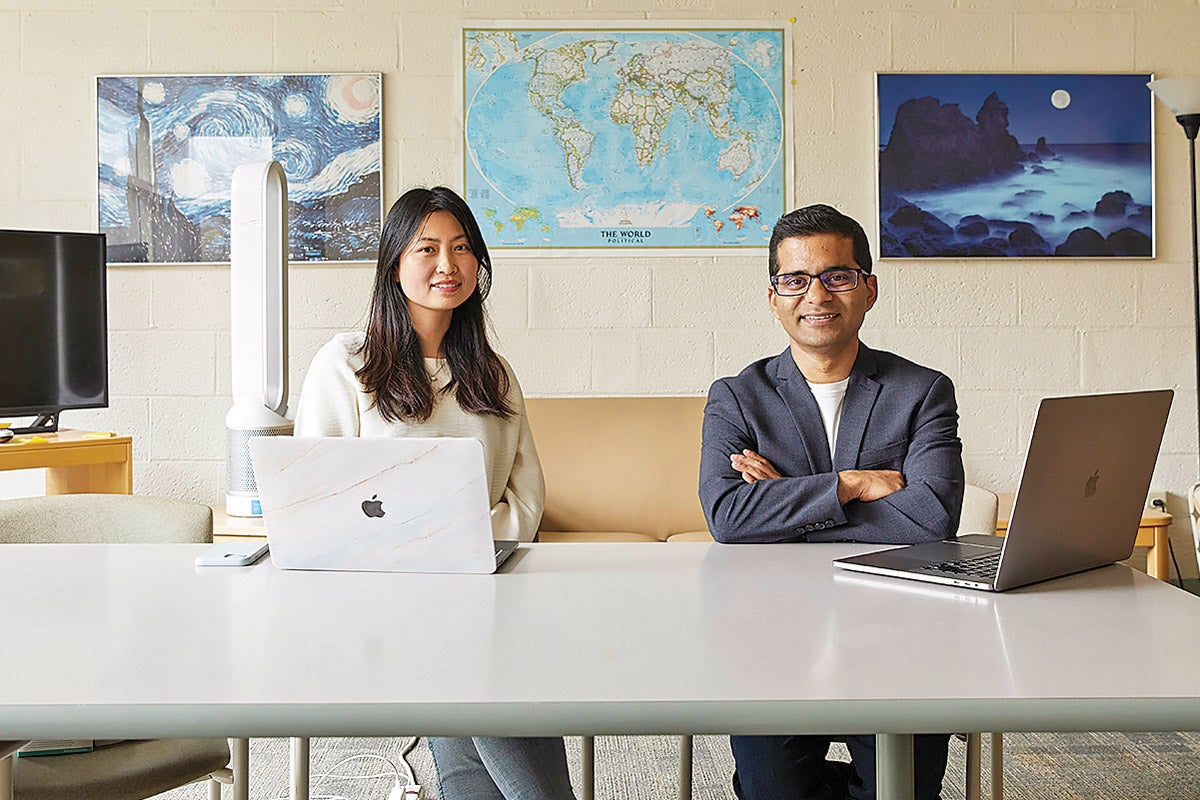 Jie Sun, SM '22, and Amber Nigam, SM '23, launched basys.ai, which aims to use artificial intelligence to address metabolic diseases such as diabetes, cardiovascular diseases, and chronic kidney diseases. The company is developing technology to help clinicians and insurance companies to predict and manage patient outcomes—for example, recommending treatment options based on patient risk. The company also helps streamline processes like prior authorization, claim resolution, and utilization management for insurance companies. The venture received a 2021–2022 Spark Grant from Harvard Innovation Labs.
---
In Memoriam
Lauren Gray Gilstrap, MPH '17, an advanced heart disease and cardiac transplant physician and researcher, died October 21 at age 38. Recognized as an outstanding clinician, educator, and scientist, and a sought-after mentor, she was a faculty member and program head for advanced heart disease and transplant cardiology in the Heart and Vascular Center at Dartmouth-Hitchcock Medical Center. Her research focused on improving the quality of clinical care for patients with heart failure. She is remembered as a loving parent and avid athlete who "always pushed herself to be the best and, in so doing, helped bring out the best in others."
Lauro deBosis Storm Halstead, MPH '70, a physician known for identifying and treating post-polio syndrome, died January 5, 2022 at age 86. He was inspired to become a doctor after recovering from a polio infection in his early 20s. His experience with recurring symptoms and progressive disability in his 50s led to him identify post-polio syndrome, which can affect survivors decades after they recover from their initial infection. Halstead also developed a technique to help fertility and conception in patients with spinal cord injuries. He is also remembered as a musician and a lover of all things Italian.
Charles Theodore Kaelber, MPH '67, DrPH '69, a psychiatrist who was passionate about serving patients with chronic and severe mental health conditions, died August 31 at age 84. Early in his career, he served with the U.S. Army at the Walter Reed Army Institute of Research and the Office of the Surgeon General. As a commissioned officer in the U.S. Public Health Service, he was a researcher and administrator at the National Institutes of Health. Later on, he provided psychiatric clinical services and professional consultation to several community mental health organizations in Maryland. His obituary notes that he valued being able to combine both research and service in his career.
Contributors
JL
Jessica Lau
Jessica Lau is a writer in the Office of Communications at Harvard T.H. Chan School of Public Health.
From the Issue