Opinion
Environmental damage in Ukraine raises the health costs of war
Rebuilding Ukraine will be a lesson about the costs of war—to both humans and the environment.
Read the full series: The Toxic Toll of War
War is always costly. We pay for it with our lives, health, and livelihoods. But war also has hidden costs, especially to the environment, both natural and built. And nowhere is that clearer right now than in Ukraine.
We depend on the natural environment to provide us with the necessary ingredients for our health and well-being: food, fresh water and air, energy, and biodiversity. The destruction of the environment through conflict, whether deliberate or inadvertent, threatens not just our health, but the health and security of all living things.  Conflict-related air pollution, soil and water contamination, and even the possibility of nuclear radiation do not respect borders, and have global consequences. Understanding and addressing damage to Ukraine's environment should concern the world.
Sign up for Harvard Public Health
What works. What doesn't. And why.
Delivered to your inbox weekly.
On February 24, 2022, Russia invaded Ukraine from the north, east, and south. The invasion has resulted in widespread destruction of ecosystems and large increases in pollution. Ukraine's Ministry of Environmental Protection estimates the total volume of pollutants emitted as a result of the war has reached 67 million tons over the past year.
Air pollution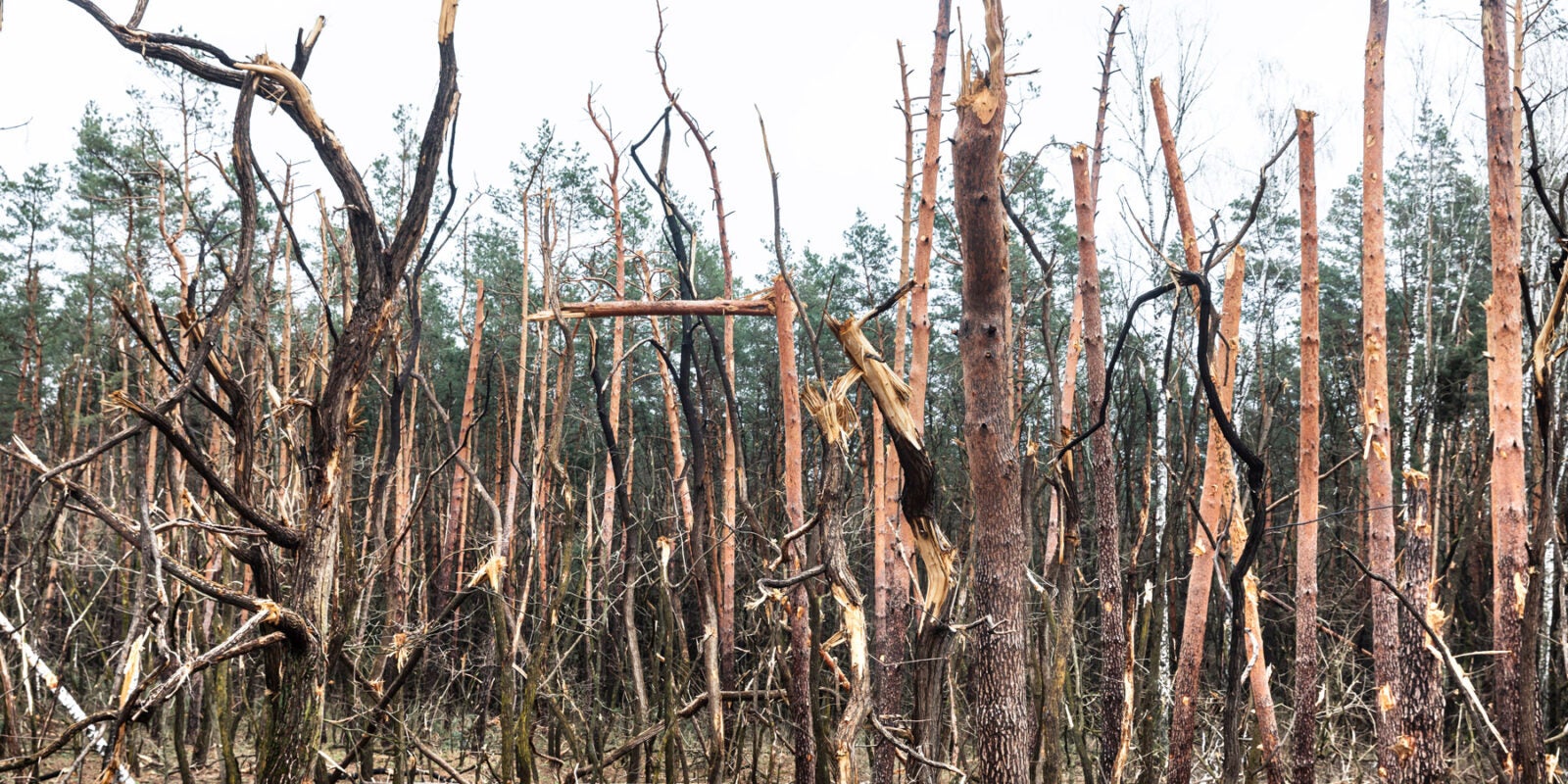 Ukraine's Ministry of Environmental Protection estimates:
33 million tons
of conflict-related greenhouse gas emissions
14k conflict-related fires
have released millions of tons of carbon into the air from burning biomass
570 toxic spills
or emissions from attacks on industrial facilities
Toxic emissions from attacks on industrial facilities have released plumes of nitric acid and ammonia that can severely burn the eyes, skin, and respiratory system.
Contaminated water, blighted seas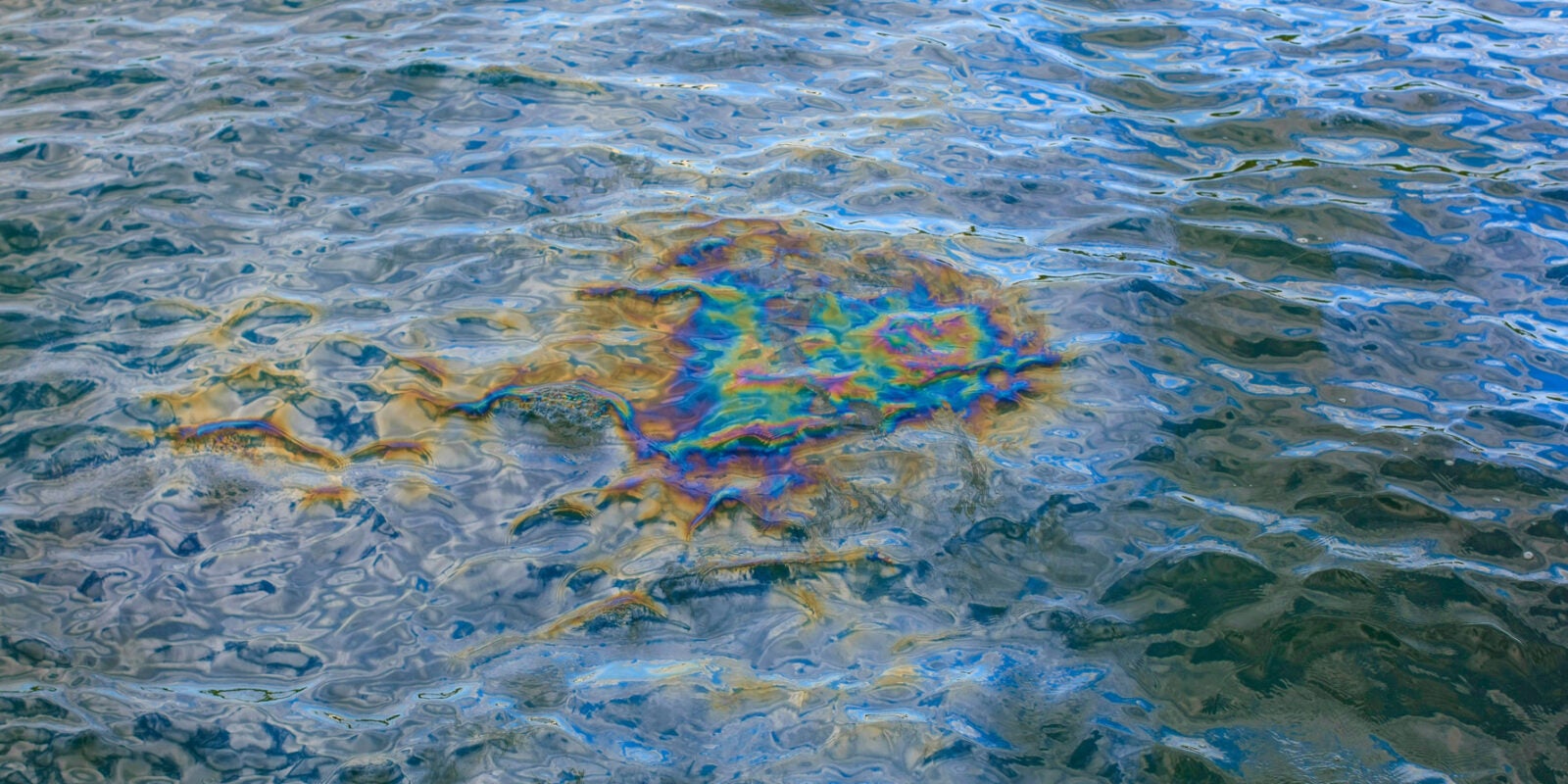 16 million people have required help with access to clean water and proper sanitation, increasing the risk of disease outbreaks.
Two-thirds of the coal mines in Ukraine have been destroyed or flooded as the result of military actions. Many of the mines contain toxic chemicals which can leach into surface and ground waters.
Hundreds of sea mines contaminate the Azov and Black Sea coasts and ports.
1,434 kms2 of the Sea of Azov are polluted from an oil spill in September.
Large numbers of dolphins have died from war-related naval activities.
Land…mined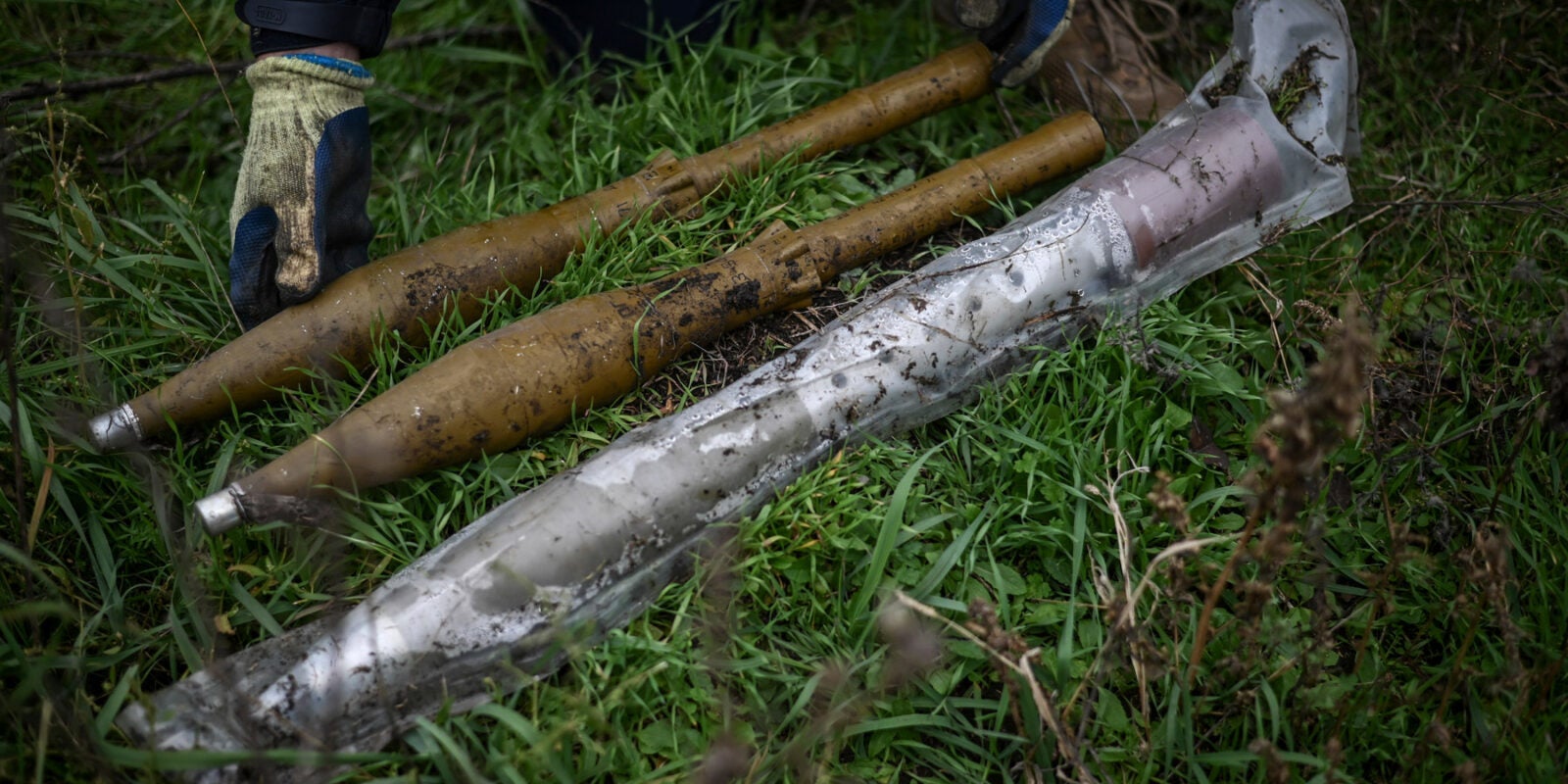 Up to 24,000 artillery rounds daily release toxic residues that contaminate the soil and water, affecting agricultural land and posing hazards to human health.
27% of the country is contaminated with landmines and unexploded ordinance.
It could take fifteen years to fully de-mine Ukraine.
Ukraine's MEP estimates that thirty percent of Ukraine's protected areas have been bombed, polluted, or hit by military maneuvers.
600 species of animals and 880 species of plants in Ukraine are now at risk of extinction.
Reduced to rubble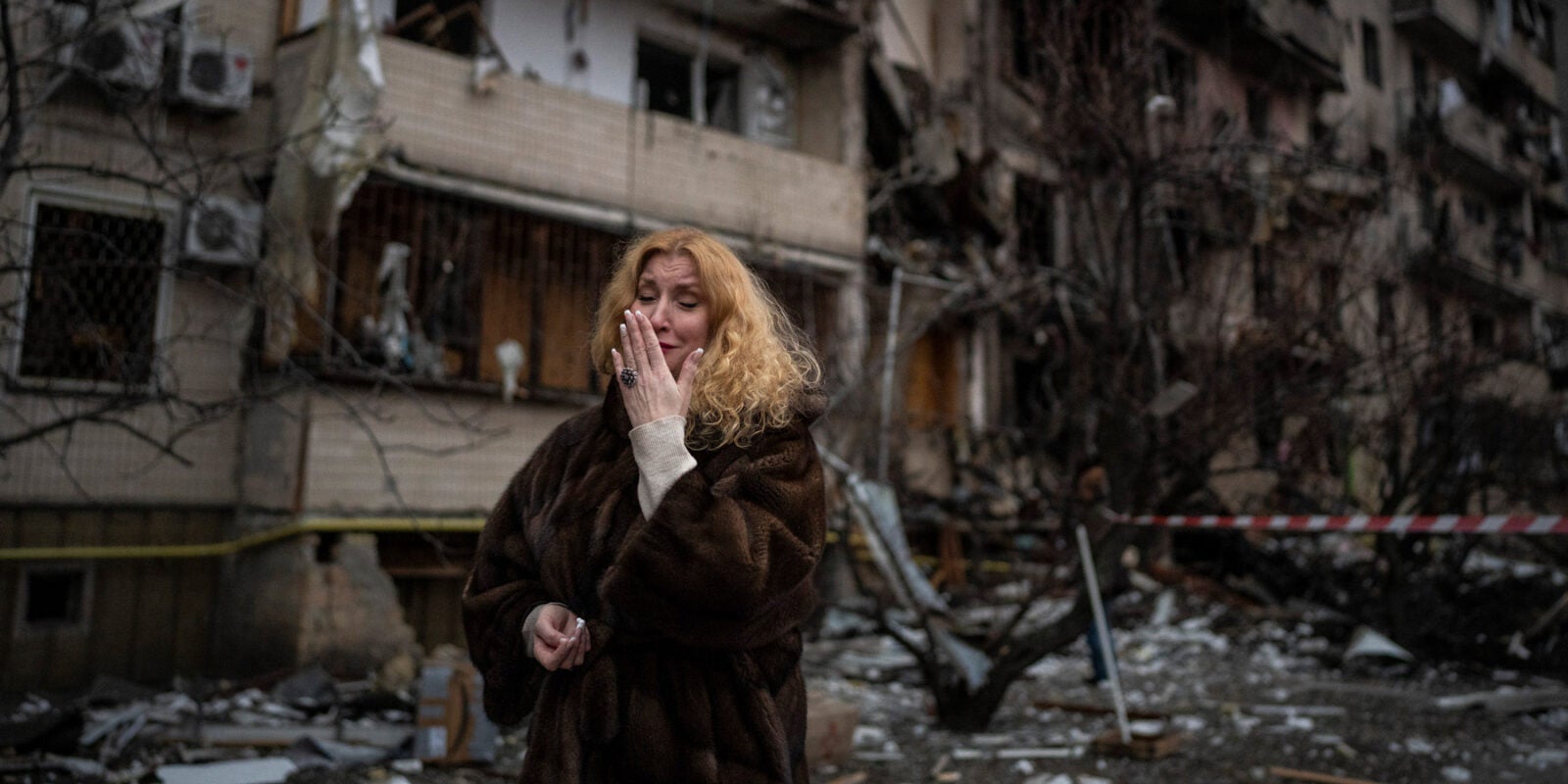 The war has destroyed or damaged much of Ukraine's civilian infrastructure resulting in over 12 million people fleeing their homes. According to the Kyiv School of Economics, the total damage to Ukraine's infrastructure includes:
17.5k
apartment buildings
1,131
health care faciliites
50%
Ukraine's energy infrastructure
Threat of nuclear radiation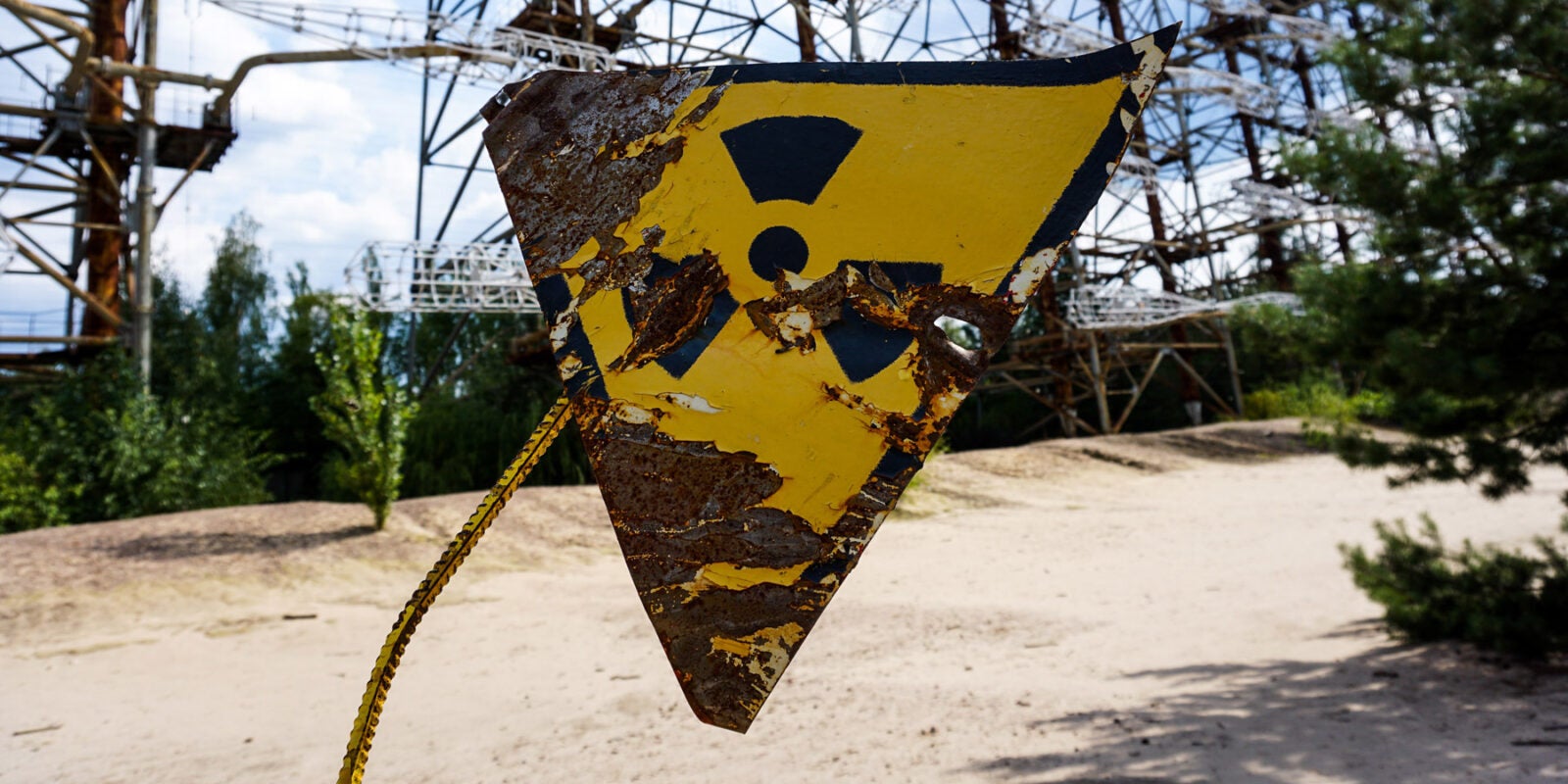 In March 2022, Russia seized one of Ukraine's four nuclear power plants: the Zaporizhzhia nuclear power plant (ZNPP), representing the first military takeover of a nuclear power plant in history.
The ZNPP is Europe's largest nuclear power station and has been subject to shelling and frequent interruptions of its electrical power supply, representing a major safety threat. A prolonged loss of electrical power to the plant could lead to a system breakdown and radiation leaks, similar to what happened at the Fukushima nuclear power plant in Japan. In 2011, a tsunami flooded the plant, knocking out electricity and flooding nuclear reactors causing a major crisis. Nearly half a million people were forced to leave their homes. According to the Bulletin of the Atomic Scientists, a similar crisis at the ZNPP could force the relocation of several million people in up to five countries.
---
International law provides protections for the environment in times of war. A 1976 convention prohibits the deliberate "manipulation" or destruction of the environment as a means of warfare—for example, causing an earthquake. Both Russia and Ukraine are party to this treaty, and thus bound by its provisons. A 1977 Geneva Convention additional protocol also prohibits attacks on dams, dikes, and nuclear generating stations, and bans weapons that cause "widespread harm, long-term and severe damage to the natural environment."
On November 23, 2022, the European Parliament passed a resolution designating the Russian Federation as a state sponsor of terrorism for "the destruction of civilian infrastructure and other serious violations of international and humanitarian law [that] amount to acts of terror and constitute war crimes."
The World Bank estimates Ukraine will require between $500-$600 billion for recovery and reconstruction. Ukraine has established a National Council for Recovery to help transform Ukraine into a post-war green and net-zero economy.
Rebuilding Ukraine will be a global effort, but as Leon Trotsky famously said, "You may not be interested in war, but war is interested in you."
Contributors
DH
Daniel Hryhorczuk
Daniel Hryhorczuk is professor emeritus at the University of llinois at Chicago School of Public Health, and an international member of the Ukrainian Academy of Medical Sciences. He holds an MD, MPH and is a fellow of the American College of Medical Toxicology (ACMT) and Collegium Ramazzini.
MD
Mary Delaware
Mary Delaware is the senior graphic designer at Harvard Public Health.