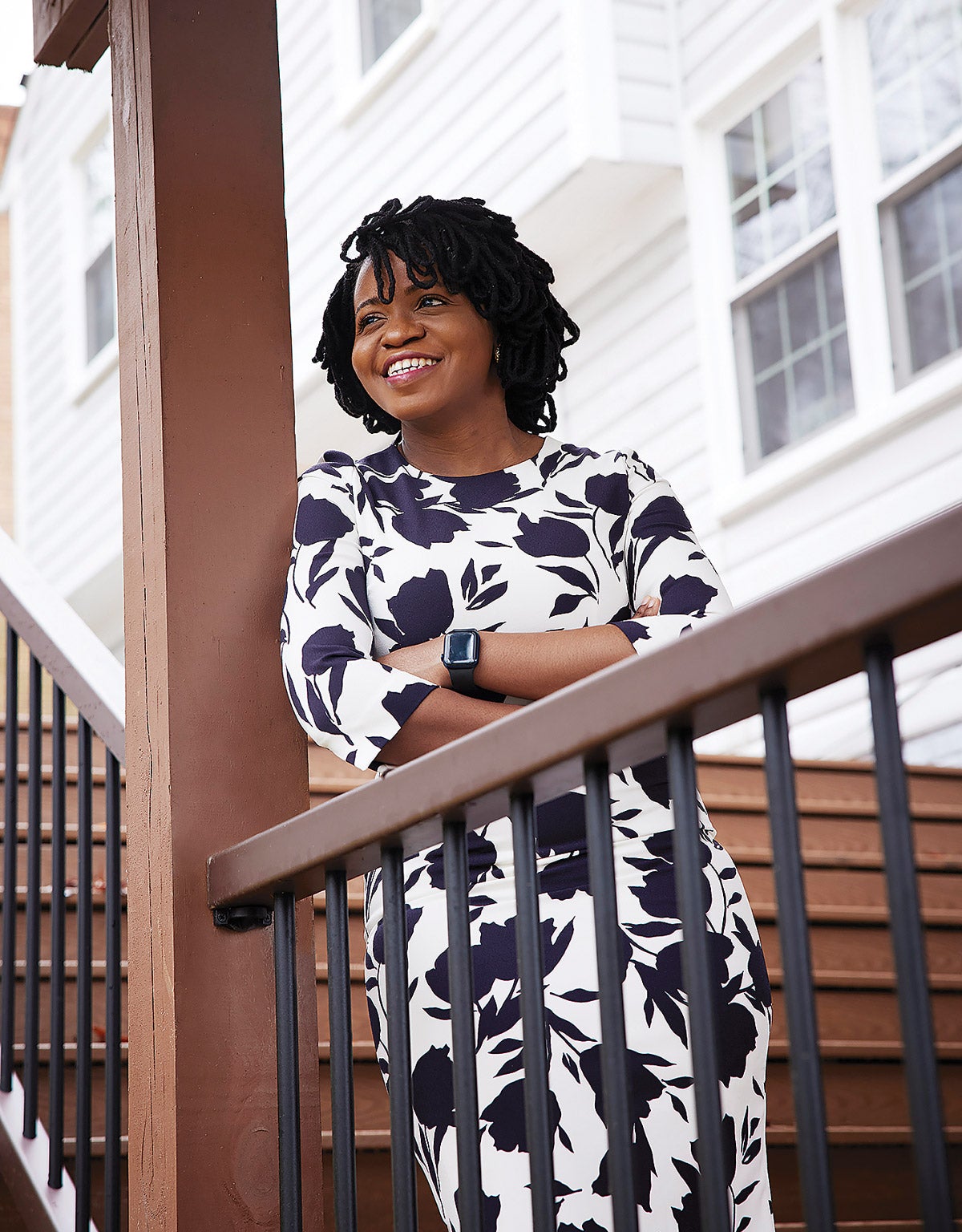 Philanthropic impact
"Nothing about us without us"
It took leaving Nigeria for Anuoluwa Ishola, DrPH '21, to fully understand her country's public health challenges and to dedicate herself to making a difference for its people.
Anuoluwa Ishola spent much of her childhood going to work with her mother, a public hospital pharmacist in Nigeria, learning the ins and outs of the public health field. On these trips, she often witnessed patients suffering from malaria—but it wasn't until she moved to the United States as a teenager to attend college that she learned people actually die from the disease. She herself had contracted malaria many times.
"It was then that I realized what kind of privilege I had—access to health services and ability to afford treatment that others did not have," she says. "I felt as though I was learning more about my country outside my country."
After earning an undergraduate degree in biological sciences from Bowie State University and an MPH from George Washington University, she returned to Africa to start her public health career, serving in multiple roles over the next decade, including chief operating officer of the Nigeria-based Unveiling Africa Foundation and health system analyst with the World Health Organization.
Through her work, she's come to see that people in countries like Nigeria who benefit from public health aid are often notinvolved in the decisionsthat impact their lives. "That shifted how I see public health," she says. "That shifted my desire to want to do more and learn more."
She came to Harvard T.H. Chan School of Public Health in 2018 for the DrPH program and says she enjoyed the opportunity to gain clarity around her work and to learn from her diverse cohort of fellow students. "I believe you're the summation of all your experiences, and I'm thankful for this one, which I know would not be possible without the support I received," she says.
Ishola received funding from the Leadership Incubator for Strengthening Health Systems and the Julio Frenk Doctor of Public Health Fellowship. Frenk, a former dean of the Harvard Chan School and current president of the University of Miami, knows how important it is to provide financial aid to future leaders in public health.
"Back when this initiative came to fruition, our donors said the most special part about it was that it spoke to the strong belief we had, and have to this day, in the power of young people, the people who are our future, the people who can change the world," he says. "It's incredible to see recipients of this support, like Anu, proving this, through their post-graduation accomplishments."
After graduation, Ishola became a regional engagement director for West and Central Africa at Last Mile Health, an organization in Boston that she worked with as a doctoral student. Last Mile Health aims to put a health worker within reach of everyone, everywhere, by building teams of community and frontline health workers to deliver primary health care to remote communities in countries including Nigeria.
"As someone who grew up in Nigeria and decided to do work for Nigeria, there are certain perspectives, biases, and unique circumstances I knowI bring to the table," Ishola says. "I like to say 'nothing about us without us.' I want to make sure we all learn how to best address the decisions that impact our own lives—because who better to serve a community than someone who's such a big part of it?"
Contributors
SS
Shweta Shreyarthi
Shweta Shreyarthi is associate director for development communications at Harvard T.H. Chan School of Public Health.
KD
Kent Dayton
Kent Dayton is the staff photographer and photo editor at Harvard Public Health.
From the Issue