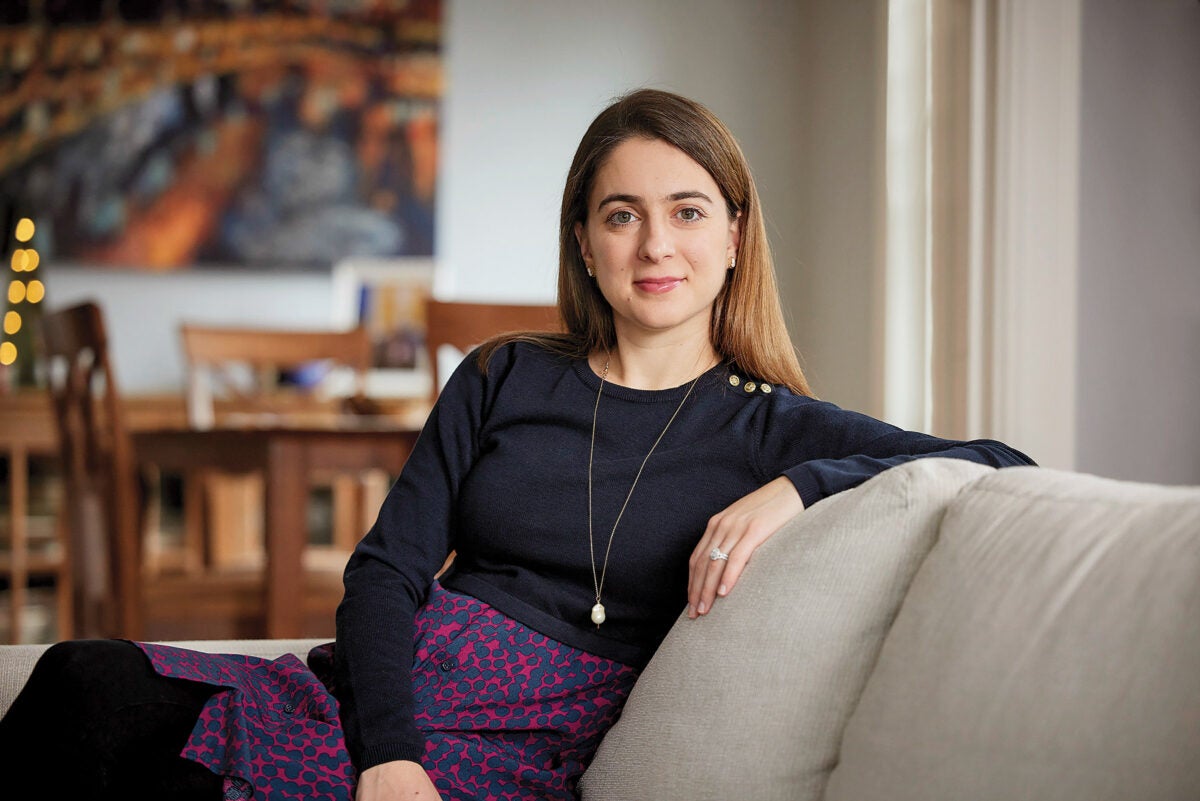 Philanthropic impact
Creating a spirit of sharing in public health
Antonella Lisanti-Park, MPH '18, works to make the Massachusetts public health system more efficient, effective, and equitable.
"Be creative. Be an advocate. And center equity in what you do." Antonella Lisanti-Park says these important qualities were instilled in her as a child and are crucial for leaders in public health and public service.
Lisanti-Park was born in the Bronx to immigrant parents who kept close ties to their Italian culture. "I'm definitely a product of immigrants," she says. This upbringing allowed her to see the connection between social determinants of health and marginalized, underserved communities—and inspired her to study social and behavioral sciences at the Harvard T.H. Chan School of Public Health.
While at the School, Lisanti-Park had a transformative internship with the Department of Health and Human Services (HHS) in Worcester, Mass., where she developed a plan to evaluate health education access in the school system. Inspired by that experience, she jumped at the opportunity to join the Worcester HHS team full-time and later, the Massachusetts Department of Public Health in 2019.
Now, she's helping shape public health systems across the state by managing a multi-million dollar grant for the Office of Local and Regional Health. The goal of this funding is to strengthen local public health infrastructure by encouraging local health departments to form inter-municipal shared service arrangements to pool their resources, functions, and expertise. This will improve local health departments' compliance with regulatory requirements and enable them to expand the services and programming that they provide.
This type of work—improving public health through public service—is where Lisanti-Park's passion lies, and she's grateful for the financial aid support from the Esther and Sumner Feldberg Fellowship that helped her to make it a career. "As we all know, areas of passion don't exactly correlate with the amount of money made," Lisanti-Park says. "But the financial backing I received during my time at the School made me feel comfortable pursuing my passion after graduation."
Lisanti-Park says she looks forward to continuing to work on programs that directly serve people, strengthen and challenge pre-existing systems, and address population health inequities. She's proud of the work she has already accomplished but knows, in public health, "there's always more work to be done."
A legacy of student support
Sumner Feldberg felt strongly about supporting Harvard Chan students, both because they often earn less than those who earn degrees from other schools within the University and because of the School's mission to do good in the world. Feldberg, whose philanthropy continues to reach many areas at Harvard, passed away this summer. His wife Esther and his children, Michael Feldberg and Ellen Feldberg Gordon, continue to support the Harvard Chan School. Read more about Sumner Feldberg.
Michael Feldberg says, "Our father wanted deserving individuals to receive the necessary support to pursue their passions, while receiving the necessary financial support to help make the world a better place. Antonella's work embodies that ideal, and hopefully will continue doing so for years to come, which is exactly what our father hoped for all Esther and Sumner Feldberg Fellowship recipients."
Contributors
SS
Shweta Shreyarthi
Shweta Shreyarthi is associate director for development communications at Harvard T.H. Chan School of Public Health.
KD
Kent Dayton
Kent Dayton is the staff photographer and photo editor at Harvard Public Health.
From the Issue