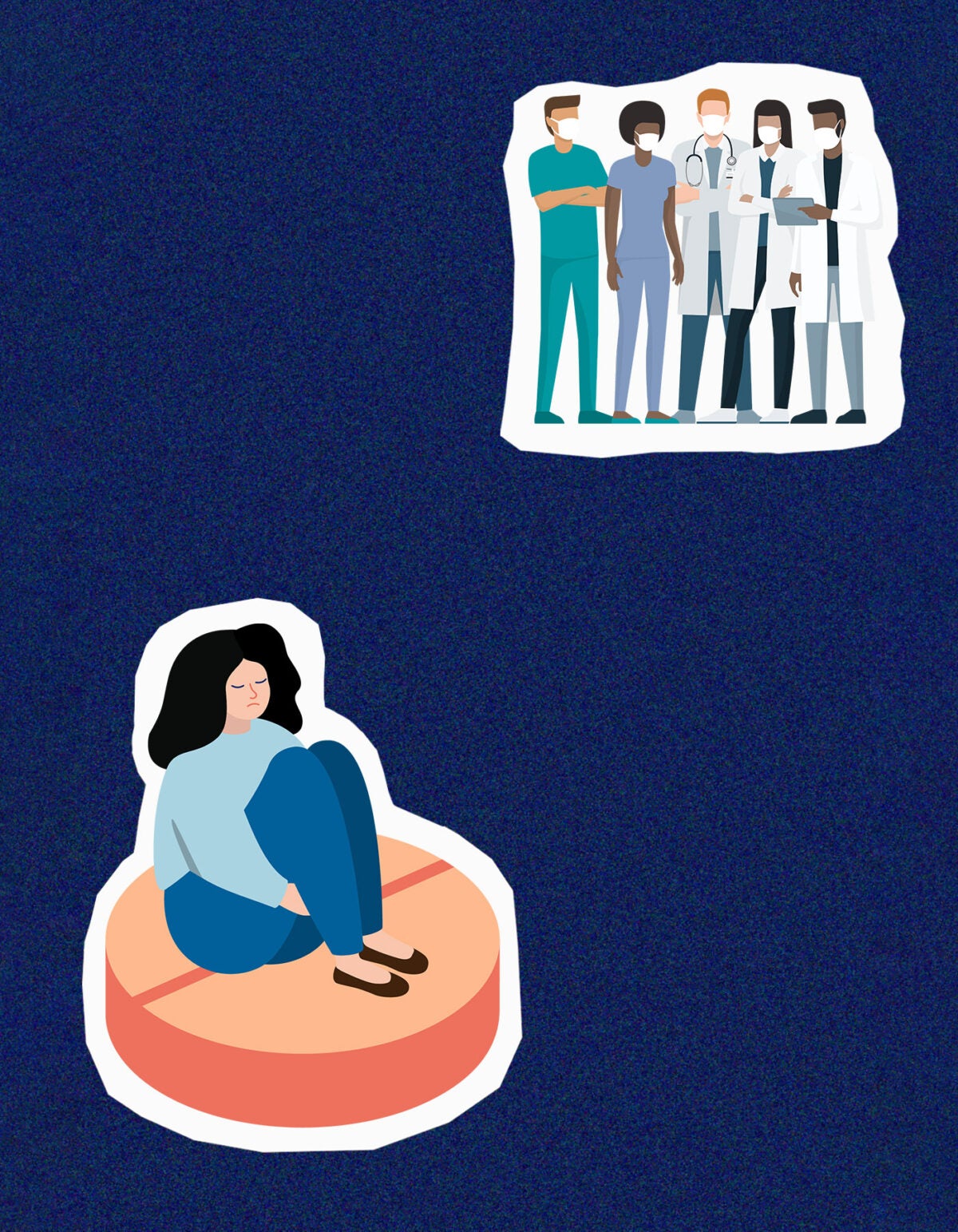 Essay
Who is a "difficult" patient?
Addiction medicine is often viewed as a fringe practice, and yet thousands die every year of complications from substance use disorders. So why don't more doctors enter the field?
The first time I saw treatment for an opioid use disorder up close was at a New York City methadone clinic in 2016. I was part of a research team following patients during their first year of medication-assisted treatment, in this case methadone. One man, I'll call him Mr. G, was a patient and agreed to participate in our study.
Mr. G, a middle-aged man, was a quiet city employee who became dependent on oxycodone, a powerful opioid used for pain management, after being prescribed the drug for a sports injury. To get his daily dose of methadone, Mr. G had to travel over an hour each way on the subway to reach the clinic. Methadone is a medication used to treat opioid use disorder, and the treatment helped Mr. G manage his opioid addiction and provide the stability he needed to go to work and live his life. I spoke with Mr. G often. He rarely missed his methadone dose if he could help it and attended every one of our research study appointments—15 during his first year of treatment. Stability was important to him, he told me, and he was committed to staying on his methadone treatment.
Methadone is one of the most heavily regulated medicines in the country, and current rules require that every dose of methadone be taken under the direct supervision of a health worker at specially designated clinics.
Sign up for Harvard Public Health
What works. What doesn't. And why.
Delivered to your inbox weekly.
When Mr. G's work schedule clashed with the clinic's hours, he was forced to miss his dose. When this happened, Mr. G sometimes bought heroin to prevent the agonizing symptoms of withdrawal. Buying heroin illicitly exposed him to both health and legal risks, as unregulated drug supplies are often unsafe, and heroin possession is criminalized. I wondered, why couldn't we work with Mr. G to get him his medication, even if he couldn't make it to the clinic? The rules of methadone treatment struck me as unrealistic for someone in Mr. G's position.
I saw providers at the methadone clinic grow frustrated with Mr. G's relapses, and sometimes blame him for missing his doses at the clinic. I heard a common refrain applied to patients like Mr. G: "difficult." While my time at the methadone clinic showed me that working with people who struggle with substance use disorders can indeed be difficult, I began to wonder—perhaps it's the medical system that makes treatment difficult, not the patients.
Examining how we treat people who use drugs is essential to advancing public health aims. In 2021, the U.S. recorded over 107,000 overdose deaths, a dramatic increase from the previous year. Despite this alarming statistic, access to evidence-based addiction treatment remains abysmal. The National Survey on Drug Use and Health found that only 6.5% of people who needed substance use treatment received any in 2020.
Over the past few years, more resources have been poured into fighting the opioid overdose crisis. States are pushing to expand harm reduction services like syringe exchanges and even safe consumption spaces. States are removing barriers to medication-assisted treatments like methadone and buprenorphine—another medication for opioid use disorder. Despite this nationwide push to make treatment and support services more accessible, many counties still lack any treatment services at all. Why? In part because medical providers avoid addiction medicine.
For example, even though it's now easier to get a license to prescribe buprenorphine in some states, physicians are reluctant to pursue certification. One recent study found there has been only modest growth in the number of buprenorphine providers across the country despite regulatory changes, with stigma against people who use drugs playing a role in preventing clinicians from becoming buprenorphine providers.
I am a fourth-year medical student. When I started medical school, I was sure my classmates and professors would share my frustration about the state of addiction treatment and sense of urgency toward the overdose crisis. Instead, I found that classroom lectures focused on the unique challenges that people who use drugs create for medical providers. When I told professors about my interest in addiction medicine, they invariably equivocated. "That's a difficult population," they'd say, "you must have a big heart."
The term "difficult patient" is part of the informal medical school lexicon. It's not found in any medical textbook, but every student understands what it means. The "difficult" patient is someone who struggles to comply with treatment, who might refuse treatment, or otherwise creates friction within the system. These are the patients that providers "do not want in their waiting room." The more I heard this term the more I recognized that difficult patients are often those who live in poverty and, as a result, suffer from all the associated health problems that come from lacking health insurance, healthy food, and a safe home.
Being a difficult patient is by no means isolated to people with addiction, and challenging patients from across the economic spectrum do exist, but the label is applied most systematically to patients with substance use disorders and those who live in poverty.
But these are the patients the health care system should prioritize. As the famous physician and "founder of social medicine," Dr. Rudolf Virchow once wrote, "physicians are the natural attorneys of the poor, and the social problems should largely be solved by them."
Indeed, it is the duty of medical providers to help all patients seeking care, regardless of how difficult they think that care might be. Instead of blaming patients with substance use disorders for their difficulties in getting or continuing treatment, we need to reframe things from their perspective. These are patients who have endured immense hardship, have been cast down by society, and are often mistreated by health care providers when they do summon the courage to seek help. Given the scope of the overdose crisis, the medical profession must stop pushing addiction medicine to the fringes of care where too few health providers take care of too many patients.
To do this, the medical community must first root out deeply held stigma and misconceptions around addiction treatment. Even though we are trained to provide the highest attainable standard of care to all who walk into our offices, the reality is we hold biases the same as anyone else. And the bias against people who use drugs is strong.
At the core of this stigma lies our own indecision on whether addiction is a disease, a lifestyle choice, or both. The science says drug use rising to the level of addiction is a disease, but this growing body of literature has yet to make its way to all levels of addiction treatment, especially the significant amount of treatment that happens within the criminal justice system. Even when providers embrace the disease model, deep skepticism remains toward medication-assisted treatment for opioid use disorder. Some treatment providers are skeptical that trading "one drug for another" is an effective way to manage opioid use disorders and will refuse to prescribe methadone or buprenorphine, despite both medications being placed on the W.H.O. model list of essential medicines.
Even though many medical professionals remain wary of treating substance use disorders, the contingent of "big-hearted" addiction medicine providers is vocal and growing. Many of my medical school mentors and colleagues care deeply about delivering care for underserved populations and are experts in providing compassionate care to people who use drugs. During one of my surgical rotations, the chief resident asked me to teach the team about managing buprenorphine to prevent the patient from going into withdrawal during surgery.
To save lives and end the overdose crisis, physicians and advanced practice providers must make addiction treatment part of their regular practice, apply in greater numbers to prescribe medications for opioid use disorder, and be more willing to work with patients who use drugs. These are key changes needed to meaningfully reduce overdose deaths.
Patients like Mr. G deserve to be treated with dignity and have access to the best standard of care we can provide. It is the medical system Mr. G must navigate that is difficult, not always the other way around. And it is our job as medical professionals to ease that burden for those most in need of our care.
Contributors
JCM
John C. Messinger
John Messinger, MD, is a graduate of Harvard Medical School and internal medicine resident at the University of California, San Francisco.
MD
Mary Delaware
Mary Delaware is the senior graphic designer at Harvard Public Health.