People
Faculty News Winter 2022
Awards, honors, and other recognitions for a wide range of faculty.
Awards and Honors
Mary Bassett, director of the François-Xavier Bagnoud (FXB) Center for Health and Human Rights at Harvard University and FXB Professor of the Practice of Health and Human Rights, became commissioner of health of the State of New York on December 1. She is taking a leave of absence to serve in this role, and Natalia Linos, the FXB Center's executive director, is acting director. Bassett served as New York City's health commissioner for four years before joining Harvard Chan School in 2018.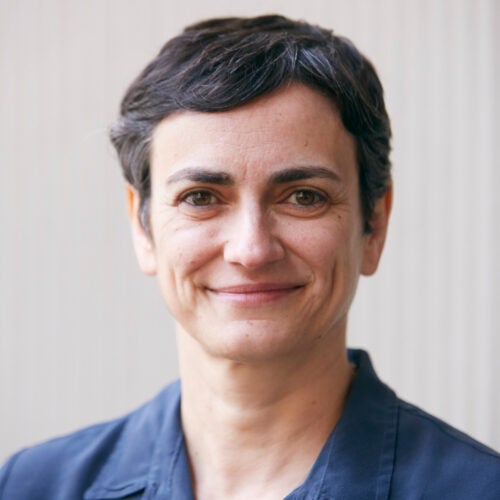 Flaminia Catteruccia, professor of immunology and infectious diseases, was named a Howard Hughes Medical Institute (HHMI) investigator in September. Catteruccia's lab studies the biology of the Anopheles mosquito and the malaria parasite that develops inside it, with the aim of identifying new solutions for disease control. HHMI will provide Catteruccia with about $9 million in support.
Marcia Castro, Andelot Professor of Demography and chair of the Department of Global Health and Population, was named an AAAS Fellow by the American Association for the Advancement of Science in January. Fellows are elected to recognize distinguished efforts on behalf of the advancement of science or its applications.
Kizzmekia Corbett, assistant professor of immunology and infectious diseases, was named one of four "heroes of the year" for 2021 by Time magazine for helping develop the mRNA-based vaccine platform that enabled the creation of COVID-19 vaccines. Corbett, who conducted the work at the National Institutes of Health Vaccine Research Center, was named a "Federal Employee of the Year" in October. Additional recent honors include an Innovators in Health award from the New York Academy of Medicine, a North Carolina Award, and an inaugural membership in the Global Virus Network's Rising Star Mentorship program.
Robert Farese, Jr., and Tobias Walther won the 2022 ASBMB–Merck Award from the American Society for Biochemistry and Molecular Biology in recognition of their outstanding contributions to the field. Both are professors of molecular metabolism. They will discuss their joint lab's work on the biology of cellular lipid synthesis and storage at the ASBMB annual meeting in April.
Alan Geller, senior lecturer in the Department of Social and Behavioral Sciences, received a Massachusetts Teachers Association (MTA) President's Award in April. Geller's research focuses on cancer screening, cancer epidemiology, and tobacco cessation. During the pandemic, he advised school districts and the MTA on safe return-to-school policies and has been very active working on ways to bolster pediatric vaccinations equitably across Massachusetts.
James Hammitt, professor of economics and decision sciences, won the 2021 Bermuda One-Two yacht race in June, a 1,270-mile, there-and-back race between Newport, Rhode Island, and St. George's, Bermuda. It gets the name "One-Two" because the first five-day leg of the race is sailed solo and the second with a crewmate. It was the first such race for Hammitt, co-director of the Harvard Center for Risk Analysis.
Michelle Holmes, associate professor in the Department of Epidemiology, received a 2021 Brigham and Women's Physicians Organization Pillar Award for community service on September 24. She was recognized for her work with the Boy Scouts of America (BSA) on reducing discrimination based on sexual orientation, including girls within the BSA, and improving access to Scouting for underserved populations.
Sheng Tony Hui, assistant professor of molecular metabolism, is part of a research team that was short-listed in June for a Cancer Grand Challenges award and the opportunity to win roughly $25 million in funding. Hui is a member of a team called CANCAN (CANcer Cachexia Action Network), which is exploring cachexia—an extreme wasting condition often experienced in the late stages of cancer—to better understand it and to pave the way for new treatments. Winning teams will be announced in March.
Rebecca Kahn, visiting scientist and former postdoctoral research fellow at the Center for Communicable Disease Dynamics, was named a 2021 STAT Wunderkind in November. The award recognizes top early-career researchers in health and medicine. Kahn's research focuses on using infectious disease modeling to enhance epidemic preparedness and response.
Marc Lipsitch, professor of epidemiology and director of the Center for Communicable Disease Dynamics, was named the 2021 recipient of the American College of Epidemiology's (ACE) Special Award for modeling in real time the spread of the coronavirus, developing innovative methods to track the spread of disease, and suggesting vaccine prioritization strategies. The award was presented virtually on September 10 at ACE's annual meeting. Lipsitch also received the Wade Hampton Frost Lectureship Award from the Epidemiology Section of the American Public Health Association, and delivered the lecture on October 25.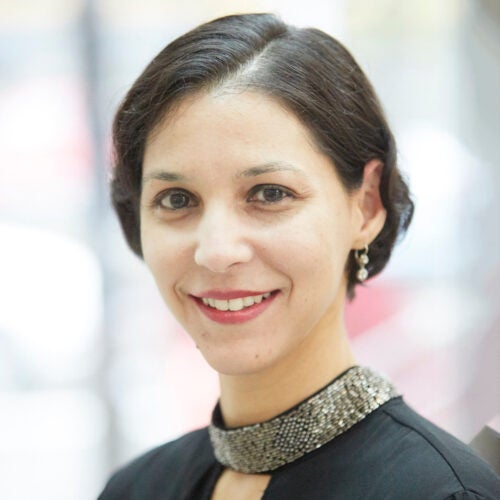 Josiemer Mattei, Donald and Sue Pritzker Associate Professor of Nutrition, is this year's recipient of the School's Alice Hamilton Award. She delivered the award lecture virtually on November 15. Karestan Koenen, professor of psychiatric epidemiology, and Margaret Kruk, professor of health systems, were also recognized at the event with the newly renamed Marianne Wessling-Resnick Memorial Mentoring award. Mattei also was appointed in the fall to the editorial board of The Journal of Nutrition.
Muhammad Pate, Julio Frenk Professor of the Practice of Public Health Leadership, was appointed co-chairperson of the Global Council on SDG 3, part of a network of 17 councils aiding implementation of the United Nations Sustainable Development Goals at national and global levels. SDG 3 is focused on health. Pate is the former minister of state for health of Nigeria.
Eric Rubin, adjunct professor of immunology and infectious diseases and editor-in-chief of the New England Journal of Medicine, and Renee Salas, Yerby Fellow at the Center for Climate, Health, and the Global Environment at Harvard Chan School, an emergency medicine physician at Massachusetts General Hospital, and a professor of Emergency Medicine at Harvard Medical School, were elected to the National Academy of Medicine in October. Election to the Academy is considered one of the highest honors in the fields of health and medicine.
Tyler VanderWeele, John L. Loeb and Frances Lehman Loeb Professor of Epidemiology, was named an International Positive Psychology Association Fellow in July.
Aisha Yousafzai, associate professor of global health, received the 2021 Outstanding Mentor Award from the School's Postdoctoral Association. She was recognized in September for supporting the intellectual and professional growth of her mentees, broadening their networks, providing opportunities for their career development, and for being an inclusive and supportive team leader.
Appointments and Promotions
Appointments
Christy Denckla, assistant professor of social and behavioral sciences
Alecia McGregor, assistant professor of health policy and politics
Dong Wang, assistant professor in the Department of Nutrition
Promotions
From the Issue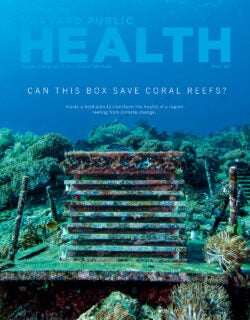 Winter 2022
Climate, changed