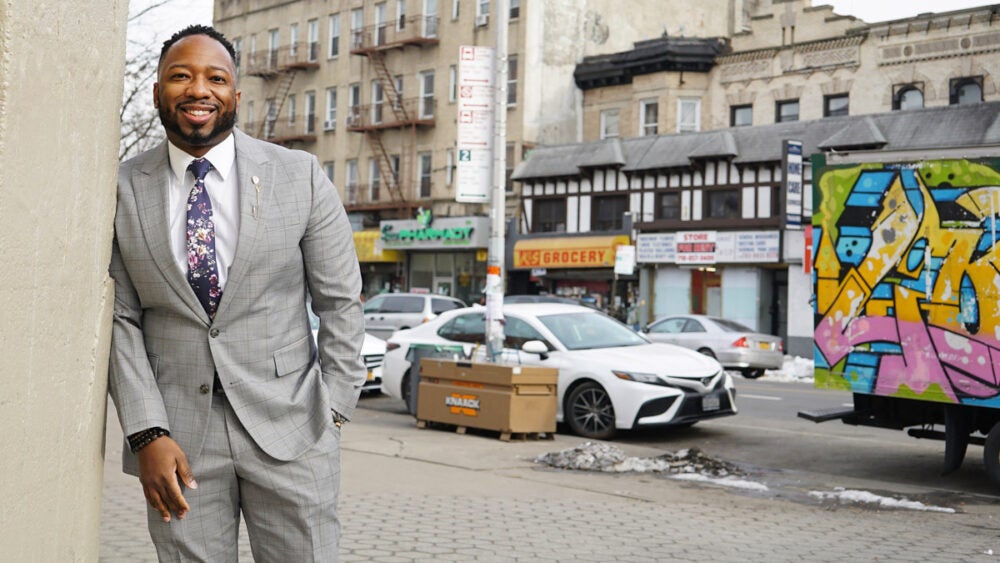 People
Shamard Charles gets the word out
The physician and health journalist on the power of telling stories in the classroom, online, and in his podcast "Heart over Hype."
Shamard Charles is a physician and health journalist driven to help inform people about how to live their healthiest lives. He's reported for NBC News and served as a global press fellow for the United Nations Foundation. Now director and assistant professor of public health graduate studies at St. Francis College in Brooklyn, New York, he's keeping up his health communication career as a writer and board member with the websites TheGrio and VeryWell Health, and as creator and producer of the podcast Heart over Hype. He spoke to Associate Editor Amy Roeder about reaching people where they are—from the classroom to the podcast feed—and how a basketball injury proved life changing.
Q: When did you start becoming interested in medicine and science? Did you have any role models who influenced your career direction?
A: I think I was interested in medicine and science before I knew I was interested in medicine and science. I grew up in Brooklyn and Long Island, but I spent many summers in Canada with my aunt, who had type 1 diabetes. Being a witness to her medical care over the years deeply impacted me. Although she wasn't in a clinical career—she cleaned hotels—I would say that she was a big role model. She was so selfless, and she thought deeply about every decision that she made, how it might impact others. When she passed away I was 16, and I made a vow to make her proud. And I thought that a way to do that would be to always live a life that would help people in some way.
My parents are also inspirations. They emigrated from Haiti about 40 years ago, and in the face of discrimination, they found work, raised kids, and always held their heads up high. Their example gives me the confidence to keep taking on things that challenge me.
Q: How did you go from medical school into writing?
A: When I was in my fourth year of medical school, I participated in a medical mission in Santiago, Dominican Republic. It was a life-changing experience in a number of ways. Having the opportunity to connect with people whose cultural backgrounds were very similar to my own was like coming home. And the work we were doing touched every part of people's lives, from preventing infectious diseases to improving nutrition. It made me realize that this was my mission in life, to help people maximize their health potential.
Unfortunately, my trip was cut short because when my colleagues and I were playing basketball with some students from the neighborhood, I took a step back and heard a pop. I knew immediately that my Achilles tendon had ruptured.
I was just months away from graduating. To be back home early and forced to stop moving was devastating. My recovery was the first time I'd had to think about my physical health in such an intimate way, and also to pay attention to my mental health—an experience of being a patient that I still draw from. I needed a way to stabilize my feelings and to figure out what to do to be able to walk at graduation. So I started writing about the process, putting all my emotions on paper. It was therapeutic, and that made me want to share my struggles to see if they could speak to others.
I started to receive positive feedback on my writing and eventually connected with a producer at NBC News who became my mentor. That opened the door to my journalism career.
I covered the aftermath of Hurricane Maria in Puerto Rico for NBC with both my doctor's hat and my journalist's coat on. We set up medical tents and provided care, mostly for mosquito-borne infectious diseases like Zika, dengue, and chikungunya. The stories I heard were tragic—children lost, houses destroyed, crops ruined. But the people were some of the kindest and most gracious I have ever met. The amount that they were willing to sacrifice for one another was amazing.
I also covered the polio eradication campaign in Nigeria, the last country where it was endemic. The Islamic militant group Boko Haram was trying to stand in the way of vaccination efforts. At the same time, there were mothers in communities holding secret classes to teach people how to give shots. It was amazing to see how people can empower themselves and increase community capacity.
The pandemic has showed me that life can be taken away from you in a second. You can't wait. If you have thoughts, ideas, you have to share them.
Q: What made you decide to get your public health degree?
A: I needed more public health expertise in areas like community organizing, health communication, and program planning, and the Harvard Chan School had all the courses that I wanted to take. And I knew that I was going to be in class with a bunch of people who were less theoretical, more action based. As somebody who is a member of a marginalized community, I know what it's like to have to wait for change. I didn't want to go to an institution that just taught us the theory of health inequities, climate change, or sex trafficking. I needed a place that was going to always emphasize the actions that we could take.
Q: You're currently practicing health communication in multiple venues. What motivates you to do this work?
A: The pandemic has showed me that life can be taken away from you in a second. You can't wait. If you have thoughts, ideas, you have to share them.
At VeryWell Health, I'm working on a series called the "Health Divide" that looks at health disparities condition by condition—everything from how breast cancer disproportionately affects Black women to how psoriasis looks on darker skin tones. We're providing equitable research and also trying to encourage everyone to participate in research and to contribute to spreading truthful information.
Academia is a great way to expand my reach and to interface with young people in a meaningful way. My podcast is a space to expound on evergreen topics. And TheGrio, which allows me to talk directly to Black and brown communities, is an awesome, beautiful cherry on top.
I want to keep exploring new ways to communicate. I would love to see a space where health journalists and health care professionals could connect with people. And, ultimately, I'd love to do some kind of policy work around universal health care, to help push the idea that health care is not a privilege but a human right.
Contributors
AR
Amy Roeder
Amy Roeder is senior editor of Harvard Public Health.
From the Issue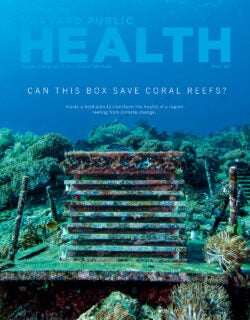 Winter 2022
Climate, changed