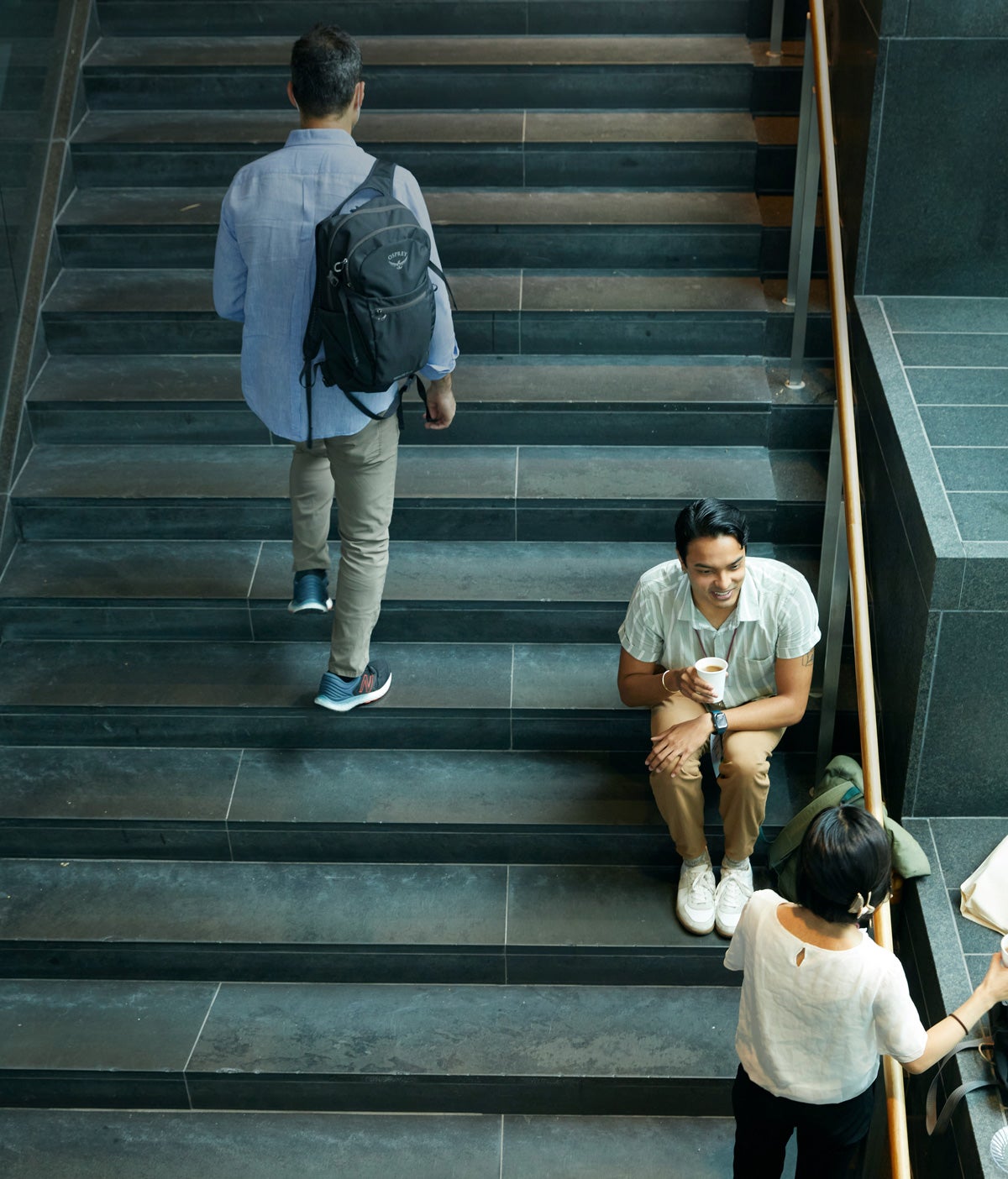 School news
Of note Fall 2022
Notable publications, findings, and initiatives from around the Harvard Chan School.
Optimism may extend lifespans, requiring new support systems
Women who are more optimistic may increase their chances of living past age 90, compared to women who are less optimistic, according to a study led by researchers at the Harvard Chan School and published June 8 in the Journal of the American Geriatrics Society. The findings were true for women across racial and ethnic groups. Living a healthy lifestyle accounted for less than a quarter of the optimism-lifespan association, suggesting there are other factors at play.
Worldwide, the number of people over age 65 is projected to double by 2050. A recent National Academy of Medicine report, coauthored by Lisa Berkman, director of the Harvard Center for Population and Development Studies, urged governments and communities to establish systems that support health and productivity for aging populations.
---
'Wire' WIC to better serve food-insecure families
While many parts of life in the U.S. moved online during the COVID-19 pandemic, safety-net programs such as WIC (Supplemental Nutrition Program for Women, Infants, and Children) have been slower to transform. More needs to be done to strengthen the program with technology, according to the "Wiring WIC" report released May 23 by researchers from the WIC Health and Technology Initiative. Given that even before the pandemic, only 57 percent of eligible people were participating in WIC—and the gap between those who need it and those who receive it has only gotten worse since 2019—the researchers argue that there is an urgent need to modernize the program.
"Our responses to the unrelenting pandemic of obesity and diabetes must begin during pregnancy and infancy; enhancing the WIC experience for participants and maximizing its effectiveness should be a high national priority," said Walter Willett, professor of epidemiology and nutrition at the Harvard Chan School and a member of the Initiative's leadership team.
---
Abortion access and policy after Roe v. Wade
In the wake of the U.S. Supreme Court's June 24 decision to overturn Roe v. Wade, the impacts of losing the constitutional right to abortion have been immediate and widespread. Twenty-six states have or are expected to ban or severely restrict abortion, with effects such as delayed or denied care and increased maternal mortality risk disproportionately falling on people of color and poor people. As a result, the policy response to this public health crisis should be well-coordinated and extend beyond the realm of reproductive health, according to a panel of experts who spoke at a July event at the Harvard Chan School.
"I know that for many of us who care, it will feel easy to be hopeless—but we cannot give in to despair," said Dean Michelle Williams in her opening remarks. "Here is my message to you all: Clarity is power. The American people need a clear understanding of the science and of the evidence on the consequences of depriving girls and women of this essential component to health care." Watch event.
---
Distributing masks to communities
The FXB Center for Health and Human Rights at Harvard University has partnered with the national nonprofit Project N95 to donate one million high-quality masks to limit the spread of COVID-19. Working with community partners across the country, they had delivered more than 700,000 masks as of August, including 70,000 in Boston and the nearby city of Chelsea, which was hit hard by the pandemic.
"The pandemic is sadly not over and as mask mandates are removed and federal funding for COVID-19 response and mitigation measures decrease, risk for infection among the most vulnerable, including poor people, increases significantly," said Natalia Linos, FXB executive director.
---
New EPA guidelines on 'forever chemicals' fall short
The manufactured compounds PFOS and PFOA, widely used in consumer products and found in drinking water systems across the U.S., are harmful to humans even in tiny amounts, according to advisories updated in June by the Environmental Protection Agency. They were based on research by Philippe Grandjean, adjunct professor of environmental health at the Harvard Chan School, and colleagues, but he says they don't go far enough.
The compounds—part of a larger class of chemicals called PFASs (per- and polyfluoroalkyl substances)—are known as "forever chemicals" because they don't break down in the environment over time. Exposure to PFASs has been linked with multiple health problems, including elevated cholesterol, diabetes, certain cancers, and weakened immunity in children. Even if the advisories were legally binding, there's nothing stopping industry from swapping in another PFAS that may be just as bad or worse, he says. "I would as a physician emphasize the need for prudent prevention and a general strategy that protects us against the whole family of PFASs."
---
Breakthrough could repair chronic metabolic disease
Cells use their molecular architecture to regulate their metabolic functions—a discovery that can potentially be tapped to repair the effects of metabolic disease, according to researchers from the Harvard Chan School's Sabri Ülker Center. In a study comparing liver samples from healthy, lean mice with samples from obese mice with fatty liver disease, researchers Güneş Parlakgül, Ana Paula Arruda, and colleagues were able to observe damage to cells' architecture from metabolic disease. In addition, they discovered that by repairing molecules and proteins that can reshape cellular membranes and structures, metabolism can be returned to a healthier state. The researchers used multiple computational platforms and high-resolution imaging to generate three-dimensional reconstructions of specialized structures inside cells.
---
Data show biostatistics, epidemiology, still lack diversity
Racial and ethnic composition among biostatistics and epidemiology students, graduates, and faculty at Association of Schools and Programs of Public Health member institutions barely changed from 2010 to 2020. A study in Public Health Reports in June found more students of Hispanic and Latin American heritage were enrolled in and graduating from these departments, but there was no increase in the number of students from other underrepresented groups. There also was no change in the racial and ethnic composition of faculty. The authors—including Melody Goodman, PhD '06; Ronnie Sebro, PhD '07; Professor of Statistical Computing Marcello Pagano; and doctoral student Jemar Bather (pictured)—argued for increased efforts to recruit and retain underrepresented students and faculty.
---
Course highlights health impacts of homelessness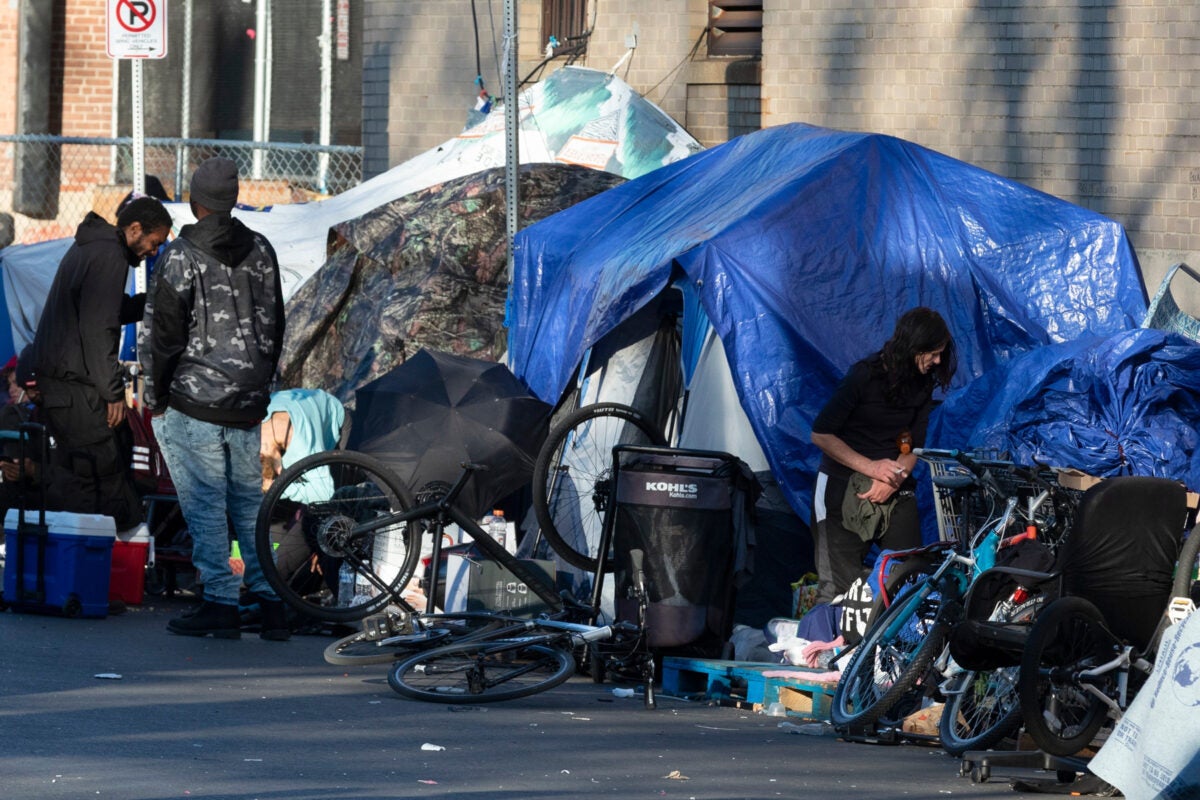 People experiencing homelessness face innumerable health challenges, yet only a handful of schools of public health dedicate attention to this increasingly visible and vulnerable population. The Harvard Chan School launched a course in 2020 on homelessness and health, part of a pilot initiative to address this neglected field through education, research, and translation. Maggie Sullivan, an instructor and fellow at the FXB Center for Health and Human Rights at Harvard University, notes that while very few health care professionals start their careers aspiring to work specifically with homeless populations, they may be doing so without knowing it. That's why education on the topic is so important, says Sullivan, who co-teaches the course with Jill Roncarati, instructor in the Office of Education. "We won't be able to positively impact patient health experiences and outcomes if we don't explicitly address their housing status," Sullivan says
The tents of a homeless camp line the sidewalk in an area commonly known as Mass and Cass in Boston in late 2021, prior to their removal.
---
Does everything really cause cancer?
Whether it's through social media or word of mouth, there's a lot of misinformation and confusion about what does and doesn't cause cancer. In April, a team led by the Harvard Chan School's Zhu Family Center for Global Cancer Prevention and the Center for Cancer Equity and Engagement at the Dana-Farber/Harvard Cancer Center launched Cancer FactFinder to asses cancer-related topics, such as red meat and hormone replacement therapy. The website's aim is to provide evidence-based and actionable information to help people make choices that minimize their future cancer risk.
---
Toward an equitable monkeypox response
The global outbreak of monkeypox that started in May marks the first time the disease has spread widely outside of the African countries where it is endemic. At a Harvard Global Health Institute event in August, Keletso Makofane, a research fellow at the FXB Center for Health & Human Rights, urged the U.S. and other high-income nations to tap the expertise of African infectious disease experts. "What I think is missing is a global understanding of this illness and an impulse to connect across countries," he said. Watch video.
Makofane is part of a group of LGBTQ researchers formed to study and share information about monkeypox, which is primarily spreading through close contact between men who have sex with men. He and his colleagues authored an open letter to the Biden administration in Harvard Public Health this summer outlining policy solutions that would promote health equity.
From the Issue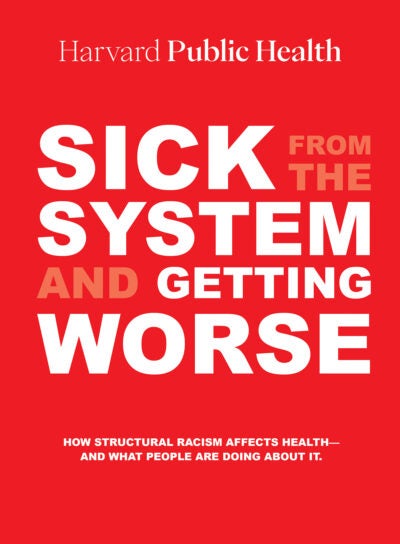 Fall 2022
Structural Racism