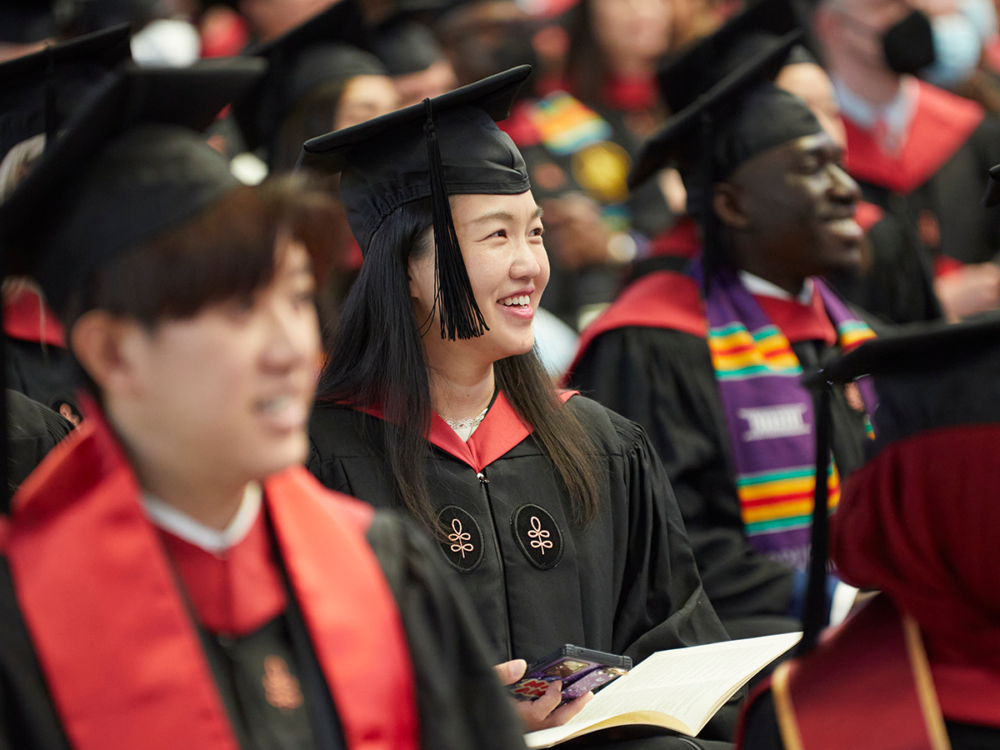 Alumni news
Alumni News Spring 2022
Career updates from past classes, starting with a note from the class of 1990.
1990
Karl Lauterbach, MPH, SM '92, SD '95, adjunct professor of health policy and management, was sworn in as Germany's health minister on December 8. Lauterbach has been a professor of health economics and clinical epidemiology at the University of Cologne, and a member of the German parliament. 1991
Pamela Anderson, SD, was named to the advisory board for USAID's Board for International Food and Agricultural Development. She is a former director general of the International Potato Center in Lima, Peru, a research center within the Consultative Group on International Agricultural Research. She also directed the Agricultural Development Program of the Bill & Melinda Gates Foundation from 2014 to 2016, where her team worked to reduce hunger and poverty for farming families in sub-Saharan Africa and South Asia.
1993
Richard Saitz, MPH, died January 15 after a long struggle with pancreatic cancer. He was 58. Saitz, a professor and chair of community health sciences at the Boston University School of Public Health, was known for his addiction research and for being a committed patient advocate. He directed Boston Medical Center's Clinical Addiction Research and Education Unit for more than a decade. In addition, he was associate editor for the Journal of the American Medical Association, editor-in-chief of the Journal of Addiction Medicine, author of more than 200 peer-reviewed publications, and a former president of the Association for Medical Education and Research in Substance Abuse. One of Saitz's many honors was being named 2021 Educator of the Year by the American Society of Addiction Medicine.
1995
Michael Daniels, SD, was awarded the 2022 L. Adrienne Cupples Award for Excellence in Teaching, Research, and Service in Biostatistics by the Department of Biostatistics at the Boston University School of Public Health. Daniels, the Andrew Banks Family Endowed Chair of the Department of Statistics at the University of Florida, received the award for his contributions in the areas of Bayesian methodology for missing data, longitudinal data, and causal inference.
1999
Robert Garofalo, MPH, co-authored When Dogs Heal: Powerful Stories of People Living with HIV and the Dogs That Saved Them (Zest Books, 2021). The book shares the stories of a diverse set of people—including Garofalo—who are thriving and celebrating life thanks to the compassion and unconditional love of their dogs. Garofalo, an LGBTQ advocate and adolescent HIV specialist, wrote the book with dog photographer Jesse Freidin and journalist Zach Stafford.
2000
Sandro Galea, MPH, published The Contagion Next Time (Oxford University Press, 2021). He is dean and Robert A. Knox Professor at the Boston University School of Public Health. The book explores the foundational flaws in the health system exacerbated by COVID-19, analyzes broad systemic issues like racism and socioeconomic disparities from a public health perspective, and outlines ways to increase pandemic resiliency and build a healthier world.
2004
Ashish Jha, MPH, was named White House COVID-19 Response Coordinator in March. He was a member of the Harvard Chan School faculty from 2004 to 2020, before becoming dean of the Brown University School of Public Health.
Thomas Sequist, MPH, in February became the first chief medical officer of Mass General Brigham, where he currently is a primary care physician. He was previously its chief patient experience and equity officer. Sequist is a member of the Taos Pueblo tribe in New Mexico, and his health policy research has advanced understanding of health care for indigenous Americans.
2005
Mandy Cohen, MPH, became CEO at Maryland-based Aledade Care Solutions in March, after leading North Carolina's COVID-19 response as secretary of its Department of Health and Human Services. Prior to leaving her position, she received an American Medical Association Award for Outstanding Government Service.
2007
Sarah MacCarthy, SM, SD '12, in December became the first holder of the Magic City LGBTQ Heatlh Studies Endowed Professorship at the University of Alabama at Birmingham School of Public Health. MacCarthy studies racially and ethnically diverse sexual and gender minority populations and has published more than 60 peer-reviewed papers. She previously was a faculty member and policy researcher at the RAND Corporation.
2014
Weike Wang, SM, SD '17, published her second novel, Joan is Okay (Random House, 2022), a witty look at family, culture, and COVID-19.
2015
Kimberly Chang, MPH, was sworn in as a member of the President's Advisory Commission on Asian Americans, Native Hawaiians, and Pacific Islanders on February 3. The commission advises President Joe Biden on ways the public, private, and nonprofit sectors can work together to advance equity, justice, and opportunity for AANHPI communities. Chang, a physician, focuses on the health of the underserved AANHPI community, and she has developed clinical and health policy recommendations on human trafficking and exploitation, and intimate partner violence.
2016
Lisa Bari, MPH, in November was named CEO of Civitas Networks for Health, after serving as the interim CEO. Previously she was interim CEO of the Strategic Health Information Exchange Collaborative. Earlier in her career she worked on health IT and interoperability policy at the Centers for Medicare & Medicaid Services' Innovation Center.
2017
Edsel Ing, MPH, co-edited and contributed to the free ebook Award-Winning Medical Teaching, with contributions from more than 30 physicians and professors who've received teaching awards. Topics include equity, diversity and inclusion, professionalism, epidemiology, and statistics. It is available at smashwords.com/books/view/1129809. Ing is a physician at the Michael Garron and Sunnybrook Hospitals and a professor at the University of Toronto.
2019
Ramon Lorenzo "Renzo" Guinto, DrPH, co-founded the Sunway Centre for Planetary Health in Kuala Lumpur, Malaysia, in 2021, where he is chief planetary health scientist. This is in addition to his work at St. Luke's Medical Center in the Philippines, which he joined in 2020 as the inaugural director of a new Planetary and Global Health Program. He is a member of the National Panel of Technical Experts, which advises the Climate Change Commission of the Philippines, and sits on multiple advisory and editorial boards and two Lancet Commissions. In 2020, he was named by Tatler magazine as one of 400 leaders shaping Asia's future.
2021
Xiao Wu, PhD, in December was selected for the Forbes "30 under 30 in Healthcare" 2022 list. He was recognized for his research on the health impacts of air pollution and climate change, especially his identification of the link between higher levels of air pollution and higher COVID-19 death rates. He is currently a postdoctoral fellow at Stanford.
From the Issue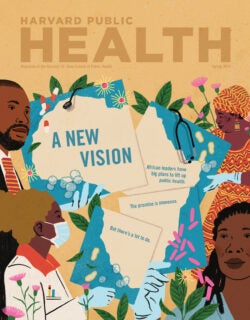 Spring 2022
African public health