People
2021 Harvard Chan School Alumni Award winners
The recipients of this year's Awards of Merit, Leadership Award, Innovator Award, and Emerging Professional Award.
Six Harvard T.H. Chan School of Public Health graduates were recognized for their professional achievements during the 2021 virtual Alumni Week, September 27–October 2. Alumni Award recipients are chosen by their peers through a nomination and voting process. Watch presentations from Alumni Week at hsph.me/alumni-2021.

Alumni Award of Merit
Established in 1992, the Alumni Award of Merit is the highest honor presented by the Alumni Association.
Paula Johnson, AB '80, MD '84, MPH '85
President, Wellesley College
For more than 30 years, Paula Johnson has worked to advance the health, education, and well-being of women around the world. Her research has focused on uncovering and dismantling gender biases in women's health and the sciences and developing new strategies for the prevention of heart disease in women.
Johnson spent much of the first part of her career at Brigham and Women's Hospital, where she was the first Black physician to serve as chief medical resident and the first to be promoted to professor. She also founded and directed the hospital's Center for Cardiovascular Disease in Women and the Mary Horrigan Connors Center for Women's Health & Gender Biology and chaired the Division of Women's Health. She chaired the Boston Public Health Commission for almost a decade.
Johnson is currently president of Wellesley College, where she has overseen the development of new opportunities for women and minorities in STEM fields.
Lois Travis, SM '82, SD '94
Lawrence H. Einhorn Professor of Cancer Research; director, Cancer Survivorship Research Program, Indiana University Melvin and Bren Simon Comprehensive Cancer Center
Lois Travis is an advocate for decreasing the cost of cancer treatments. To this end, she helped establish the field of cancer survivorship and currently serves as the director of the Cancer Survivorship Research Program at Indiana University. With a broad academic background in medicine, pathology, epidemiology, and translational genomics, Travis has contributed to the development of safety protocols for cancer treatments, helped patients avoid second cancers, and improved the lives of countless patients who have survived cancer.
Travis and her colleagues evaluate therapy-related toxicities with the goal of developing translational research that directly benefits human health. While Travis was at the National Cancer Institute, her research on cancer survivors advanced the medical community's understanding of dose-response relationships between radiotherapy and chemotherapy and second malignant neoplasms.
A captain in the research officer group of the U.S. Public Health Service, Travis was awarded the Public Health Service Outstanding Service Medal from the National Cancer Institute in 2001.
Stefan Willich, MPH '90
Director, Institute of Social Medicine, Epidemiology and Health Economics, Charité-Universitätsmedizin Berlin, Germany
Stefan Willich is an internist, epidemiologist, musician, and champion of public health. Since 1995, he has served as professor and director of the Institute of Social Medicine, Epidemiology, and Health Economics, one of Germany's most research-intensive medical institutions. Under his leadership, it has grown into one of the preeminent epidemiological research centers in the world. The institute, based at the Charité-Universitätsmedizin Berlin, translates many of its preventive medicine research results to clinical practice, and the preventive outpatient clinic established by Willich at Charité has become a model throughout Europe.
At his clinic, Willich combines conventional medical treatments with traditional and complementary health practices such as massage and acupuncture—a practice known as integrative medicine. A recognized leader in this field, Willich founded the European Society of Integrative Medicine and served as the first editor of the European Journal of Integrative Medicine.
---
Emerging Public Health Professional Award
This award recognizes early-career public health achievements and contributions of Harvard Chan School graduates who received their degree within the past 10 years.
Hilary Marston, MPH '13
Director for Global COVID Response on the White House COVID-19 Response Team
As an infectious-diseases policy specialist, Hilary Marston helps protect public health on a global scale. She joined the National Institute of Allergy and Infectious Diseases (NIAID) in 2013, where she was instrumental in developing and organizing U.S. responses to the Ebola and Zika outbreaks.
In early 2020, Marston became a key figure in the coordination of COVID-19 activities for NIAID and the National Institutes of Health. She also made significant contributions to Operation Warp Speed, the U.S. government's initiative to accelerate COVID-19 vaccines, therapeutics, and diagnostics. In January 2021, Marston joined the U.S. National Security Council as director for medical and biodefense preparedness. Since May, she has served as director for global COVID-19 response on the White House COVID-19 Response Team, leading its work in global distribution of COVID-19 vaccines.
---
Leadership Award in Public Health Practice
This award recognizes a graduate who has been an outstanding example of effective leadership in the practice of public health, in the public or private sphere.
Kezevino Aram, MPH '00
President, Shanti Ashram; Founder, International Center for Child and Public Health
Over her three-decade career, Kezevino Aram has worked to protect, uplift, and advance some of the world's most at-risk populations, with a particular focus on children in her native India. Her work focuses on advancing pediatric health, tackling health care disparities, alleviating poverty, and fostering social cohesion through active peace building and interfaith dialogue.
Aram joined Shanti Ashram, an international center for development, learning, and collaboration, two decades ago and became its president in 2014. There, Aram has pioneered a road map for integrating health into community development programs that have grown from serving 5,000 vulnerable children to nearly 70,000 children and their families today.
In 2017, Aram founded the International Center for Child and Public Health. Throughout the COVID-19 pandemic, she has served on the experts committee of the government of the southern Indian state of Tamil Nadu, with the policy mandate of child health and protection.
---
Public Health Innovator Award
This award recognizes a significant innovative contribution to public health made by a distinguished graduate of the School.
Jocelyn Lehrer, SM '01, SD '04
Founder and director, Men's Story Project; public health and gender justice consultant
Jocelyn Lehrer is a public health researcher and practitioner, storyteller, and social entrepreneur. For more than 20 years, her work around the world has focused on gender-based violence and HIV/AIDS prevention and response, as well as the promotion of healthy masculinity and gender equality. Her research has been published in Pediatrics and other leading journals. In 2008, Lehrer founded the Men's Story Project, which helps campuses and organizations create and film live productions where diverse men publicly share personal stories examining ideas about masculinity. There have been 40 live events so far in the U.S., Canada, Chile, Gaza Strip, and West Bank.
Lehrer also led the first quantitative studies of campus sexual assault and dating violence in Chile, consulted on social-impact storytelling with MTV and UN Women, worked with the USAID Office of HIV/AIDS, and facilitated social support groups for LGBTQ+ youth living with HIV/AIDS in San Francisco. She currently serves as senior gender integration consultant with the Global Center for Gender Equality at Stanford University.
From the Issue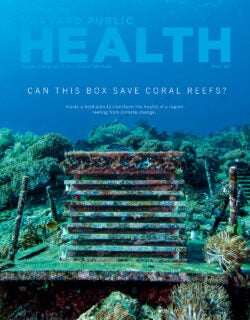 Winter 2022
Climate, changed