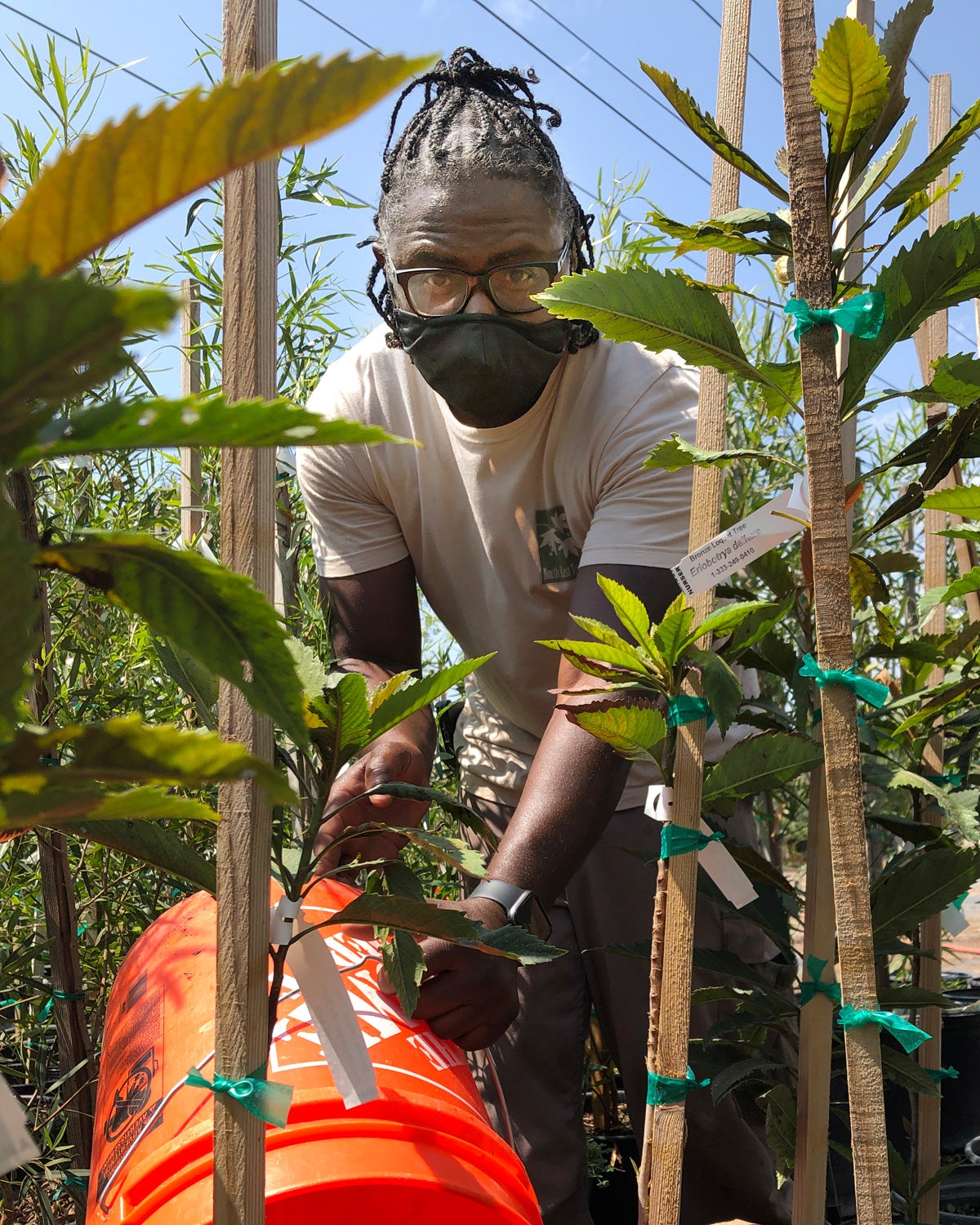 People
Building green spaces in the name of environmental justice
A former wildland firefighter shares how he's gone from fighting fire to building parks and planting trees in Los Angeles.
For more than 30 years, North East Trees has been designing and building restoration projects in Los Angeles. The nonprofit has employed hundreds of teens and young adults in low-income neighborhoods with little green space to plant trees, improve habitats, build parks, and restore waterways. Lack of green space often means poorer neighborhood air quality and no break from the merciless heat of unbroken concrete. Building and restoring green space can improve neighborhood health.
Sign up for Harvard Public Health
What works. What doesn't. And why.
Delivered to your inbox weekly.
Ladale Hayes is an urban forestry supervisor with North East Trees. He works on planting projects that aim to tackle environmental injustice in disadvantaged neighborhoods. This interview has been lightly edited and condensed.
Q: Ladale, how did you first get involved with North East Trees?
A: In an earlier stage of my life, I was incarcerated for 11 years and six months. I spent the last five years of my time in incarceration fighting wildfires throughout California. After my release, I began working for the U.S. Forest Service as a wildland firefighter. Then my fiancé, who is now my wife, was diagnosed with breast cancer and I didn't want to continue in a job that required me to be gone six or seven months of the year.
I wasn't sure what I wanted to do next, but I took my niece to a job fair and saw a sign on one booth that said "Urban Forestry." I was familiar with forestry, but I wasn't familiar with urban forestry. I started talking to the man in the booth, and he said it was all about tree planting, restoration—things of that nature. And they needed supervisors. So, that's how I started at North East Trees.
Q: What surprised you most when you began to do this work?
A: I was blind. I was uneducated. Many of us, we might hear the words "environmental racism" or "environmental injustice," but we don't know what it really means or what impact it has. Now I know.
I was on a block in South Central Los Angeles a few weeks ago. I looked at both sides of the street. Both right of ways were entirely concrete. There was not one tree on either side of the street. It was the street that my cousins grew up on. I was out there to show my son how we played football, how we made the light poles our end zones. And there was not one single tree. There is no grass at all.
Q: How did living in that environment affect you?
A: It creates years of frustration because it's hot. It's so hot. You go in a house, if your family can't afford central air, it's hot. You want to go outside and play as a kid, it's hot outside as well. It creates years of anger. It can lead to stress. We have no protection from the elements.
My wife works in West Hollywood, off of Sunset Boulevard. I went out there once, and you talk about beautiful – as I'm driving up, I literally stopped and took pictures of some of these trees. They grew so tall, the trees created a canopy.
There's a big difference between Sunset Boulevard and Normandie Avenue in Los Angeles. And now that I understand more about redlining, I better understand why there's that difference. In my view, it is a reason for the city to apologize. They ought to educate the general public about why we need to plant more trees in disadvantaged neighborhoods.
Q: When you start a tree-planting project in a neighborhood, how do the residents typically respond?
A: Some of them don't want trees. Sometimes they're upset about how trees they had in the area in the past got overgrown, or damaged the concrete or pipes because the city didn't take care of them. Or they think it's a gimmick. I tell them, it's not a gimmick. We're not asking you to pay for anything. We want to plant trees to improve the neighborhood and reduce the heat index.
I want the government to figure out a way to properly educate more homeowners and members of disadvantaged communities, so they see the advantages of having more trees.
In the meantime, I'm doing my best to educate homeowners. I explain to them that every tree we plant has a permit. I explain that a certified arborist and a city official will go look and make sure we're putting the right-sized tree in each zone.
I also explain the benefits of the tree canopy. It can reduce the heat index. It provides noise cancellation from the vehicles on the freeway. It gives shade, and gives the residents fresher air. It improves their property values. They'll say things like "No one has ever said anything like this to us, so I didn't know."
Q: You work with a lot of young people, some of whom are just learning about environmental justice for the first time. What's that like?
A: These young adults, when they first learn about redlining, it's a shock. It makes them feel as if their life is not worth as much as the next person's life.
They ask, "Just because my family are not multimillionaires, does that mean we have to breathe bad air?
Why do people who live 10 miles away—maybe they're lawyers or doctors or maybe they just inherited their money—get all the benefits of life?"
I feel for them. How can you do your best in school when there's not one tree providing shade around your school? When it's so hot? It's frustrating. And sooner or later, that frustration turns into stress, your mind is not able to be at peace, and anger kicks in.
These kids, now they're noticing and recognizing. The best part of it is they're doing something about it. They're learning more about the environment. They're eating right. Seeing some of these young adults talk to members of the community is wonderful. Now I just sit back and listen to them as they do the talking, educating the public as to why we need more environmental studies and more trees.
Our neighborhood is a beautiful land, but it was filled with gang violence and heavily impacted by the war on drugs. Now, these young adults out here planting trees. They're trying to reclaim our neighborhood.
Top photo: Wil Prada
Contributors
HPH
Harvard Public Health Staff
From the Issue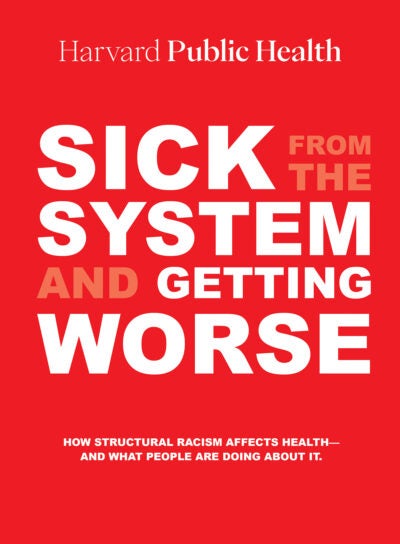 Fall 2022
Structural Racism