From the Dean
Message from the Dean: A Pivotal Moment
Now is the time in our battles against COVID-19 and threats to the health of people across the globe, and in our quest to shape the future.
I've been thinking a lot about something author Isabel Wilkerson articulated in a recent conversation co-presented by the School: "You cannot heal what you have not diagnosed. You cannot repair what you do not see."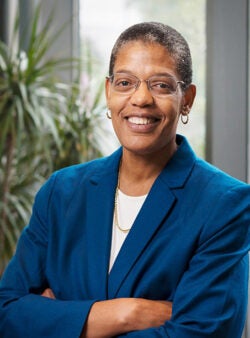 Nowhere is that more apt than in public health. As we enter the second year of the COVID-19 pandemic, millions of eyes are now open to our many global vulnerabilities: gaping holes in our disease-preparedness architecture, shortages in the international health care workforce, domestic policy failures, rampant health inequities, and so many others.
The diagnoses are clearer than ever. And as a result, we have a fleeting, yet tremendous, window of opportunity to turn this moment of global awakening into a movement—one that could lead to an unprecedented revitalization of public health.
The question is: Will we seize this opportunity? Members of our community are leading efforts to do just that. Climate action is one way they are working to close the vast health disparities that exist among—and within—countries. Our cover story explores the intersection of climate change, structural inequalities, and health from a number of angles. For example, rising carbon levels are stripping micronutrients from staple crops like rice and wheat, which could have devastating health impacts for millions of vulnerable people around the world. And here in the U.S., neighborhoods that were once redlined experience more extreme heat than those that were not—putting communities of color at increased risk of chronic conditions and even death. As Harvard Chan C-CHANGE Health Equity Fellow Gaurab Basu explains, acts that address climate change are acts of racial and social justice, too.
Another article features an in-depth roundtable discussion with leading researchers about where we are in our battle to contain COVID-19, along with the hard-learned lessons they hope will endure well beyond this pandemic. Among the most urgent is addressing the social determinants of health, which have made the burdens of this crisis deeply unequal—and all the more deadly.I have always believed that, at its core, public health is all about creating a more equitable and more just world. So I was particularly moved by the profile of Isha Nirola, DrPH '21, who has made it her life's work to improve health in places that have long been denied access to quality care—from "last-mile communities" in Nepal to the juvenile-justice system in Baltimore. Finally, I am so excited by the news that Kizzmekia Corbett will be joining our faculty this June. As one of the leading immunologists behind the development of a COVID-19 vaccine, Corbett has been on the front lines of the pandemic fight since the beginning—and her work has truly and immeasurably changed the world for the better.
We are at a pivotal moment—in our battle against COVID-19 and against threats to the health of people across the globe, and also in our quest to shape the future. We have an unprecedented chance to upend existing paradigms and, above all, to right systemic wrongs that have long determined who among us suffers and who thrives.
I am so proud of our School community for leading the charge to repair what the world can now so vividly see.
Michelle A. Williams, ScD '91
Dean of the Faculty, Harvard T.H. Chan School of Public Health
Angelopoulos Professor in Public Health and International Development,
Harvard T.H. Chan School of Public Health and Harvard Kennedy School
Sign up for Harvard Public Health
What works. What doesn't. And why.
Delivered to your inbox weekly.
Contributors
MW
Michelle A. Williams
Michelle A. Williams, ScD '91, is Dean of the Faculty of the Harvard T.H. Chan School of Public Health and Angelopoulos Professor in Public Health and International Development, Harvard T.H. Chan School of Public Health and Harvard Kennedy School
From the Issue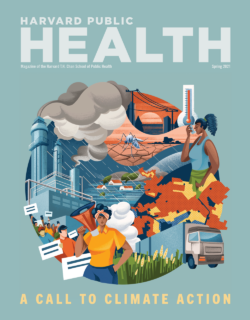 Spring 2021
A Call to Climate Action