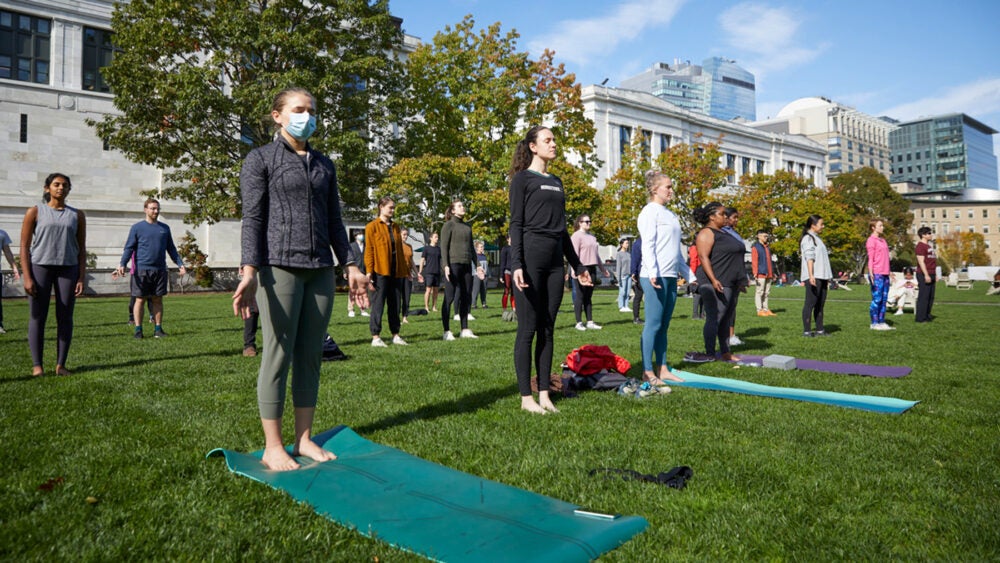 School news
Of note Winter 2022
Workplace health, crisis response, collaborations in China and Africa, and other news from the school.
Better health and wellness at work
The COVID-19 pandemic revealed, among other things, just how much workplace health risks vary between workers of different races, occupations, and wage levels. Research into this inequality is a major focus at the Center for Work, Health, & Well-being, which recently received a renewed five-year, $6.9 million grant through the National Institute for Occupational Safety and Health.
A separate research initiative led by Lisa Berkman, Thomas D. Cabot Professor of Public Policy and Epidemiology, is giving employers new tools to foster employees' health and well-being. Traditional wellness programs have focused on individual behaviors, but research shows these don't work. The researchers' new framework focuses on making changes to workplace conditions, such as increasing employees' control over their schedules and enhancing social relations.
Meanwhile, poor office air quality can hurt employee response times, ability to focus, and productivity, according to new research. The study's senior author, Joseph Allen, associate professor of exposure assessment science, says the findings add to the growing body of evidence that healthy buildings should be "foundational to public health and business strategy moving forward."
---
A path to precision nutrition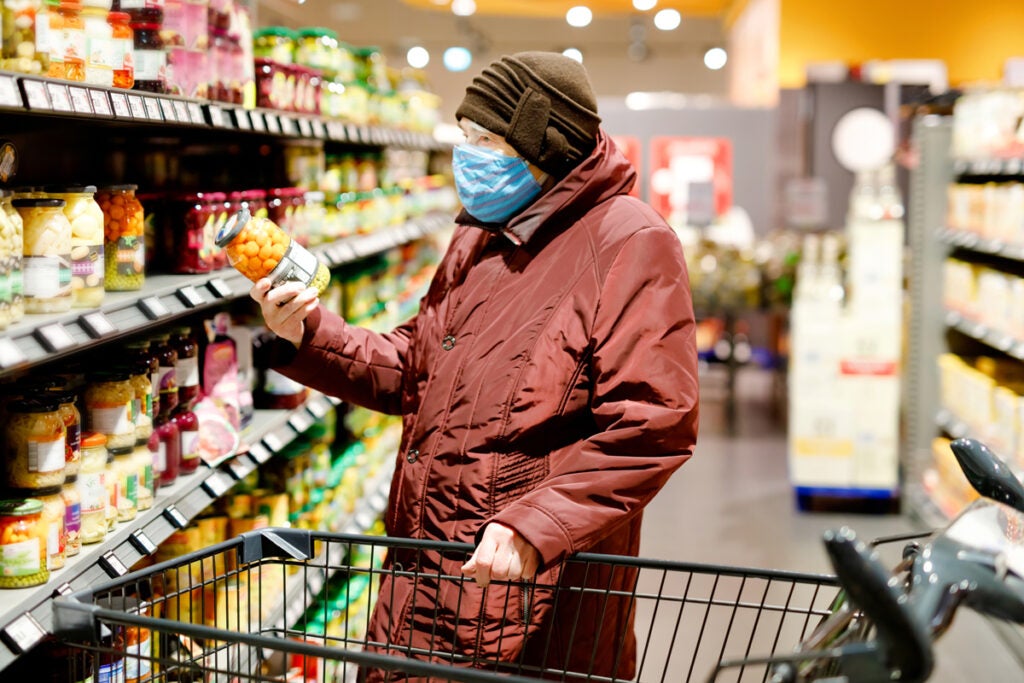 What if we could measure how your body will respond to certain foods? That's the aim of a new state-of-the-art Dietary Biomarkers Development Center at Harvard University, led by Frank Hu, Fredrick J. Stare Professor of Nutrition and Epidemiology and chair of the Department of Nutrition, and Clary Clish, an institute scientist at the Broad Institute. Hu, Clish, and an interdisciplinary team of colleagues at the Harvard Chan School, Harvard Medical School, Brigham and Women's Hospital, the Broad Institute, and Albert Einstein School of Medicine received a five-year award in August from the National Institute of Diabetes and Digestive and Kidney Diseases to establish the Center.
The researchers are cataloging and validating "metabolomic signatures" for common foods and food groups in U.S. diets. When our bodies process, or metabolize, what we eat, substances known as metabolites are created. They circulate in the bloodstream or are excreted in urine and can be measured through a blood or urine sample. The Center's work builds on the Department of Nutrition's long-running observational cohort studies and experience in conducting controlled feeding trials, with the goal of improving our understanding of the complex ways food affects the human body.
---
Clearing the air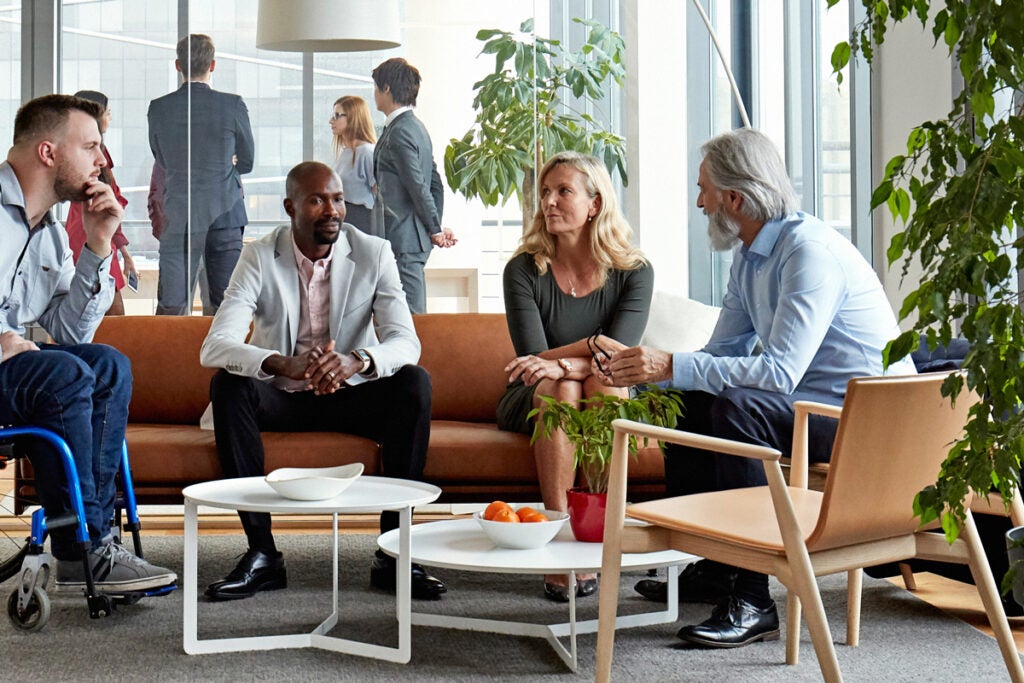 COVID-19 lockdowns briefly improved outdoor air quality thanks to reduced traffic and energy production, but also renewed interest in indoor air pollution. Ways to reduce air pollution indoors and out, and tackle climate change, were the focus of the School's most recent "When Public Health Means Business" event held in October. The forum gathered leaders from academia, government, and the private sector to discuss the issue.
Exposure to polluted air causes an estimated seven million premature deaths worldwide each year, noted Dean Michelle Williams—a toll on par with major global health risks such as unhealthy diets and tobacco use. More restrictive air quality guidelines could save most of those lives, said speaker Maria Neira of the World Health Organization, adding, "These are times now for ambition and speed in the name of public health." Watch event: hsph.me/clearing-air
---
A tool for crisis response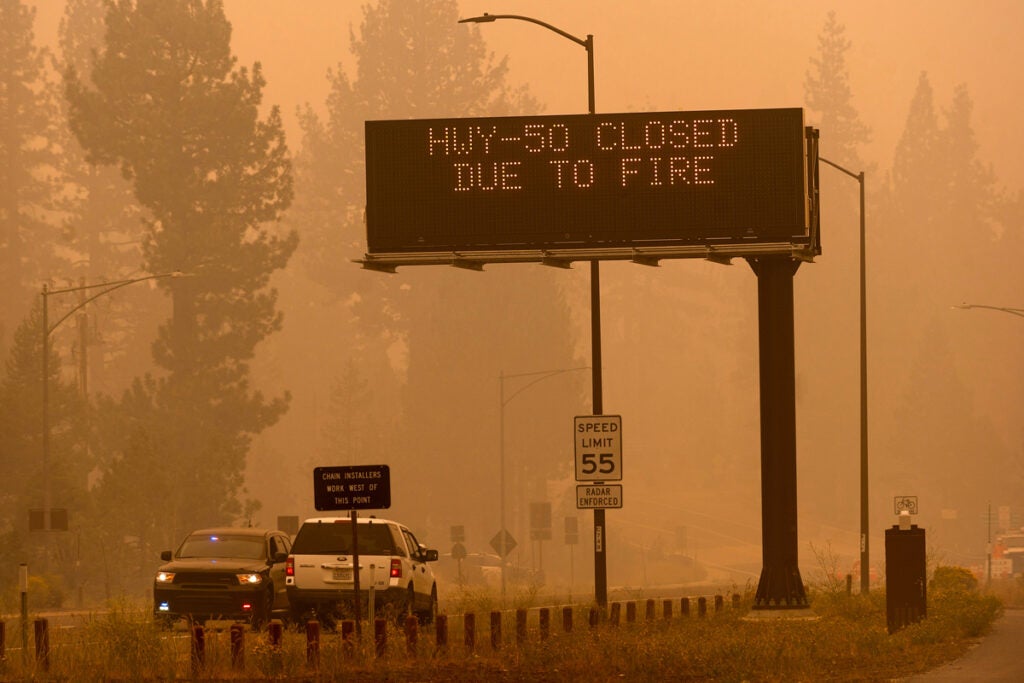 Data is critical for responding to public health emergencies. But local agencies often don't have the capacity to harness it to drive their decision-making. Now, they have CrisisReady, a collaborative data platform launched in 2021 by Harvard Chan School and Direct Relief, a nonprofit humanitarian organization. The platform, which gives local governments and response agencies access to curated data, analyses, and support, is led by Caroline Buckee, professor of epidemiology, and Satchit Balsari, assistant professor in the Department of Global Health and Population. They helped develop a global COVID-19 Mobility Data Network of scientists early in the pandemic to analyze and interpret population mobility and other data streams for local governments. CrisisReady scales that expertise to manage data during other types of crises, and to help policymakers and response agencies around the world prepare.
It is an example of researchers going from theory to application, Buckee says, noting that "CrisisReady represents our effort to actually make our science actionable in the real world."
---
A new center takes on tough choices
Whether it's selecting a treatment to keep COVID-19 patients alive or determining the effectiveness of dietary guidelines, clinicians, policymakers, and patients must often sift through reams of information before making choices that impact health. Harvard Chan School's new CAUSALab aims to make those decisions easier. The lab was founded in 2021 under the direction of Miguel Hernán, Kolokotrones Professor of Biostatistics and Epidemiology. Its researchers develop actionable analyses using a discipline known as causal inference. The work combines the tools of epidemiology with artificial intelligence techniques and data from health care databases, epidemiologic studies, and randomized trials to investigate efficacy and safety in medicine, public health, and policy.
The Center builds on groundbreaking work by James Robins, Mitchell L. and Robin LaFoley Dong Professor of Epidemiology, who in 1986 first described a generalized theory of causal inference. Robins joined Hernán and colleagues at a launch event for CAUSALab held at the School and online on November 5.
---
Teaching those who teach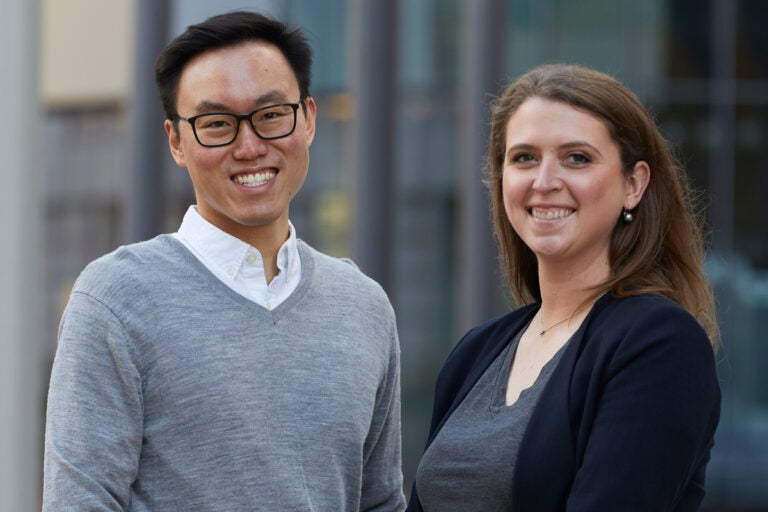 Many of the students and postdoctoral researchers who work as teaching assistants might never have graded homework, kept students interested in class, or even worked with a course instructor. The School's Pedagogy Fellowship program, now in its second year, aims to help. All fellows participate in training over the summer, followed by professional development seminars throughout the academic year on topics such as the science of learning, teaching in a diverse classroom, and using technology in teaching. In turn, the fellows help train the roughly 300 other TAs and provide faculty and departments with input on courses.
This year's lead fellows are (pictured) Derek Shyr, a PhD candidate in biostatistics, and Katie Tomsho, a research fellow in the Department of Environmental Health. Shyr says, "I really enjoy being a teaching assistant, and I love the opportunity to connect with students, to be on the front lines of getting students motivated and involved, to interact with professors, and to learn more about the landscape of teaching."
---
Harvard Chan School launches collaborations in China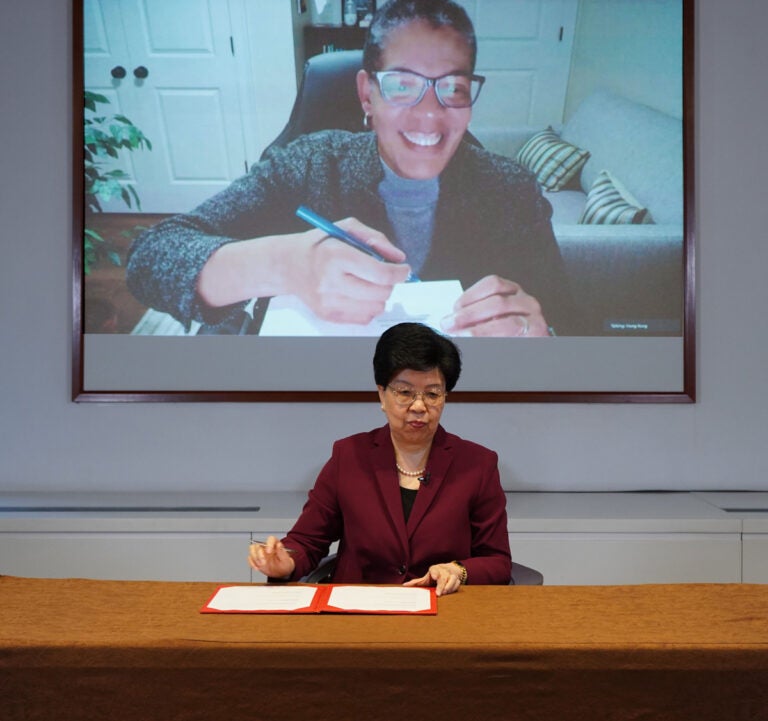 The Harvard T.H. Chan School of Public Health and Tsinghua Vanke School of Public Health announced a collaboration on educational and research initiatives in December, which came on the heels of an announcement of the launch of a bilateral exchange program in clinical research and education with Zhejiang University School of Medicine in Hangzhou, China.
"We have seen more clearly than ever over this past year that threats ranging from microscopic pathogens all the way up to planetwide shifts in climate can leap borders and threaten the health of billions," Harvard Chan School Dean Michelle Williams says. "Only by working together can we develop—and then enact—a global health security agenda that predicts, prepares for, and responds to these threats."
In addition, Tsinghua Vanke School Dean Margaret Chan, a former director-general of the World Health Organization, and Williams have jointly founded a global coalition of public health school leaders to address pressing public health issues.Michelle Williams, dean of the Harvard Chan School (Zoom inset), and Margaret Chan, dean of Tsinghua Vanke School, on December 1, 2021.
---
FXB Center takes steps for racial justice
The COVID-19 pandemic exposed vast disparities in health outcomes in the U.S. across racial and ethnic groups. In response, the François-Xavier Bagnoud (FXB) Center for Health & Human Rights at Harvard University has established a new program called the Structural Racism Initiative for Diversity with Equity (STRIDE). "Health inequities are often an invisible form of structural violence," Mary Bassett, the center's director and François-Xavier Bagnoud Professor of the Practice of Health and Human Rights, said during a virtual event in September that launched the initiative. STRIDE, which aims to use public health data to address ongoing health disparities, includes a new fellowship program for racial justice in partnership with the JPB Foundation. Bassett later took a leave of absence from the FXB Center to become New York state commissioner of health.
---
A data science directive in Africa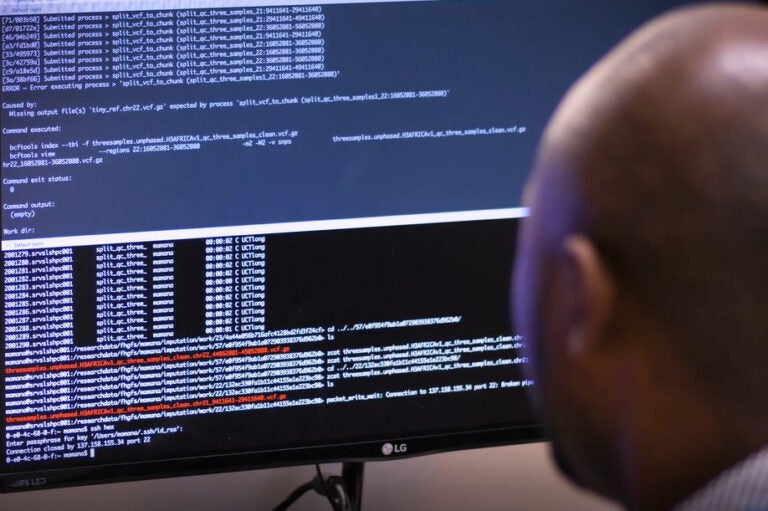 Data science could generate new insights into Africa's greatest health challenges. Achieving this will require a critical mass of highly trained health data scientists on the continent who can do the work, says Wafaie Fawzi, Richard Saltonstall Professor of Population Sciences, and professor of nutrition, epidemiology, and global health. To help catalyze this effort, he's leading a $74.5 million collaboration between the Harvard Chan School and Heidelberg University to develop a training hub at the University of KwaZulu-Natal, South Africa. The new initiative, funded through the National Institutes of Health, will also serve researchers at partner institutions in Ghana, Nigeria, Tanzania, and Uganda. Fawzi and colleagues aim to develop a community of practice in the field of data science, and to prepare researchers at varying stages of their careers to address policy-relevant questions about health systems and the intersection between food systems, climate change, and planetary health.
Top photo by Harvard Chan School
From the Issue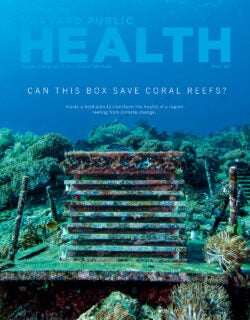 Winter 2022
Climate, changed