School news
Frontlines Fall 2021
Quick updates about the latest public health news from across the School and beyond.
New partnerships will target migration causes, racial wealth gap
Recognizing the need for urgent, sustained action to improve global health care in the Northern Triangle countries of Honduras, Guatemala, and El Salvador, the Harvard Chan School announced in May that it is joining the Partnership for Central America. Part of a U.S. government initiative led by Vice President Kamala Harris, the Partnership represents a vital component of the U.S. government's strategy to support long-term development in the region and address root causes of migration. Dean Michelle Williams serves on the Partnership's Private Sector Leadership Council along with 11 other prominent business and social sector leaders from around the globe. Patricia Geli, who joined the School in August as a research scientist and an executive director with the Reform for Resilience Commission, is the School's point person for the initiative.
This spring, the School also joined with leading organizations from across the business, nonprofit, philanthropy, and academic sectors on a new initiative aimed at combating the 90 percent racial wealth gap between Black and white Americans. Called NinetyToZero, the initiative provides a road map for companies and organizations to "counteract centuries of discrimination, segregation, and financial exploitation," according to an April 6 press release announcing the group's launch. Partner organizations commit to hiring and promoting Black individuals and investing in Black businesses. Read more
---
To lower malnutrition rates, a call to eat more aquatic foods
Ramping up production and consumption of marine and freshwater foods could significantly reduce global malnutrition, according to new research published September 15 in Nature. The study is the first to create individual nutrient profiles for more than 3,750 aquatic food species, ranging from water spinach to clams and cockles to sockeye salmon. The profiles are available to download from an open-access database. Christopher Golden, lead author, chapter lead of the Blue Food Assessment, and assistant professor of nutrition and planetary health, said, "For the first time, our study highlights the significant role of aquatic foods in filling the nutrient gap in nutritionally vulnerable populations while also mitigating chronic diseases by weaning people away from red and processed meats."
---
Gun license rate linked with lead exposure risk in children
Young children living in Massachusetts communities with higher rates of firearm licensure were significantly more likely to have dangerously high levels of lead in their blood compared with children living in communities with fewer gun licenses, according to a study published July 9 in Environmental Research. The authors speculate that lead dust may stick to firearm users' skin and clothes and get subsequently tracked into cars and homes. First author Christian Hoover, a second-year MPH-65 student in health policy, says, "We like to think that our children are safe from lead. But I think this finding opens that case up again."
---
Marking Juneteenth
Just days before Juneteenth was established as a national holiday, the Harvard Chan School held an online event with Opal Lee (above), the activist who campaigned for recognition of the day. In 2016, at the age of 89, the former teacher walked 1,400 miles from her home in Fort Worth, Texas, to Washington, D.C., to raise awareness of Juneteenth. The holiday originated in Galveston, Texas, and honors the June 19, 1865, announcement proclaiming freedom from slavery in Texas—the last state to free enslaved persons. At the event, Lee was joined by Harvard University professors Evelynn Hammonds and Annette Gordon-Reed. Watch at hsph.me/Juneteenth.
---
Building community connections, engaging the next generation of life scientists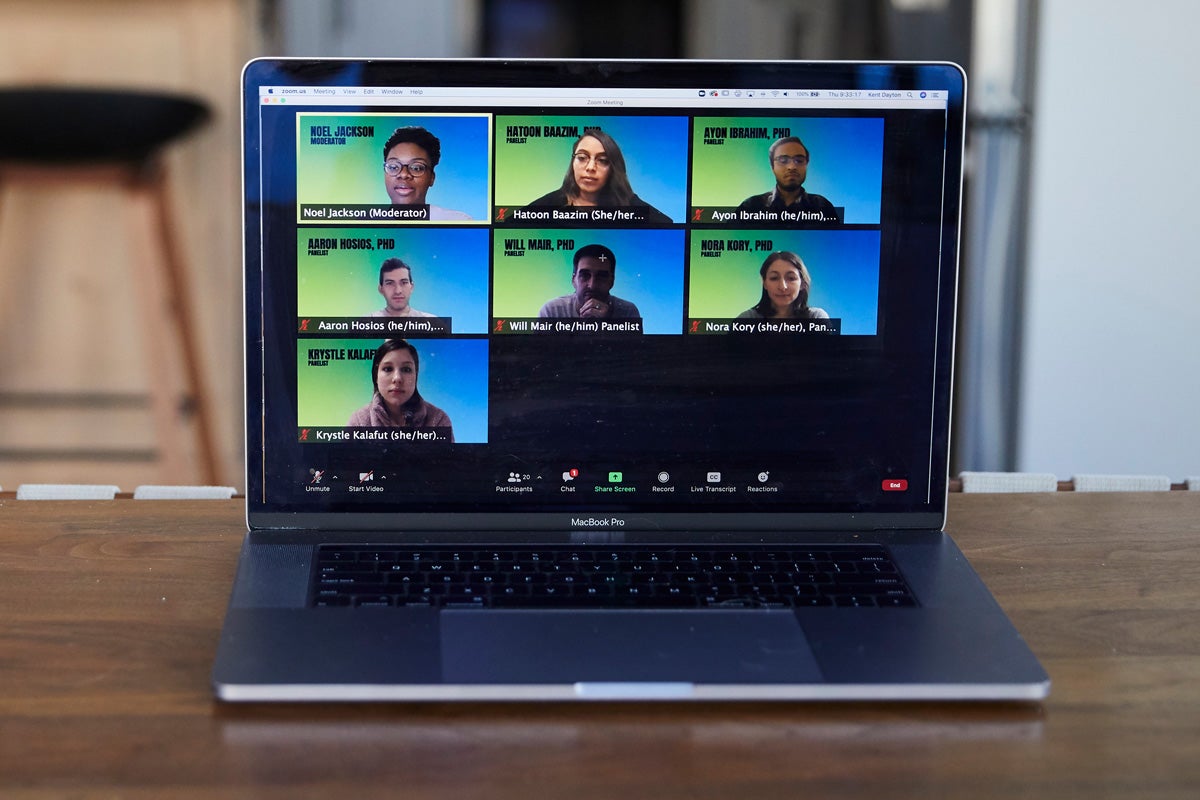 Ask loads of questions, follow maiyour interests, and embrace failure. Those are just a few of the tips that members of the Department of Molecular Metabolism shared with Boston-area teenagers during a "Meet the Scientists" panel discussion hosted in February by the Boston Public Library's Youth Outreach initiative. It was the first in an ongoing series of events with the Department aimed at forging new bonds with the community and nurturing the curiosity of young people interested in basic research. Other events have included virtual tours of faculty members' labs, including the Farese and Walther Lab and the Mair Lab. Each event underscores the fact that there's no single pathway into science. As William Mair, associate professor of molecular metabolism, told the audience during the panel discussion, one of the greatest upsides to studying science is the versatility it offers in life. "Science opens many doors," he said. "You can really go anywhere." Read more
---
Harvard Public Health article wins top award
The fall 2020 Harvard Public Health magazine article Bearing Witness won a Gold Award for Feature Writing from the Council for the Advancement and Support of Education (CASE). Featuring the School's COVID-19 researchers, the article is a collection of highly personal and dramatic firsthand accounts of the hidden human side of doing science during an unprecedented public health emergency. It was written by former editor Madeline Drexler, who is currently a visiting scientist at the School.
From the Issue