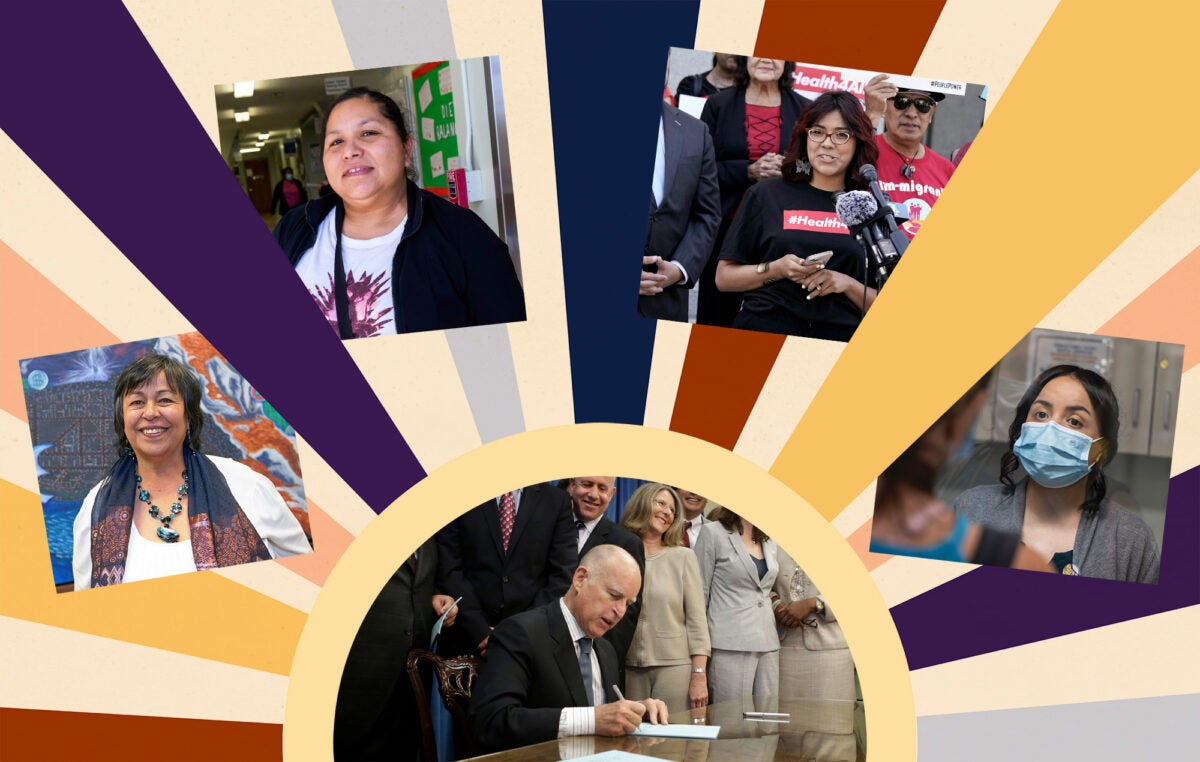 Feature
California takes a major step toward universal coverage
California is about to give insurance coverage to every low-income resident, documented or not.
Petronila Lopez walks into the Venice Family Clinic in mid-July to renew her eligibility for a county program that covers basic care for uninsured low-income residents. The clinic, in Santa Monica, is near her home, and it has walk-in consults once a week.
It turns out the program, My Health LA, is ending next year. But that isn't bad news, Lopez learns from Valerie Ibarra Figueroa, a bilingual health insurance lead at the clinic. She tells Lopez, a 35-year-old mother of three who is undocumented, that the program is ending because California is expanding access to Medi-Cal. She and her husband will likely qualify for this new effort.
After Ibarra Figueroa walks her through the paperwork, Lopez is excited. While she calls her current coverage "a big help" for covering part of her family's medical bills, full-scope Medi-Cal means she and her husband will gain coverage for dental and vision, mental health, family planning, and even transportation for doctor's appointments. "I do hope we qualify because Medi-Cal is better than what we have now," the native of Oaxaca, Mexico says.
Medi-Cal's big move for undocumented immigrants
California is betting it will be better for an estimated 700,000 residents who are expected to qualify in this final phase of a sweeping expansion of Medi-Cal to all undocumented residents in the state. The first phase, adding undocumented children, started in 2015. People under 26 were added in 2019, and those over 50 in 2022. By January 2024, when qualifying undocumented residents between the ages of 27 and 50 become eligible for Medi-Cal, as many as 1.5 million Californians will likely gain insurance coverage, leaving less than 10 percent of the state's residents uninsured. (The expansion will not benefit all immigrants without status: About half a million of them make too much to qualify for Medi-Cal, are barred from buying their insurance through the Covered California insurance marketplace, or don't have employer-based coverage.)
California hopes the move, which is slated to give access to health care access to more people than ever before in the state's history, will help reduce disparities in health outcomes for undocumented residents, who represent at least six percent of the state's workforce, including more than half of agricultural workers and substantial numbers of service and other essential workers. The expansion is also projected to reduce poverty rates.
Sign up for Harvard Public Health
Exploring what works, what doesn't, and why.
Delivered to your inbox weekly.
This effort is "one of the most significant investments in health care in a generation," Kara Carter, senior vice president of strategy and programs at the California Health Care Foundation, wrote in a blog post about the 2022-23 state budget. "It puts California on track to be the first state in the nation with universal health coverage." And it is the latest step in an ongoing effort by state legislators to create a single-payer system.
California won't be the first state to cover its entire low-income population regardless of immigration status; Oregon expanded its Medicaid program this past July. The District of Columbia also offers coverage to its entire undocumented population. Fourteen states, meanwhile, have measures to cover undocumented children, and five (California, Colorado, Illinois, New York, and Oregon) cover at least some adults. But California's efforts will reach the largest number of undocumented people: The state is home to some 25 percent of the nation's undocumented population.
Medicaid funding comes from federal and state governments, but federal government funding does not extend to undocumented immigrants. States that expand coverage do so from their own budgets. For California, that cost is expected to reach more than $2 billion per year.
Challenges and ambiguity abound
Uncertainties could affect the expansion. While California had a budget surplus during part of the expansion, it currently faces a deficit, although Governor Gavin Newsom insists this will not affect the Medi-Cal expansion. Another concern is that the surge of new patients will overwhelm the system, making access better on paper than in practice. "Coverage doesn't mean being able to access care," says Laura Sheckler, director of policy and regulatory affairs at the California Primary Care Association, representing the state's nearly 1,300 health centers. California already faces a shortage of primary care physicians in some places, especially in rural areas, which can mean waits of several months just to get routine appointments. "Workforce is our number one pain point," says Jane Garcia, CEO of La Clínica, which operates 40 clinics in three northern California counties serving 80,000 patients annually.
Patients who suddenly gain insurance often have multiple health problems that need attention, which can spur demand for medical services and increase overall costs. After Illinois added undocumented adults to its Medicaid program, Politico reported that demand for medical services was almost two times higher than expected. Karen Lauterbach, director of community programs and advocacy for the Venice Family Clinic, says, "We've seen this every time there's an expansion."
Community clinics are essential to the Medi-Cal expansion because of their experience working with low-income and undocumented Californians, and with other community groups that serve the same populations. Community clinics complement the county public health departments that manage Medi-Cal enrollment and services.
These clinics also have motivation to make the programs work, says Rose Veniegas, senior program officer for health at the California Community Foundation (Calfund). Because community clinics serve everyone regardless of their ability to pay, it bolsters their operations to get people enrolled in insurance programs like Medicaid, and to keep them enrolled. About a quarter of the Venice Family Clinic's patients are uninsured, for instance. "If [the Venice Family Clinic] can enroll those people into Medi-Cal, it will be very positive for their revenue outlook," Veniegas says. Garcia, from La Clínica, puts a sharper point on it: "Medi-Cal is how we survive," she says. Expansion "is a very important effort for us."
It's an effort complicated by the end of the COVID-19 state of emergency, which suspended the requirement that Medicaid recipients reenroll annually. So far this year, some 5.9 million people nationwide have fallen off the rolls, led by Texas's disenrollment of 72 percent of its Medicaid recipients. This means that clinics like the Venice Family Clinic must sign up people like Lopez for Medi-Cal and simultaneously reach out to existing Medi-Cal patients to inform them they must reenroll.
The case for optimism
State funds have helped support the coming expansion, including $59.8 million awarded earlier this year to 23 county agencies and 12 community-based organizations to participate in the Medi-Cal Health Enrollment Navigators project. Staff there will help people enroll, as well as assist those who need help renewing coverage and maneuvering the bureaucracy. California isn't starting from scratch—it has built up systems over the last eight years that allow clinics to "lift and shift" undocumented people from other public health programs and upgrade them to the expanded, full services-version of Medi-Cal. Adding Lopez and her husband to the rolls, if they continue to qualify, will be straightforward because she is already covered by Medi-Cal for medical emergencies.
However, much of the undocumented population is reluctant to use public services, posing enrollment challenges. "Can we proactively enroll people not on the radar?" asks Veniegas. Clinic staff are optimistic because they can draw on lessons learned during the pandemic about reaching larger numbers of people and building trust. "We did about 165,000 vaccinations" during the pandemic, says La Clínica CEO Garcia. La Clínica staff visited emergency rooms, sent enrollment specialists to organizations serving low-income communities, and distributed flyers at churches and job banks. It engaged with mass media and targeted specific zip codes via social media. It also visited schools and colleges. For enrollment, "we're focusing in on the very same people. They already know us," says Viola Lujan, director of business and community relations at La Clínica.
Tackling enrollment takes a committed push. The enrollment system is complicated and constantly changes, officials say. The Venice Family Clinic has a 15-person health insurance department and has also trained every staffer at its clinics, including security guards, on how to evaluate patients for coverage. Similarly, when eligibility expanded last year to people over age 50, Los Angeles County mandated its Office of Immigrant Affairs to enroll as many eligible individuals as possible. "We did direct phone calls, mailers, robocalls," says Rigoberto Reyes, who heads the office. Part of their training, Reyes adds, included educating department staff "to become sensitive to the questions [people] have around the impact to their immigration status."
Even with years of preparation, adding large numbers of people to the insurance rolls is no small task. There have been news reports about long wait times on Medi-Cal's phone lines.
This massive expansion of health care coverage comes with other caveats, including how California will address long-simmering health care workforce shortages. As ever in California, budget concerns loom. When the state started its expansion, it was flush with cash. Now it's staring at a deficit. But Katherine Hempstead, a senior policy adviser at the Robert Wood Johnson Foundation, says the expansion is still a historic move. "Basically, if you are a state that has a lot of undocumented immigrants, then giving them eligibility is the last mile to get close to universal coverage." Some advocates have even begun working on taking that a step further, such as by obtaining a waiver from the federal government that will allow the undocumented who don't qualify for Medi-Cal to buy into Covered California and get subsidies to help defray the expense.
Despite these challenges, California is expected to pull off the expansion as long as the legislature and governor's chair remain in the hands of the Democratic Party. If the political winds shift, the ongoing funding needed to make the program a success could well be in jeopardy.
Contributors
PM
Pilar Marrero
Pilar Marrero is a journalist and author based in Los Angeles.
MD
Mary Delaware
Mary Delaware is the senior graphic designer at Harvard Public Health.
From the Issue