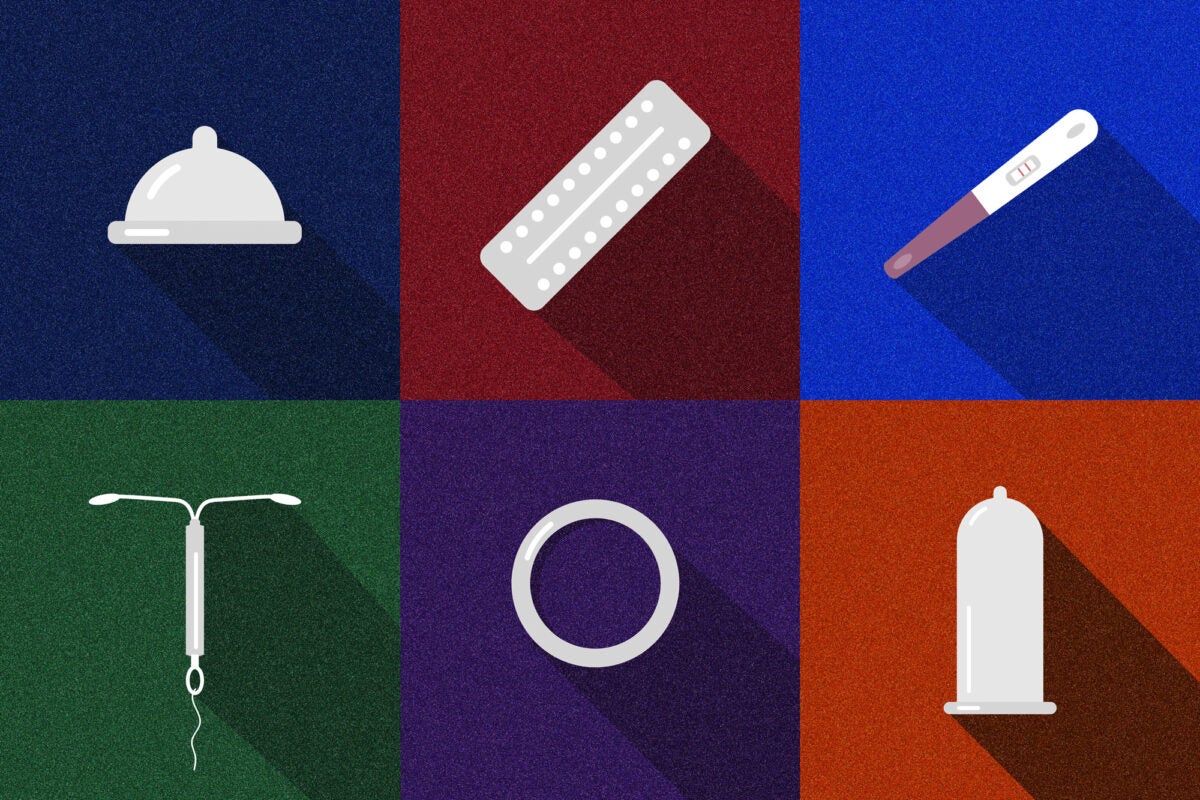 Feature
Birth control has access challenges, too
A close-up look at the Biden administration's partner in expanding contraceptive access
Since the Supreme Court overturned Roe v. Wade in June 2022, ongoing legal and political struggles about abortion rights have taken center stage. Less discussed are the challenges—and needs—around access to contraception.
All FDA-approved methods of contraception remain legal throughout the country, but most contraceptives require a prescription, which in turn creates barriers to access—especially for low-income women, women of color, and those who live in medically-underserved areas.
Sign up for Harvard Public Health
Exploring what works, what doesn't, and why.
Delivered to your inbox weekly.
Lack of contraception access persists despite Title X, the Nixon-era federal family planning program created to serve low-income women and teens. The program hasn't seen a budget increase in nearly a decade, and the clinics it funds have been battered by shifting regulations related to abortion counseling and referral, even though they don't perform abortions themselves. Title X clinics served 2.6 million people last year. But in large swaths of the country, especially in rural areas, people must travel long distances to reach a clinic, which can be a prohibitive burden.
Unable to boost Title X funding in the current political climate, the Biden Administration has sought other ways to broaden access to birth control after the Dobbs ruling, primarily through a series of executive orders. One of those orders shores up the requirement under the Affordable Care Act that employers include no-cost contraception in employer-based health plans.
In June, the administration announced its partnership with Upstream, a nonprofit pursuing a novel idea: training clinicians to make family planning a routine and convenient part of primary care, rather than leaving it up to family planning clinics and OB/GYN practices. Upstream emphasizes reaching underserved populations, often people of color, who are most likely to seek abortions—and who face the most hurdles in obtaining birth control.
The idea at the heart of the Upstream partnership—ready access to contraception in settings outside of obstetrics and gynecology—is increasingly embraced by health care professionals. "Everyone agrees that contraception, family planning conversations, and fertility planning conversations should be part of routine preventative care," says Kavita Shah Arora, a practicing OB/GYN in North Carolina, a bioethicist, and formerly the chair of the ethics committee of the American College of Obstetricians and Gynecologists.
Some primary care practices already address family planning, but it's far from the norm—which is what Upstream is trying to change. Co-founder and CEO Mark Edwards, a long-time advocate for economic opportunity, helped start the nonprofit precisely because unintended pregnancy can impede economic mobility. "There's not a state in the country that has low rates of unplanned pregnancy," he says. A recent estimate found that between 2015 and 2019, 46 percent of pregnancies in the U.S. were unintended, and more than one third of them resulted in an abortion.
Upstream USA started, mostly clinic by clinic, in Delaware in 2014, and in its first three years, the state saw a 25 percent drop in unplanned pregnancies among Title X patients aged 20-39; the number of abortions in the state dropped 37 percent. The nonprofit spread to four other states, and since the Dobbs ruling, that growth has accelerated. Upstream is now in nearly 20 states, both Democrat and Republican-led, and expects to work with 700 health centers by 2030, potentially reaching five million women of reproductive age annually. Upstream expects the government partnership to help expand its visibility and footprint.
The Upstream model also emphasizes same-day access. If someone wants birth control, their primary care provider can offer counsel about options—IUDs, pills, implants, and the like—and they can receive their choice on the spot. Avoiding repeat visits or referrals to an OB/GYN practice reduces the burden on patients, Edwards says. "What the data show is that when you do that, people are really empowered to choose a method that's right for them."
Upstream, which has about $90 million in resources, provides training and no-cost technical assistance to clinics and practitioners. The training covers how to use the full range of contraceptive methods and also how to manage supply and other operational details. Sometimes, Upstream offers clinics help paying for supplies or other operational needs.
Many of Upstream's partners are federally qualified health centers, which are required by law to offer birth control. "Family planning services, counseling, different ranges of contraceptive, doing STD testing—that is bread and butter at a health center," says Vacheria Keys, director of policy and regulatory affairs at the National Association of Community Health Centers. But not every center offers every birth control method, and some lack staff trained to address all aspects of birth control and related patient counseling and education. By offering same-day service and broadening what kind of providers can play a role, Upstream helps clinics facing health worker shortages, Keys says.
Robbie Harriford, the chief medical officer at Samuel U. Rodgers Health Center, a federally qualified community health center in Kansas City, Missouri, wanted to add same-day contraception offerings. Doing so might make a visit to the clinic longer than a patient anticipated, but "you're still not having to do all the hurdles of coming back again," Harriford says, calling repeat visits "a hassle" for patients.
Still, Rodgers Health Center had experienced trouble making the same-day process work. Working with Upstream helped it find ways to streamline its processes and reach its goal, Harriford says. She's been pleased with Upstream's training, which helps providers be sensitive when asking questions about pregnancy and sex and to counsel about contraceptive options without appearing coercive, which is particularly crucial in communities of color. In its early days, Upstream received criticism because women could feel pressured; it adopted the National Women's Health Network and SisterSong's LARC (long-acting reversible contraceptive) Statement of Principles, which emphasizes patient choice and reproductive justice.
At Cone Health, a regional non-profit system based in Greensboro, North Carolina, Upstream's communications training produced "aha" moments for Walidah Karim-Rhoades, a certified nurse midwife, and Julie Wenzel, a physician assistant. The two have years of experience in providing birth control; they are still working on improving same day access, but they say Upstream has already made a difference. Wenzel says she saw more clearly the need to trust patients to make their decisions. Karim-Rhoades says that as a Black female health care provider, she thought she knew how to avoid semantic pitfalls and paternalistic language. But she recalls telling herself during the training, "Wow, Walidah. Wow. You too are doing some of these things, which is infringing upon choice."
Karim-Rhoades and health workers at other clinics say Upstream helped them turn new ideas and approaches into standard practice. Harriford at Rodgers Health Center says Upstream training has made a huge difference in how the clinic communicates with patients. Questions about reproductive health and pregnancy plans should have been routine, but were not—"so now, with Upstream in our training," she says, "we're getting in the habit."
Contributors

Joanne Kenen
Joanne Kenen is the Journalist in Residence at the Institute for Policy Solutions at the Johns Hopkins School of Nursing and the Johns Hopkins Bloomberg School of Public Health.