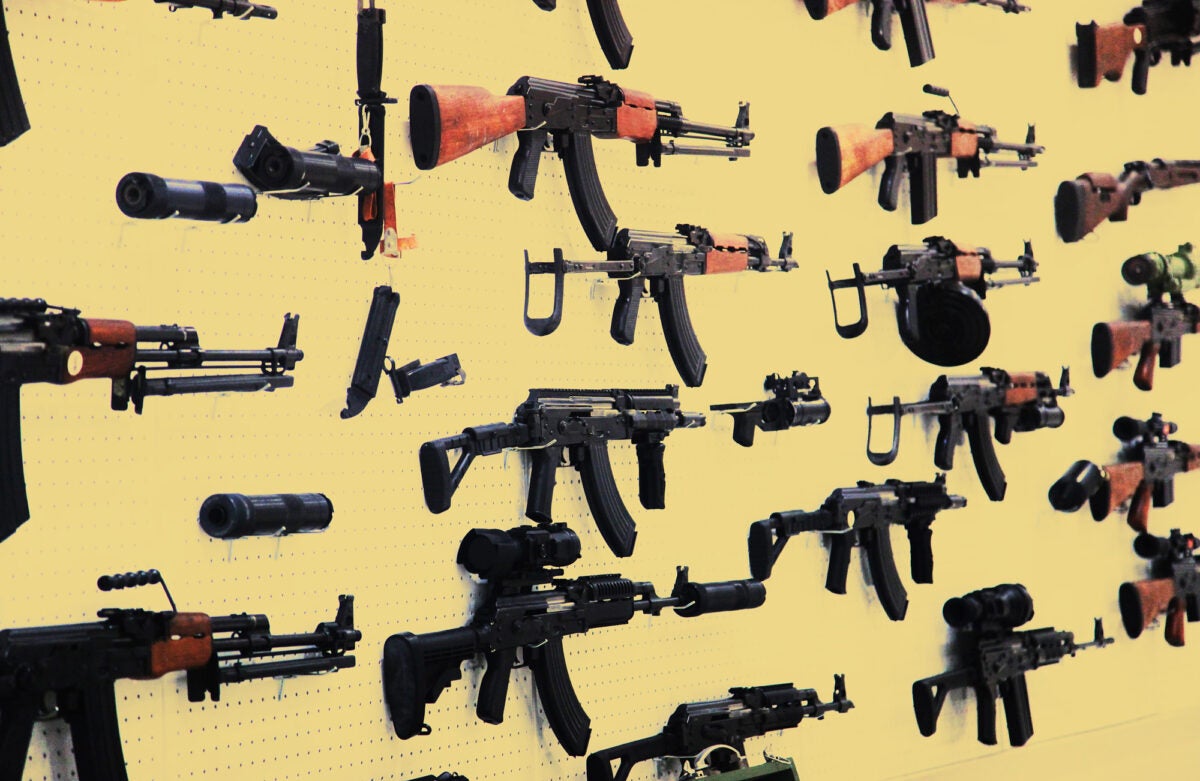 Opinion
We can't ban guns. But we can make them safer
The first gun law passed in the U.S. in decades is a major step forward, but experts say we're still a long way from truly curbing violence.
In the wake of outrage over mass shootings in Buffalo, New York and Uvalde, Texas, the United States on June 25 passed its first federal law restricting access to guns in 25 years. In the 10 days since the law's passage, there have been dozens of mass shootings, according to the Gun Violence Archive – including a mass shooting in Highland Park, Illinois that killed six people and injured 31 others over the July 4th holiday weekend. The nonprofit defines 'mass shooting' as an incident with four or more victims injured or killed.
The new gun bill focused on strengthening red-flag laws, enhanced background checks for 18-21 year-olds, ownership restrictions for those convicted of domestic violence, and $15 billion in funding for mental health services. Harvard Public Health asked a panel of researchers whether the bill's key provisions will stem the rising number of gun deaths in the U.S.
---
Chana Sacks, co-director of the Massachusetts General Hospital Center for Gun Violence Prevention
Lois Lee, pediatric emergency physician at Boston Children's Hospital and associate professor of pediatrics and emergency medicine at Harvard Medical School
Eric Fleegler, pediatric emergency physician at Boston Children's Hospital and assistant professor of pediatrics and emergency at Harvard Medical School
David Hemenway, professor of health policy at the Harvard T.H. Chan School of Public Health and director of the Harvard Injury Control Research Center
Joel Dvoskin, a clinical and forensic psychologist at the University of Arizona College of Medicine
---
One of the researchers, Chana Sacks, had a cousin whose 7-year-old son Daniel was one of the 20 children killed at Sandy Hook Elementary School in December 2012. Sacks, at the time a medical resident training at Massachusetts General Hospital, coped in part by combing through research and data on firearms and gun violence. There wasn't much, which made her decide to become a researcher and advocate for gun violence prevention. "There were so many answerable questions that had just gone unanswered," she says.
Among the answers Sacks and the other researchers had for us is that guns are in the U.S. to stay. That makes sense in a country with at least 400 million guns, more than its population. Instead of blanket bans, they urge U.S. policymakers to regulate guns as we do cars, and focus on preventing harm from gun ownership and use. They also pointed to an urgent need to develop crisis intervention services. The new law's mental health spending is welcome – the U.S. chronically underinvests in mental health infrastructure. But it probably won't stop mass violence. For that, we need safer guns, universal background checks, and better responses to individual crises – for people with – and without – mental illness.
Sign up for Harvard Public Health
What works. What doesn't. And why.
Delivered to your inbox weekly.
Here are their expanded remarks. They were interviewed separately; answers have been edited and condensed.
Q. What was your reaction when you saw the gun safety bill had passed in June?
Chana Sacks: It's a start, but we need to keep going.
David Hemenway: So little, so late. These are steps we need to be taking, but we can't make this kind of change only every 30 years. We have to be making beneficial changes every year.
Joel Dvoskin: A little complicated — I was pleasantly surprised, and a little disappointed. The red flag laws are incredibly useful. But I knew there would be a lot of compromises in the bill.
Eric Fleegler: We are decades behind [in] addressing this. Congress is starting to take firearm violence and mental health issues seriously. But we have miles to go before we even remotely come close to having a more universal approach that could significantly decrease firearm violence.
Q. It sounds like guns are with us to stay. What can we do about reducing the harm they cause?
Hemenway: We have to accept that we're going to be living with guns in our society. The public health approach is not to say 'let's ban guns,' but 'let's make guns safer.' How do you do that? We put seatbelts into cars. We didn't ban cars. We child-proofed aspirin bottles in the 1960s to prevent young children from getting into aspirin and overdosing. There are things we can do about guns. We need strict liability for gun ownership. We need "smart" guns, that only shoot with a fingerprint or digital ID of the owner, and so on.
Lois Lee: Obviously, guns are more complicated than motor vehicles. But in the 1970s, if we thought there was nothing we could do to reduce motor vehicle deaths, we wouldn't be where we are today. For guns, this is the beginning of the conversation, and it's not just about federal legislation and mental health. We need stakeholders, including gun owners and gun manufacturers, to focus on other solutions like safer gun technology. Universal background checks hopefully will be in whatever next stage of legislative discussions that occur.
Q. How much will improving mental health services reduce gun deaths and injuries?
Lee: It is good for addressing the mental health crisis. It's unclear to me exactly what the impact would be on gun violence. The research has shown most individuals with mental health disorders are victims, not perpetrators of violence. That needs to be better studied and communicated to policymakers and the public. We really need to better understand the risk factors for firearm deaths.
Dvoskin: What is relevant are people who are in emotional crisis, which is different than people with mental illness. When somebody who doesn't have a mental illness loses their job and becomes depressed or angry about it, that's a psychological or emotional crisis. And that can be a risk factor for violence. We should spend money so that the local mental health authority has the capacity to respond to these types of crises in a timely and competent manner. Crisis workers need to be well-trained, well-paid, and able to stay in their jobs for a longer period of time.
Sacks: More than half of all gun deaths in the US are the result of suicide, so that is one area where there could be impact. Improving community-driven, trauma-informed resources for families and communities affected by gun violence should be a critical priority. So much will really depend on how these resources are used. For example, a lot of spending is for school-related services. If that funding goes toward improving mental health care access in schools, I think that could be a really good thing. If, on the other hand, that funding is used to bring armed security into schools and double down on active shooter drills – I think that has the potential to perpetuate trauma rather than prevent it.
Q. Final thoughts?
Fleegler: It's hard to estimate the effect of these gun laws in advance. At the state level, some laws have been associated with lower rates of firearm deaths. We will need to study these changes over time to truly understand if the measures we're taking are having an impact.
Sacks: There are so many opportunities for intervention, so many strategies we can employ to make a difference here. It just requires all of us putting in the work.
Lee: I'm hopeful this legislation is just the beginning, [and] we start building databases for research, engage multiple stakeholders, and focus on solutions.
Dvoskin: Investing in programs that can get a quick and competent response to somebody that you live with or love who is in an emotional crisis has no downside. Let's focus on crisis intervention.
Hemenway: In the short run, we need to see policymakers bridge the political divide in order to make real change that will actually have a significant impact on gun violence. The gun safety bill is a start, but we're not there yet.
Top image: Slobodan Miljevic / iStock
Contributors
CPM
Christine Mehta
Christine Mehta is the senior editor for ideas and opinions at Harvard Public Health.