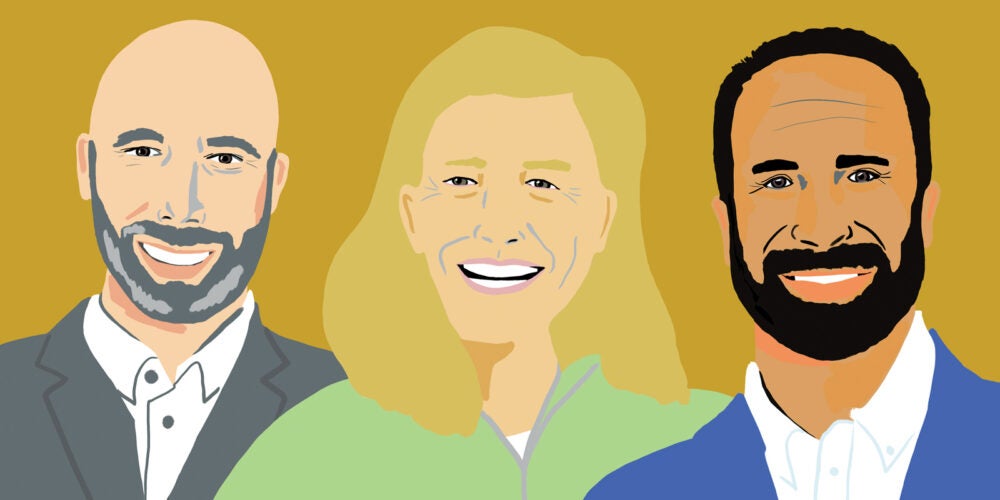 Feature
A fellowship to help fight fatigue – and climate change
The Climate Health Organizing Fellowship is training a dozen teams on activating their communities to improve patient well-being.
Predrag Stojicic became an activist during medical school. Gaurab Basu found activism eased his sense of helplessness when treating patients whose conditions were caused by structural factors such as racism and climate change. The two are now bringing their experience to an unusual fellowship aimed at boosting climate-related health activism by medical professionals. It taps into both a long tradition of advocacy and a deep vein of current interest.
"People are already doing this," says Basu, who is both a working physician and founding co-director of the Cambridge Health Alliance Center for Health Equity Education and Advocacy. "We can help them."  
The center, in Cambridge, Massachusetts, is home to the new Climate Health Organizing Fellowship, under the direction of Basu and Stojicic. The first class of fellows—12 three- and four-person teams from across the U.S.—was named in December 2021 and started their classwork in January. The teams proposed projects addressing issues in their communities ranging from reducing greenhouse gas emissions from health care facilities to curriculum reform to decreasing air pollution levels. The fellowship is virtual—teams receive six months of online training and skills development in the organizing framework developed by Marshall Ganz, a prominent organizer who teaches at the Harvard Kennedy School. The fellows then have six months of coaching to help them execute on their projects.
Sign up for Harvard Public Health
What works. What doesn't. And why.
Delivered to your inbox weekly.
"We're really, really trying to support people in having an impact," says Stojicic, who began organizing while a student in his native Serbia. He spearheaded education on HIV/AIDS when he felt the Serbian government was ignoring the retrovirus's rapid growth in the country. In less than seven years, he and some friends had set up 12 peer education groups with 5,000 volunteers. "That was my first experience [with] what people power can do," he says. Later, he founded Omladina JAZAS-a (Yugoslav Youth Association Against AIDS) in Serbia. He currently is an executive director of People Power Health, which helps caregivers gain community organizing skills.
---
public health responses to climate change
---
Both Stojicic and Basu are versed in the Ganz framework; Stojicic took Ganz's course at the Kennedy School, and now teaches organizing at Harvard T.H. Chan School of Public Health. Basu, meanwhile, has served as a coach for Ganz-led workshops and teaches social medicine at Harvard Medical School. He is also a health equity fellow at the School's Center for Climate, Health, and the Global Environment (C-CHANGE).
The new fellowship was the brainchild of Kelsey Wirth, the co-founder of Invisalign's parent company, who now heads Mothers Out Front, an organization dedicated to advancing clean energy and other climate-related causes. Wirth had seen how climate change's impact on health provided an effective way to get mothers engaged in climate issues, regardless of their race or social class. Plus, nurses and doctors, like mothers, are trusted voices in their communities, so it made sense to extend her work to clinicians. Wirth knows Ganz, who introduced her to Stojicic. In early 2021, Stojicic brought Basu onto a Zoom call with Wirth, and the three outlined the idea for the fellowship. Wirth connected them with the Winslow Foundation, where she is a board member, which provided $100,000 to fund a one-year pilot, with the money largely earmarked for the coaches and some administrative work.
The climate health equity fellowship is unique, says Merlin Chowkwanyun, an assistant professor of sociomedical sciences at Columbia University Mailman School of Public Health. He says it comes at a time of heightened social consciousness similar to that of the 1960s. Clinicians were engaged in the civil rights movement via the Medical Committee for Human Rights, which marched to increase access to health care for Black people and worked to establish desegregated clinics. Chowkwanyun, whose forthcoming book is All Health Politics is Local: Community Battles for Medical Care and Environmental Health, says interest in activism is especially high among medical students, who have been organizing events such as "White Coat Die-Ins," lying down in public places to protest police brutality or grand juries not indicting officers. But medical schools don't always have social medicine departments, and if they offer courses in community organizing, he says they often prioritize bioethics.
One benefit of activism may be addressing the crisis of doctor burnout, says Rebecca Philipsborn, an assistant professor of pediatrics at Emory University School of Medicine. Helping clinicians extend the idea of patient care into communities will provide them, she says, with "ways to engage with the bigger health issues" including climate change.
Victor Roy credits receiving similar activism training with helping him connect with other clinicians who want to make a difference in their patients' lives. Roy graduated from Northwestern University Feinberg School of Medicine in 2019 and is now a resident at Boston Medical Center. He learned the Ganz community organizing framework from Basu at the start of his residency and says conversations about issues such as race and environmental degradation "are commonplace in our department."
Wirth says a main goal of this first year is to develop a community of fellows, which she ultimately hopes to expand beyond the U.S. "Working on climate change is a very lonely place to be," she says. She hopes building a community of clinicians will help them move past isolation toward a sense of agency.
Contributors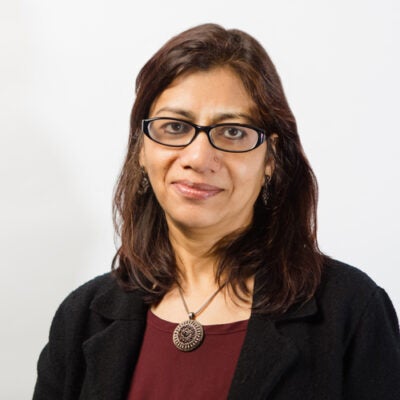 Kalpana Jain
Kalpana Jain, a one-time health editor at The Times of India, is a writer in Cambridge, Massachusetts, and senior ethics and religion editor at The Conversation.
FB
Franziska Barczyk
Franziska Barczyk is a Toronto based illustrator, gif maker, collage and visual artist.
From the Issue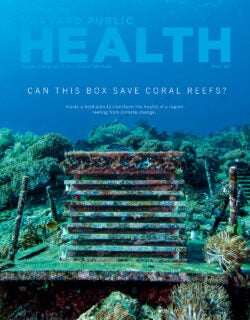 Winter 2022
Climate, changed