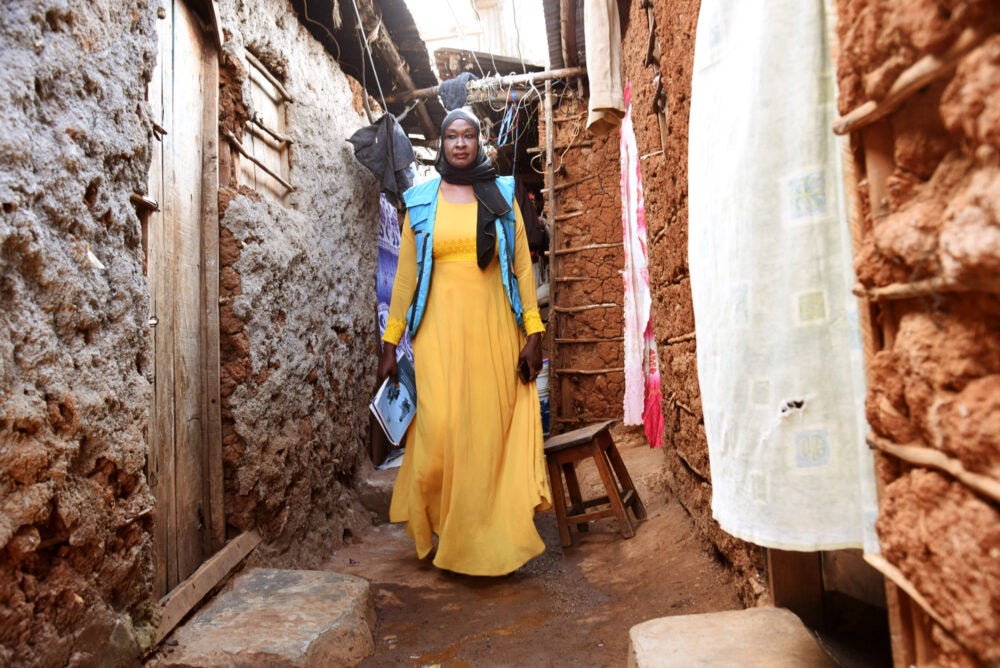 Feature
Africa's changing up public health. The world should take note.
A community-focused emphasis on prevention plays to the continent's strengths, and could be a new model for the globe.
There's nothing grand or imposing about the Kenya Medical Research Institute, a complex of squat buildings behind a whitewashed perimeter wall a few kilometers southwest of Nairobi's business district.
But inside its plain façade occurs biomedical research with worldwide impact. As one of the largest research institutions in Africa, with 3,500 staff, 20 percent of whom are scientists, KEMRI's ability to conduct genomic sequencing and surveillance made it part of the continent's response to COVID-19. One of its researchers, George Warimwe, developed a ChAdOx1 vaccine vector to fight Rift Valley Fever that he knew could work for other viruses, and indeed it became the basis of AstraZeneca's COVID vaccine.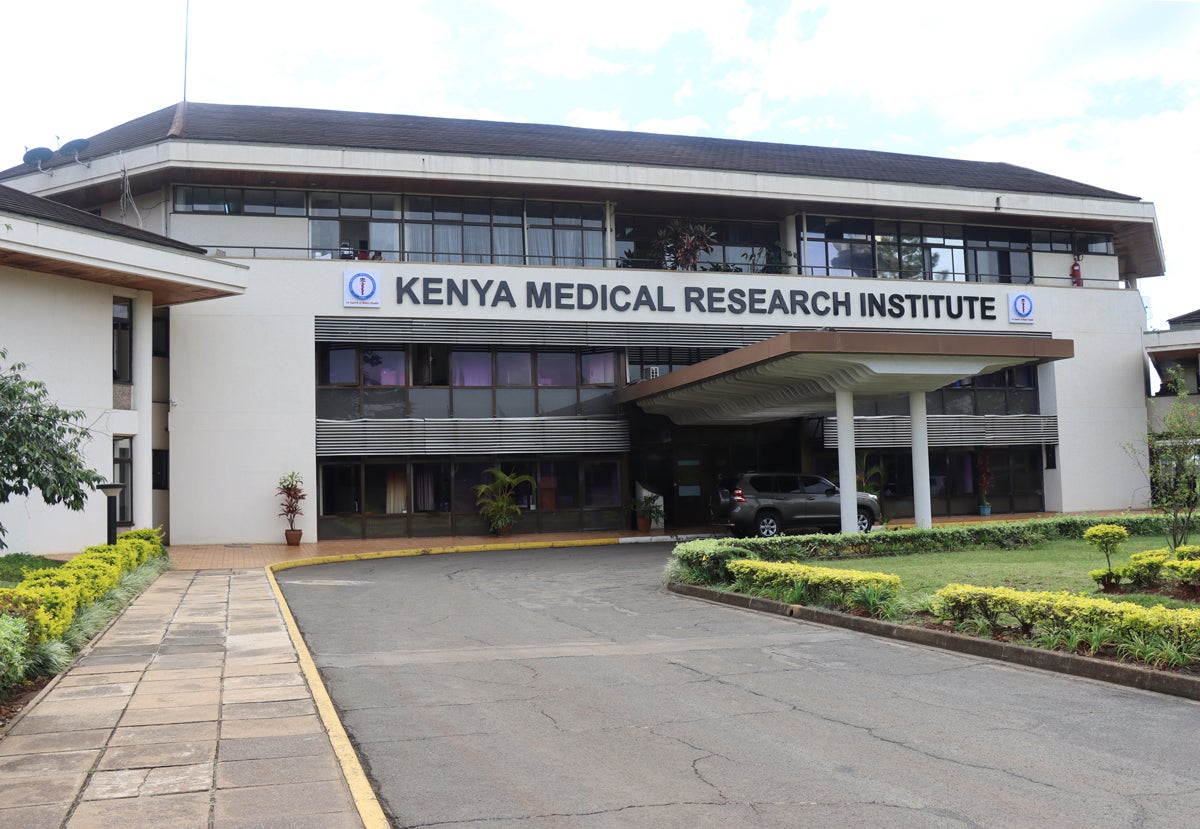 KEMRI is one face of public health in Africa. Swalha Abdalla is another. A community health worker in Nairobi, she carefully picks her way along mucky alleys in the Kibera district, which may be Africa's largest slum. Each month, Abdalla visits 300 households, discussing immunizations with parents, supplying vitamins to the elderly, and offering basic primary care to families who have no other place to turn. Community health workers across Africa are a force against fighting disease outbreaks and creating awareness that helps improve overall health outcomes of entire communities.
High-tech and high-touch: This is the path Africa is forging. From the bitter pain of the pandemic, a new, more African public health is taking form—a different approach than the Global North's, which often gives short shrift to prevention, and instead spends heavily on treatment. Never has there been more resolve for a self-directed African public health effort than now. And never has there been more momentum.
---
The Continent made impressive progress in COVID testing and sequencing during the pandemic, with 40 countries ramping up diagnostic capacity within a matter of months.
It was an African lab, the Regional Centre of Excellence for Genomic Surveillance and Bioinformatics in Cape Town, that was the first in the world to detect the Beta variant of SARS-CoV-2. Researchers at the Botswana Harvard AIDS Institute Partnership in Gaborone were the first to sequence the Omicron variant. "African leadership in addressing COVID has been extraordinary," John Nkengasong, the director of the Africa Centres for Disease Control and Prevention, said at a news conference in December 2021.
Sign up for Harvard Public Health
What works. What doesn't. And why.
Delivered to your inbox weekly.
There was no Africa CDC during earlier disease outbreaks like the Ebola outbreak of 2013–2016, or a massive cholera epidemic in Zimbabwe in 2008–2009. Having the institution in place proved vital for the continent's COVID response. Its multi-country footprint—it is based in Addis Ababa, Ethiopia, and has regional centers in Gabon, Kenya, Nigeria, Zambia, and soon, Egypt—helped coordinate responses around the continent and around the world, sharing information about variant genomes. Its experts could also apply lessons learned previously, such as the response models developed to contain Ebola. And because the Africa CDC is an agency within the African Union, Nkengasong and other officials were able to speak directly to heads of state around the continent. When Cyril Ramaphosa, president of South Africa and at the time head of the African Union, called out global governments for vaccine hoarding, and Rwandan president Paul Kagame decried vaccine nationalism, the Africa CDC had already been working with a South African consortium and a WHO-supported network of labs to reverse- engineer mRNA vaccines.
Other organizations vital to public health on the continent have also been newly established, such as the African Medicines Agency, modeled after the European Medicines Agency, which will regulate both imported and locally made treatments. "You can't have capacity to make vaccines unless you have capacity to regulate them," says Salim Abdool Karim, a South African clinical infectious diseases epidemiologist and director of the Centre for the AIDS Programme of Research in South Africa.
Expanding medical and health talent is the goal of the University of Global Health Equity, a health sciences university and medical school founded to integrate clinical and community-health training for doctors for work across Africa. It launched in Kigali, Rwanda in September 2015 through a partnership with the Rwandan Government, Partners in Health, the Cummings Foundation, and the Bill & Melinda Gates Foundation.
Entrepreneurial approaches to other problems are also emerging. To address a need for better diagnostics, in February KEMRI launched kits to test for COVID and for malaria. The malaria kit, Plasmocheck, sells for 60 Kenyan shillings (about 50 U.S. cents), substantially less than an existing offering. Supply chain infrastructure is spotty throughout Africa, so in 2016 Rwanda started working with Zipline, a Silicon Valley startup that uses drones to deliver supplies to hospitals. Zipline expanded into other African countries like Ghana, which used its Zipline network to deliver COVID vaccines. This success convinced Walmart in late 2021 to pilot Zipline at a store in Arkansas. In South Africa the state-owned logistics company, Transnet, decided to create a vaccine train to bring COVID jabs to rural areas.
Layered on top of the institutions is a deep bench of talent and extensive know-how, hard won from responses to past crises. Projects such as the Affordable Medicines Facility for Malaria, which subsidized certain malarial therapies, have shown that African officials can run effective multi-country logistics efforts that make treatments much more accessible. And a number of African countries have made progress against the scourge of HIV. Across the continent, antiretroviral treatments have skyrocketed; in 2000, a mere 11,000 people had been treated. Today, it's more than 12 million. African countries have also developed HIV prevention programs, which have reduced new HIV infections by 14 percent in East and Southern Africa and by 8 percent in West and Central Africa. Nigeria, which had one of the highest global rates of HIV infections in 2018, has cut new HIV infection rates in half.
The talent bench is equally important. Nkengasong is one sterling example; he is expected to be confirmed by the U.S. Senate to become the first-ever African director of the President's Emergency Plan for AIDS Relief, or PEPFAR. Tedros Ghebreysesus, who has served Ethiopia both as minister of health and minister of foreign affairs, has headed the World Health Organization since 2017. Ngozi Okonjo-Iweala, a Nigerian economist and government reformer, chaired the Global Alliance for Vaccines and Immunization (GAVI), after being the first woman and first African named to head the World Trade Organization in 2021. Barely 1 percent of research published in peer-reviewed journals is by African scientists, but this is changing rapidly.
With improved infrastructure and scientific capacity has come investment interest from biotech and big pharma, looking to gain entry into one of the world's fastest-growing markets. This boost in activity is a welcome corollary to one of the most visible responses to the pandemic, the bitter, hard-fought pledge to get more vaccine manufacturing on the continent. There is a push for 60 percent of vaccines used in Africa to be made on the continent by 2040, up from around 1 percent in 2019. The impetus is clear: In late April, only 16 percent of Africans had been fully vaccinated against COVID versus nearly 60 percent of the global population. Olusoji Adeyi, president of Resilient Health Systems, a Washington, DC health consultancy, and author of the new book Global Health in Practice, was blunt in a recent panel about the lesson of the vaccine rollout for Africa: "In moments of existential peril, you are on your own. Nobody from the Global North is going to save you."
The road to self-sufficiency is long: Until this year, the only vaccine maker in Africa that met WHO standards was the Institut Pasteur de Dakar in Senegal, which has been manufacturing yellow fever vaccines for more than 50 years. This year, it is expanding into vaccines for polio, measles, and influenza, says Joe Fitchett, senior adviser for biotechnology, as well as for COVID.
The continent also began asserting intellectual property development after being jilted by vaccine makers, which sold hundreds of millions of doses to African nations and then sent them elsewhere. In South Africa, Afrigen is one example, and another comes from Patrick Soon-Shiong, an American entrepreneur who was born in South Africa. He recently opened a plant here expected to eventually produce 1 billion vaccines a year for COVID, cancer, tuberculosis, and HIV. Meanwhile, in March 2022, Moderna finally fulfilled a promise to set up vaccine manufacturing on the continent, announcing a $500 million plant in Kenya—its first in Africa. It aims to start production in 2023, promising to make as many as 500 million mRNA vaccines a year. It's playing catch-up to BioNTech SE, its German rival, which will put modular vaccine factories in the second half of 2022 in Senegal, Rwanda, and potentially South Africa. These should be capable of producing 50 million doses each. BioNTech is also collaborating with Pfizer, its COVID vaccine partner, on bringing malaria and tuberculosis vaccine manufacturing to Ghana.
Pharmaceutical companies are also investing more broadly in Africa, which is the fastest growing pharma market in the world. The sector is projected to hit $66 billion in sales this year, up from $12 billion in 2012. These developments address longstanding needs across Africa. But also key to public health here are the opposite of high-tech and finance.
---
On a sunny day this March Swalha Abdalla picks her way between mud-walled houses in Makina, the neighborhood in Nairobi's Kibera district where her clients live.
From the right angle Abdalla can see the distinctive conical Kenyatta Center, five kilometers away in Nairobi's central business district. That might as well be a world apart from Kibera.
Abdalla, 38, is a community health worker on her way to see Mariam, a 36-year-old who gave birth to her third child a month ago. When Abdalla visited the prior week the baby had the flu, so now she's checking back in. The baby is improving, though still coughing a little and sometimes vomiting, Mariam says. Abdalla examines the infant and reminds Mariam the baby is due next week for a BCG shot—a tuberculosis vaccine. Then she heads back out into Makina to see her next client.
She'll visit 300 households this month, discussing immunizations with parents, supplying vitamins to the elderly, and generally being the primary medical contact for families. "We are the face of Kibera," Abdalla says, noting that people come to know their community health workers—she's been at her work for five years—and to trust them. "There are many instances where we get tips from a concerned local about, for instance, a pregnant woman who is not attending antenatal clinic sessions as she should," she notes. It is her role to intercede and make sure these women take care of themselves, even if it means involving the police.
Community health workers play a vital role in health care provision in much of Africa—Kenya has more than 86,000 of them. In Kenya and several other countries, they are integrated into national health systems. These workers are critical to reducing inequality of care, as well as improving overall health outcomes of the entire community. In the Democratic Republic of the Congo during the 2014–2016 Ebola crisis, these community workers ensured that health care services kept functioning at the local level, and they even helped with disaster preparedness. And much the same can be said of their role in the wake of the COVID pandemic.
Universal health coverage is a significant focus across much of Africa, with 11 countries having some form of single-payer system, led by Ghana and Rwanda. According to the Rwanda Development Board, over 84 percent of the country's population are insured by the Mutuelle de Santé, a community-based health insurance program. Participating households contribute 1,000 Rwandan francs ($2 USD) per family member annually, which subsidizes the rest of the population. The program includes the full range of essential health services, from prevention to treatment. In Kenya, President Uhuru Kenyatta in February announced the national roll-out of universal coverage, and South Africa is considering implementing a health financing system designed to pool funds to provide access to quality and affordable health care.
African nations pledged in 2001 to allocate 15 percent of their government budget for health care, in the Abuja Declaration. By 2018, just two countries had achieved that: Rwanda and South Africa. Both slipped back below that threshold during the pandemic. Meanwhile, seven countries, most notably Mozambique (which had the second-highest health spending among African Union governments in 2001), actually reduced health spending. Sub-Saharan countries as a whole have lost ground since the Abuja Declaration. In 2000, sub-Saharan countries were spending about 5.5 percent of their budget on health care, but by 2019, that average had fallen to 4.9 percent. For comparison, in fiscal 2022, the U.S. federal government is projected to spend 24.3 percent of its budget, or about $1.6 trillion, on health care.
Funding shortfalls undermine progress toward universal coverage and undercut the efficacy of community-based care. Abdalla, the community health worker who visits 300 families a month in the slums of Nairobi, is a volunteer. So are many community workers across Kenya and the continent. Abdalla does receive a stipend for some training sessions, but that doesn't go far. Often, she says, "we don't have safety equipment like gloves to handle the sick, or appropriate footwear to help us navigate through the muddy slum, especially when it rains." She stays committed because she was born in Kibera and saw pregnant women suffer due to lack of health services. Her work "means I am contributing even in the smallest way to help my community access health care."
A lack of government funding for public health is a persistent theme around the continent, and it has created an overreliance on funding from outside donors and NGOs. In 2019, a WHO report found 26 countries where donor aid accounted for at least 20 percent of health spending, 20 of which were in in sub-Saharan Africa. For five of those 20, donors contributed more than 50 percent of health spending. Critics such as Adeyi argue that the aid has stopped countries from taking charge of their own destiny and let politicians escape responsibility for taking care of their citizens. "We cannot continue to rely on external funding for something so important to our future," Paul Kagame, the president of Rwanda, told fellow leaders in December at the first-ever Conference on Public Health in Africa (CPHIA). These are strong words—although WHO noted that Rwanda gets 50 percent of health care money from foreign donors. And indeed, aid is not a spigot that could be easily turned off—not without dire consequences for public health. Even with the current levels of development aid, African countries spend between just $8 and $129 per capita on health each year, versus up to $4,000 per capita in high-income countries.
African leaders today are well aware that the history of public health across the continent is one of broken promises, empty rhetoric, missed deadlines, and a preference for other people's money. They are trying to move on. At the CPHIA event, which was organized by the African Union and the Africa CDC, attendees focused on vaccine inequity and other long-standing health challenges. The conference was intended to usher in a new era for science, partnership, and innovation in the health sector, and it ended with a call for a New Public Health Order on the continent. That order includes bolstering African manufacturing capacity for vaccines, drugs, and tests, and expanding the health workforce, especially epidemiologists.
African nations are forging their own vision of public health, distinct from the technical, transactional approach of the Global North, says Muhammad Pate, a former World Bank senior official and Nigerian minister of health, now a professor at the Harvard T.H. Chan School of Public Health. Pate says such an approach is "unlikely to provide enduring solutions" for countries on the continent. Instead, "the practice of public health in Africa necessarily means effective engagement with its people, communities, and cultures," he says.
It's a shift from Panacea, the Greek goddess of treatment, to Hygiea, the goddess of prevention. Pate envisions an African public health that hews closer to Hygiea. In March, he was among a group of policy makers, public health academics, and practitioners who gathered in Dakar, Senegal to devise recommendations for a new African public health that will improve wellbeing and economic resiliency. Community field-workers like Abdalla may play an important role in this future. Pate invokes the novelist Chinua Achebe's assertion that "Africa is people" in arguing for a new African approach.
It could be a world-changing effort—the pandemic revealed huge flaws in public health infrastructure everywhere, including across Africa. The world needs new ideas and approaches for public health before the next pandemic occurs. But for African nations, there's something more immediate. As Nkengasong, the outgoing Africa CDC director, says, "When I meet with partners and donors, I ask that we all champion that new order for the continent."
Top photo: Pauline Ongaji
Contributors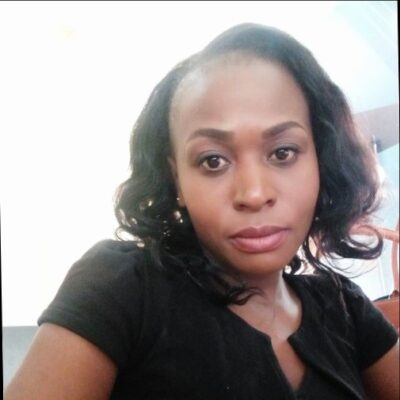 Pauline Ongaji
Pauline Ongaji is an award-winning science journalist in Kenya.
From the Issue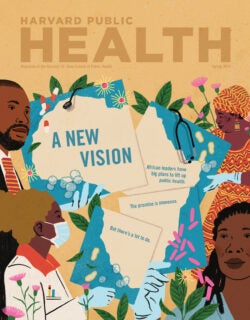 Spring 2022
African public health