People
Standout voices in African public health
From the research bench to the halls of government, these 25 leaders are forging a healthier future
These are some of the notables making a new path for the field. They represent an increasingly deep bench of leaders shaping policy and practice on the continent.
---
---
---
---
Sign up for Harvard Public Health
What works. What doesn't. And why.
Delivered to your inbox weekly.
---
Winnie Byanyima
Notable for: Expanding access to health services. As UNAIDS executive director, drives attention to the public health impacts of social justice and gender equality. Works to remove barriers to health services for women and vulnerable groups through the elimination of discriminatory laws. Has expanded HIV/AIDS prevention, testing, and treatment services to key populations. — Paul Adepoju
---
---
Mohammed Malick Fall
Notable for: Response to COVID-19. As UNICEF regional director for Eastern and Southern Africa, the native of Senegal led a large team to coordinate responses to COVID-19 across the continent. Worked with countries and other partners to procure, mobilize, and distribute vaccine doses and other tools to fend off the pandemic. Has been involved in UN initiatives in Afghanistan, France, Haiti, Indonesia, Mongolia, and Switzerland. —Paul Adepoju
---
---
---
---
---
Julie Makani
Notable for: Genomic research, advocacy, and awareness for sickle cell disease in Africa. Established the world's largest study center for sickle cell disease at Tanzania's Muhimbili University of Health and Allied Sciences. Founded the Sickle Cell Foundation of Tanzania to raise awareness of the disease. Makani is the principal investigator for the Sickle Pan African Research Consortium under the Sickle In Africa network. — Gilbert Nakweya
---
---
---
---
---
---
---
---
---
David Moinina Sengeh
Notable for: Policy innovation. Being Chief Innovation Officer for Sierra Leone and also its minister for basic and secondary education does not sound like a public health job. But Sengeh and his team at the Directorate of Science, Technology, and Innovation became the fulcrum for the country's fight against COVID-19, providing data and analysis to shape emergency response, lockdown policies, and school closings and reopenings. It also developed tools to share information with the populace, such as the Moi Minute, public health messages Sengeh recorded that were on Youtube and TV. — Michael Fitzgerald
---
---
Michel Sidibé
Notable for: Rallying support for the African Medicines Agency, established to coordinate pan-African regulatory structures and standards. Left position as Mali's minister of health and social affairs to become African Union special envoy, lobbying governments to sign and ratify the AMA treaty. Helped establish the AMA. Had been the second executive director of UNAIDS. — Paul Adepoju
---
---
Heba Wali
Notable for: Vaccine manufacturing. Spearheading Egypt's private sector COVID-19 vaccine manufacturing initiative. Leads Egypt's largest vaccine production facility, which has produced tens of millions of doses of the Sinovac vaccine. Plays a key role in helping the continent fulfill its goal of producing 60% of its own vaccines by 2040, developing vaccine production partnerships and transfer of vaccine manufacturing technology in other parts of Africa. — Paul Adepoju
---
This story has been updated to clarify Quarraisha Abdool Karim's role in developing HIV prevention methods.
Contributors: Paul Adepoju is a Nigerian science journalist. Esther Nakkazi is a Ugandan science journalist and blogger. Gilbert Nakweya is a Kenyan science journalist. Linda Nordling is a science journalist based in South Africa. Michael Fitzgerald is Editor-in-Chief of Harvard Public Health.
Photos: Quarraisha Abdool Karim: Rajesh Jantilal; Salim Abdool Karim: Dean Demos, CAPRISA; Adesina: AfDB; Binagwaho: Courtesy of Agnes Binagwaho; Chibale: University of Capetown; Giwa-Tubosun: Courtesy of Temie Giwa-Tubosun; Happi, Moeti, Muyembe, and Nkengasong: Paul Adepoju; Kyobutungi: Florence Sipalla, APHRC; Mahomed: Courtesy of Zaakira Mahomed; Makhele: Lee-Ann Olwage; Masiyiwa: Gus Ruelas / Rueters; Ndifon: AIMS; Pate: Harvard Chan School; Rees: Wits University; Senkubuge: Courtesy of Flavia Senkubuge; Tomori: Courtesy of Oyewale Tomori.
From the Issue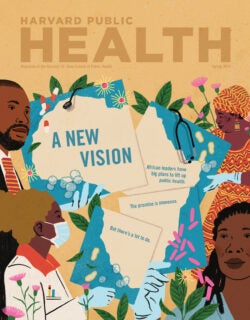 Spring 2022
African public health