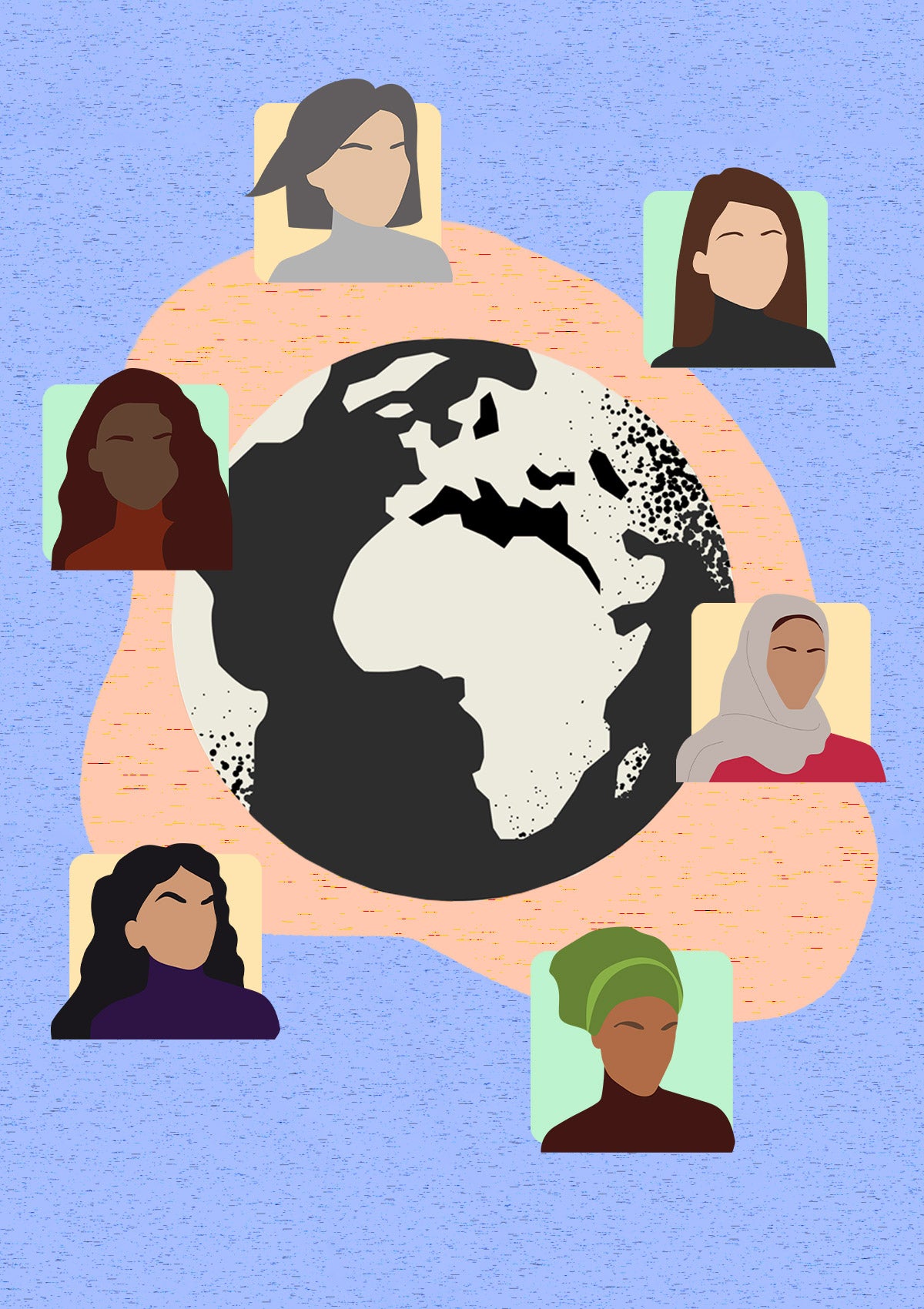 People
Meet six women fighting to stop the global backslide on women's rights
The women's rights movement faces growing threats from rising authoritarianism around the world. These six women aren't backing down.
Content warning: This article contains references to sexual and gender-based violence that may be distressing.
Women have gained hard-won rights over the past century—to education, reproductive health care, and economic and political independence—all of which have been accompanied by vastly improved health outcomes for entire societies.
But women's rights have remained a target of authoritarian movements in countries around the world, from Afghanistan to the United States. Research suggests that authoritarians seek to disempower women because the social movements they lead, and the revolutions they participate in, are more likely to be successful. Most importantly, good health and women's empowerment go hand-in-hand.
Sign up for Harvard Public Health
What works. What doesn't. And why.
Delivered to your inbox weekly.
This International Women's Day, we are shining a spotlight on six women resisting authoritarianism in their countries and protecting women's rights and health across the globe.
Asila Wardak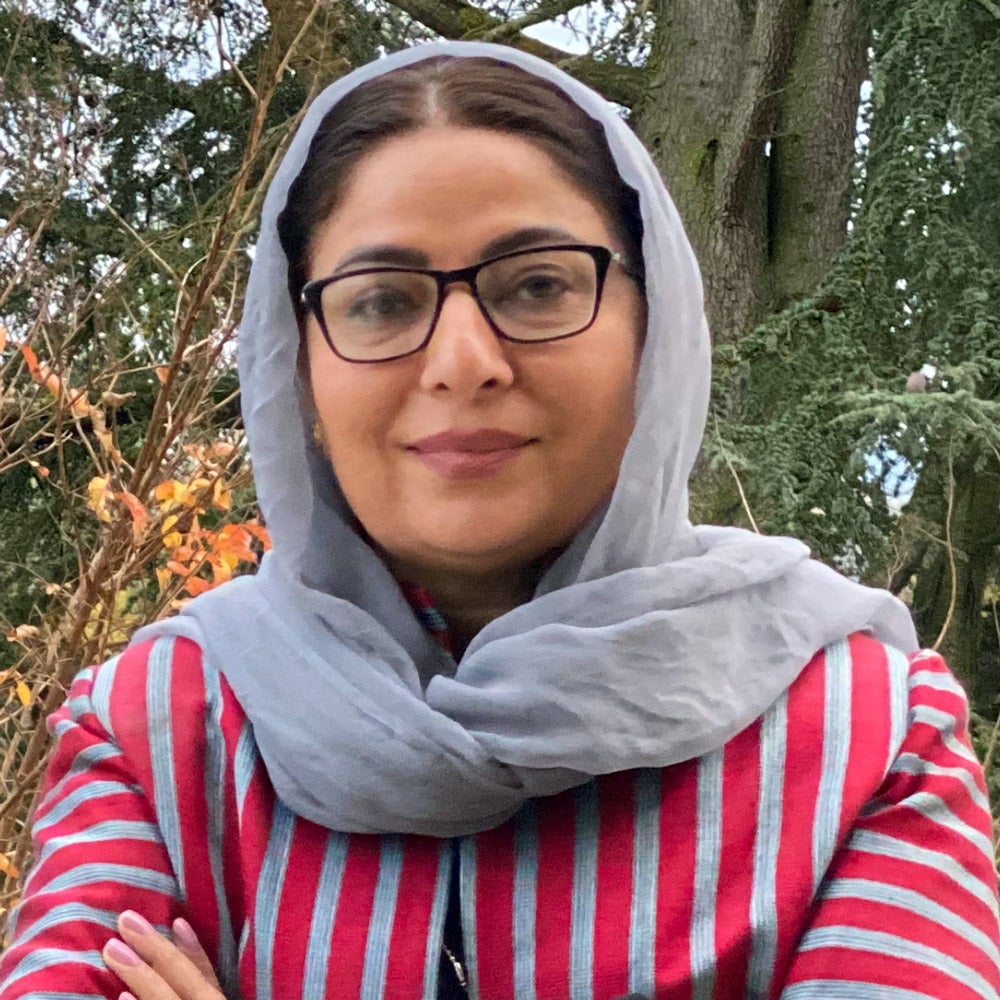 Country: Afghanistan
Senior Fellow at the Harvard Radcliffe Institute for Advanced Study and founding member of the Women's Forum on Afghanistan
Asila Wardak is a born activist. She says her father taught her to speak out against injustice from a young age: "My father taught me to fight against human rights atrocities."
In her early career, she worked with the international humanitarian agency CARE, leading projects delivering aid and health education to women across Afghanistan. Wardak recalls her father traveling with her, holding her hand, and helping her navigate the streets because she couldn't wear her glasses under a burqa.
But in 2002, Wardak's father was killed in retaliation for her work. "For a while, I lost hope. I could not work or focus on anything else," Wardak says. "But I never forgot my father's lessons, support, and sacrifices." In 2016, Wardak became the first Afghan woman elected as a member to the Organization of the Islamic Cooperation's Independent Human Rights Commission. She later served as director general of United Nations Affairs in Afghanistan.
The Taliban seized power in 2021, immediately ending girls' education past primary school and banning Afghan women's employment. Other recent edicts require a man to escort women to health appointments and ban women from seeing male doctors. In response, Wardak and a coalition of Afghan women leaders launched the Women's Forum on Afghanistan. Their goal is to ensure the United Nations and global leaders prioritize humanitarian assistance to Afghan women, including education and access to health care.
Wardak says, "I want to make sure people don't forget Afghan women. Because if they won't support us now, then when will they support us?"
Teodora Vásquez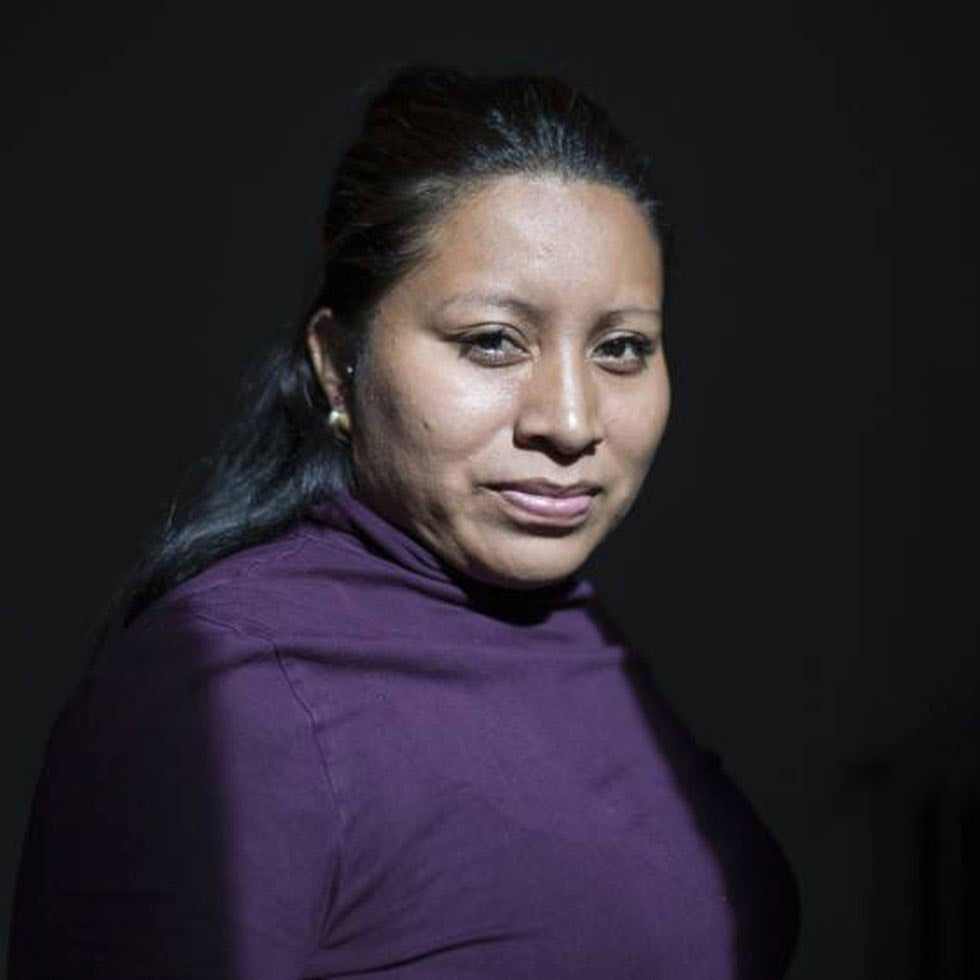 Country: El Salvador
Founder and President of Mujeres Libres
On July 13, 2007, Teodora del Carmen Vásquez was working her shift at a coffee shop when an agonizing pain pierced her back. She was nine months pregnant, and called for an ambulance seven times before fainting.
Vásquez went into preterm labor, and her baby was stillborn. But when police officers finally arrived, they did not bring her to the hospital. Instead, Vásquez was detained for four hours—handcuffed and bleeding—before receiving any treatment. She was eventually accused of inducing an abortion, a crime under El Salvador's strict abortion ban. Vásquez was convicted and sentenced to 30 years in prison for aggravated homicide.
After years of campaigning by human rights groups, Vásquez's sentence was commuted in February 2018, over a decade after her initial conviction. She soon founded the organization Mujeres Libres, or "Free Women," which offers support to women accused of or imprisoned for having an abortion. Her goals are to counter the country's restrictive reproductive laws and address the underlying conditions that make women more vulnerable to prosecution, including poverty and housing insecurity.
The group has also produced the documentary Fly So Far on the women's struggle to claim reproductive rights in El Salvador. Despite the government's attempts to censor the film, it has been screened at 57 festivals worldwide.
"We're pushing for a change in El Salvador's legislation so that our history doesn't repeat itself," Vásquez says.
Anna Rivina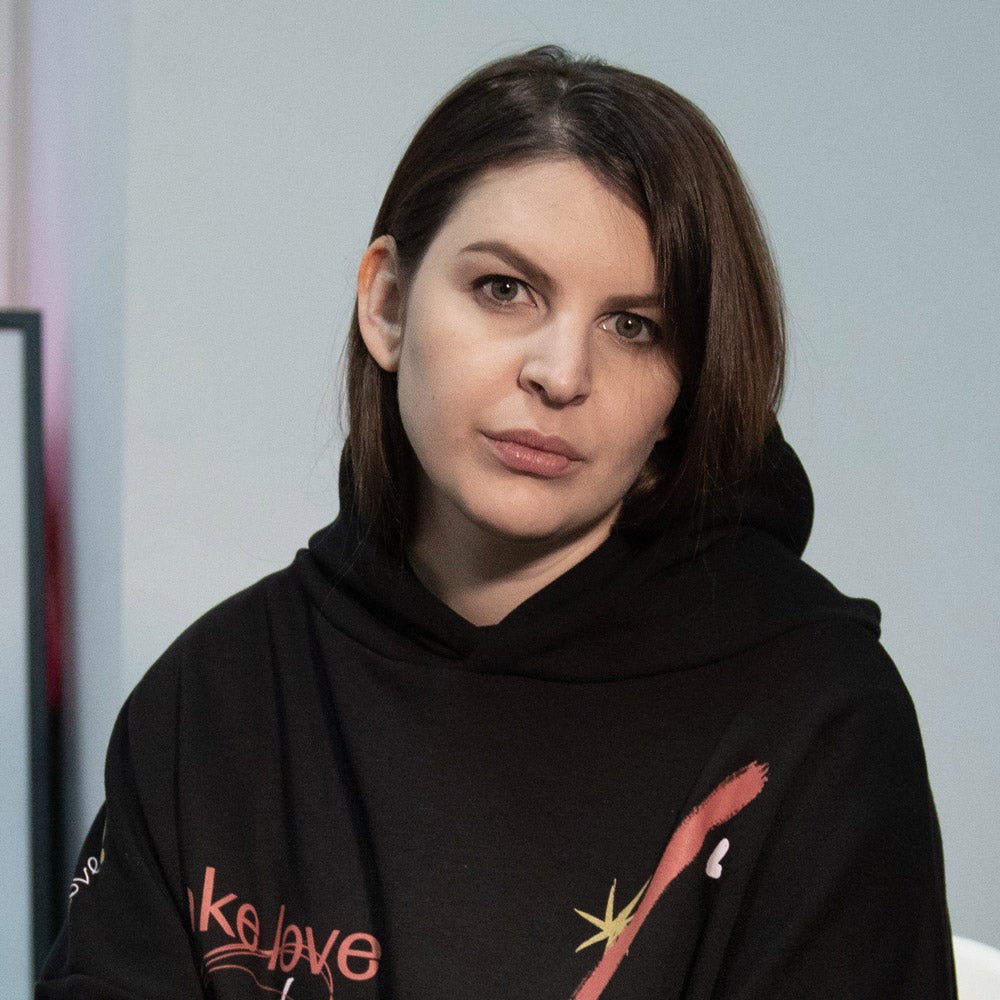 Country: Russia
Founder and Director of Nasiliu.net
When Anna Rivina began her career in anti-domestic violence advocacy, "feminism was a bad word." She recalls being dismissed and branded as "radical" in interviews. "Almost no one wrote or talked about domestic violence. It was like it didn't exist," Rivina says.
In fact, domestic violence is a severe issue in Russia. One study of 2,200 women in 50 Russian cities found that 70% have experienced at least one form of gender-based violence in the home—physical, psychological, economic, or sexual. "Domestic violence is a threat to your body, your physical and mental health," says Rivina.
In 2015, Rivina founded the non-profit Nasiliu.net, which translates to "No to Violence." The center has become Russia's leading anti-domestic violence organization. In addition to free legal assistance, psychological counseling, and support group services, the organization offers volunteers to accompany abused women to hospitals and police stations. It also organizes campaigns to raise awareness, like its 2020 campaign, "Moscow is Against Domestic Violence."
Rivina has faced backlash from the Russian government for her support of Ukrainian women during the war. Shortly after Russia invaded Ukraine in February 2022, Rivina traveled to Georgia to address gender-based violence during wartime. The Russian government then labeled her a foreign agent, and in February 2023 she was deported from Georgia.
"I keep fighting, even if the system is against me," Rivina says. "Once you see the powerful change you can make, you can't stop."
Christine Schuler Deschryver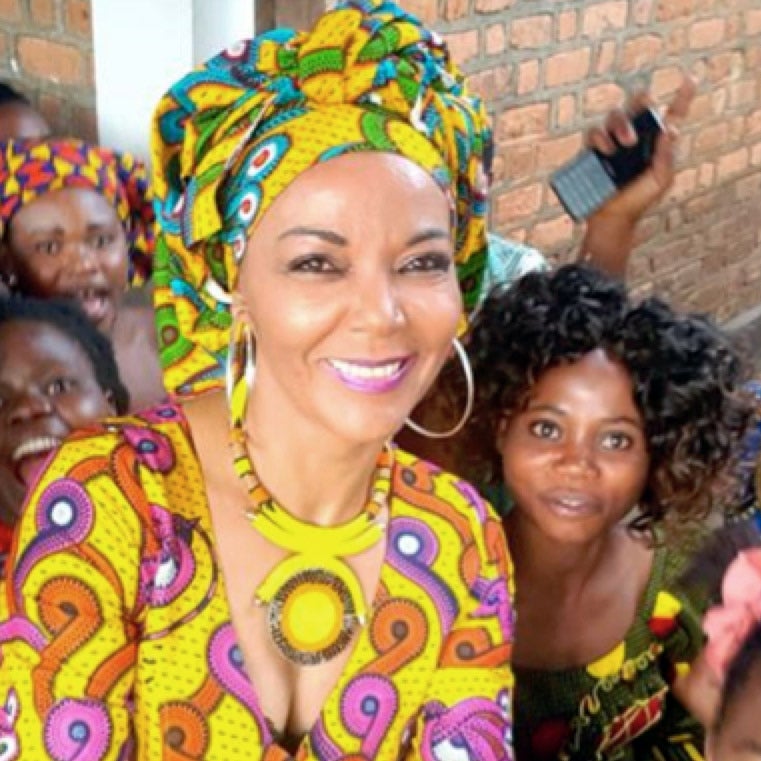 Country: Democratic Republic of Congo
Co-Founder and Director of City of Joy and V-World Farm, Vice President of the Panzi Foundation
Christine Schuler Deschryver refuses to lose hope in her home country, the Democratic Republic of Congo.
Once labeled by United Nations officials as the "rape capital of the world," the DRC has grappled with widespread sexual violence since the early 1990s.
Schuler Deschryver is no stranger to the country's pervasive problem. In 2000, she witnessed the rape and murder of her best friend and held an infant victim of sexual violence as she died. "In my country, our bodies are battlegrounds," Schuler Deschryver says. "No one is prepared to bury a baby raped at six months."
Since then, Schuler Deschryver has devoted her life to alerting the world to femicide and mass rape in the DRC. She is the co-founder and director of City of Joy, a community for Congolese women survivors of violence, where "pain is turned into leadership and power." The organization, which is a project of the Panzi Foundation and V-Day Congo, offers a six-month residential program that combines group therapy with literacy classes, leadership training, self-defense courses, and lessons in human rights law. Almost 2,000 women have graduated since the program opened in 2011.
Developing practical skills is only one component. Participants are also empowered to reclaim joy, a testament to the program's name. The women dance, perform in plays, and re-learn to love their bodies.
"It's not easy to be surrounded by so many atrocities. Before, I had the feeling I was a bird with a broken wing," Schuler Deschryver says. "V-Day changed my life and gave me hope in humanity. Seeing the women at City of Joy be transformed and become true leaders motivates me. Everything they do is with huge respect, love, and humility."
Feng Yuan
Country: China
Co-Founder of Equality-Beijing
According to one ancient Chinese proverb, men "blossom at age 30 while women wither" ("男人三十一枝花,女人三十豆腐渣"). The culture of male supremacy from which this outdated adage springs has fueled Feng Yuan's 40-year career in women's rights activism.
Yuan is the co-founder of Equality, a Beijing-based NGO dedicated to women's rights and gender equality. Equality-Beijing works to prevent gender-based violence by advocating for stronger anti-domestic violence laws in China. She has also been a leading member of several NGOs and initiatives, such as the Media Monitor Network for Women, the Center for Women's Studies at Shantou University, and the Women's Network for Combating HIV/AIDs.
Current laws focus mostly on physical violence perpetrated by live-in partners and exclude verbal or financial coercion, as well as violence perpetrated by men not living at the same residence as their victim.
Yuan explains that many Chinese policymakers and citizens don't consider verbal abuse or financial control to be a form of domestic violence. "Resisting discrimination involves reflecting upon gender stereotypes and attitudes that are accepted as normal."
She also emphasizes the importance of reducing discrimination as China continues to grow as a global superpower. "With China and the world becoming more interconnected, Chinese women are working together with women across the globe," Yuan says. "We must remember that women's health issues are also women's rights issues."
Monica Simpson
Country: United States
Executive Director of SisterSong Women of Color Reproductive Justice Collective
Since 2012, Monica Simpson has led the SisterSong Women of Color Reproductive Justice Collective. The collective is the largest U.S. organization dedicated to reproductive justice for women of color. It also represents the lead plaintiffs in SisterSong v. Kemp, a court case that challenges a Georgia law banning abortion as early as six weeks into pregnancy. The stakes are especially high for Black Georgians, who face some of the highest rates of maternal mortality in the nation.
SisterSong v. Kemp is the latest in a series of critical attempts to repair the U.S.'s fractured landscape of reproductive health care. In 2014, Simpson testified in Geneva before the United Nations Committee on the Elimination of Racial Discrimination, arguing the U.S. was violating its international human rights obligations by failing to address its Black maternal mortality crisis.
Simpson also created Artists United for Reproductive Justice, the first program that connects artists of color to create works that advance reproductive justice. She has also performed at events across the country, including the annual Dr. Martin Luther King Jr. march and rally in Atlanta, Ga., where she sang both the National Anthem and the National Black Anthem.
*Monica Simpson was unavailable to be interviewed for this article.
Contributors
LT
Lucy Tu
Lucy Tu studies sociology and neuroscience at Harvard University. She is a reporter for Harvard Public Health and a research fellow at Massachusetts General Hospital.
MD
Mary Delaware
Mary Delaware is the senior graphic designer at Harvard Public Health.