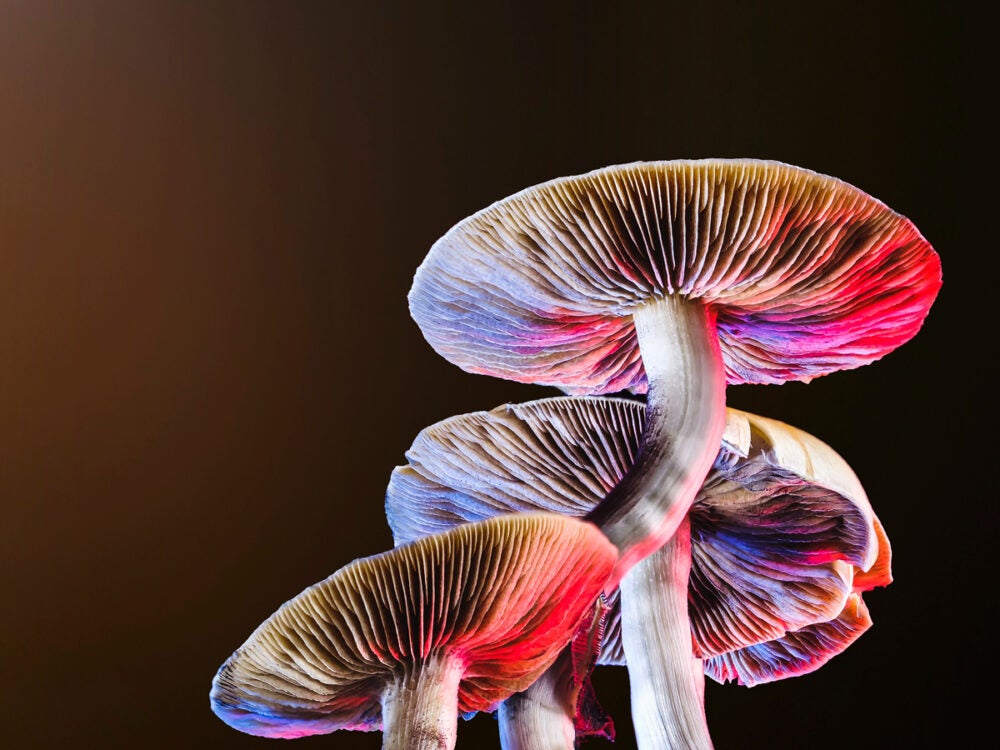 Research
Can mushrooms beat burnout? Clinicians sign up to see.
Research into whether the psychedelic drug psilocybin reduces burnout for doctors and nurses.
Anthony Back could see the effects on doctors and nurses of caring for COVID-19 patients. His friends and colleagues were burning out from the sky-high stress, hellacious hours, hostile patients demanding dangerous treatments, and the terrible sight of people dying in respiratory distress. Some were quitting, and many had clear signs of depression. Back, a medical oncologist, palliative care specialist, and professor of medicine at the University of Washington, wondered if the psychedelic drug psilocybin, combined with psychotherapy, might help knock back their depression.
Back, a widely published researcher, knew this combination treatment had been safe and effective in several research studies on depression, and he had been considering it as a way to help cancer patients deal with the fear of death. He figured it was worth trying in this new, large group of depressed people.
It's legal to conduct research on the otherwise federally banned drug. Back feared, though, that few clinicians would volunteer for a "magic mushrooms" trial. "These are not generally people who want to run toward the next fad," he says.
Sign up for Harvard Public Health
What works. What doesn't. And why.
Delivered to your inbox weekly.
But when the university tweeted a request for volunteers, the response stunned him: 3,500 doctors and nurses asked to be included in his 30-person study.
The problem of pandemic burnout and depression among doctors and nurses is vast. A 2020 survey of almost 21,000 U.S. health-care workers, published in EClinical Medicine, found more than a third reported having serious anxiety or depression.
Meanwhile, current treatments for depression aren't as widely effective as is needed. "Antidepressants work for most people, but there are about 30 percent who aren't getting better," says Thomas Insel, former head of the National Institute of Mental Health. "We need something new." Insel is on the advisory board of Compass Pathways, a pharmaceutical company looking to bring synthetic psilocybin to the market.
Back and his colleagues are currently evaluating potential volunteers. Those chosen will have a baseline counseling session with two psychotherapists, then two sessions to help them prepare for receiving the drug. The psychotherapists will then administer synthetic psilocybin—volunteers won't be getting "magic mushrooms"—in a living-room-like setting where they will monitor the subjects for six to eight hours. While there, patients can experience the psilocybin, listen to music, nap, or do other things, including, if they like, talking with the therapists. Then will come three weekly 60- to 90-minute talk therapy sessions.
Back hopes the study will show that psilocybin opens the clinicians up to thinking about new ways to cope with their memories and fear of the future and to disrupt thoughts associated with burnout or depression.
Back's study may be the first to look at medical professionals, but if you search "psilocybin" and "depression" in clinicaltrials.gov, nearly three dozen results come up, from researchers in seven countries, including from big-name institutions, such as Stanford, Yale, and Johns Hopkins. Psilocybin has been essentially decriminalized in several parts of the U.S., including Seattle; Back started developing his trial well before this happened. Given federal strictures, though, some researchers are concerned that use without trained facilitators could give the drug a bad name, as happened with LSD in the 1960s.
---
Psychedelic cities
Though the FDA allows research trials of psilocybin, federal law prohibits any other use, sale, or possession. But starting in 2019 some communities have essentially decriminalized the substance. These include:
May 2019: Denver, Colorado
June 2019: Oakland, California
January 2020: Santa Cruz, California
September 2020: Ann Arbor, Michigan
November 2020: Washington, D.C. January 2021: Somerville, Massachusetts
February 2021: Cambridge, Massachusetts
April 2021: Northampton, Massachusetts
October 2021: Seattle, Washington
January 2023: Oregon*

*State is currently promulgating rules for usage, which are likely to include a requirement for trained facilitator.
---
In previous studies, the psychedelic experiences chronicled can differ from patient to patient. Some have specific hallucinations, such as a unicorn flying by, while others have abstract ones. Some people don't hallucinate at all, instead becoming acutely aware of their own thoughts. The impact can be significant. A young man told Johns Hopkins researchers as part of a study in 2020 that he had an inner critic, a voice in his head that was so harsh about what he tried to do that "my day-to-day really was about avoiding things." This was after 15 years of therapy and 10 on antidepressants. After the psilocybin study, his critical inner voice was very nearly silent. And, he told researchers, "As I got further away from the session I experienced more spontaneous positive emotion."
In the Hopkins study, three-quarters of the volunteers showed less depression and 58 percent were in remission a year after treatment. While this sounds promising, study co-author Natalie Gukasyan, an assistant professor of psychiatry at Johns Hopkins, says the approach still has to be proven. "A big question is how closely the levels of effectiveness in the real world will align with earlier studies," she says. And it is uncertain how long the results last.
No major problems have been seen in other studies to date, but all have featured small numbers of subjects. Experts caution against people self-medicating. "It's quite easy to get frightened or scared or resist what is happening," says Back. The studies always administer the drug with therapists on hand for support.
Having psychotherapists on hand for hours means the approach will likely be expensive. "Insurers are going to ask about that," says Insel. Still, the treatment will be far cheaper than something like gallbladder surgery, he says, "so there is a case to be made, but we have to have the data that shows that this is cost-effective."
Top photo by Alexander Volkov / iStock
Contributors

Joanne Silberner
Joanne Silberner is a Seattle-based multimedia journalist who covers health, health policy, and mental health.
From the Issue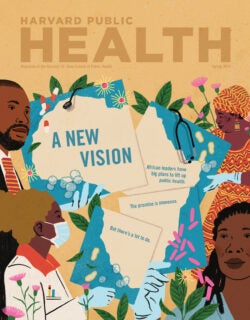 Spring 2022
African public health