Faculty News Spring 2021
Faculty awards and honors, appointments and promotions.
Faculty members join Biden administration
Two faculty members—Sara Bleich and Benjamin Sommers—and one former faculty member, Gina McCarthy, were chosen for roles in the new Biden-Harris administration. Bleich, professor of public health policy in the Department of Health Policy and Management, has the new position of senior adviser for COVID-19 in the Office of the Secretary of the U.S. Department of Agriculture. Sommers, Huntley Quelch Professor of Health Care Economics in the Department of Health Policy and Management, is deputy assistant secretary for planning and evaluation in the Department of Health and Human Services. McCarthy, who previously served as director and chair of the board of advisers of the Harvard Chan School's Center for Climate, Health, and the Global Environment, is the first-ever national climate adviser.
Sign up for Harvard Public Health
What works. What doesn't. And why.
Delivered to your inbox weekly.
---
Influential researchers recognized
More than 40 faculty members or researchers affiliated with the School were among the world's most influential researchers over the past decade. The 2020 list of Highly Cited Researchers from Clarivate's Web of Science Group included faculty from around the world whose papers have been cited most often by their peers—in the top 1 percent of citations for a chosen field or fields. Four Harvard Chan School faculty were identified as having exceptional performance across several fields: Edward Giovannucci, professor of nutrition and epidemiology; Frank Hu, Fredrick J. Stare Professor of Nutrition and Epidemiology and chair of the Department of Nutrition; Walter Willett, professor of epidemiology and nutrition; and David R. Williams, Florence Sprague Norman and Laura Smart Norman Professor of Public Health and chair of the Department of Social and Behavioral Sciences.
---
Alumni recognized as minority health leaders
The National Minority Quality Forum's list recognizing 40 Under 40 Leaders in Minority Health for 2021 included five recent Harvard Chan School alumni: Marlene Camacho-Rivera, SM '07, ScD '12; Angel Desai, MPH '21; Junaid Nabi, MPH '17; Jamaji Nwanaji-Enwerem, PhD '20; and Megan Srinivas, MPH '15. Announced in March, the list recognizes clinicians, patient advocates, researchers, and policymakers for their work improving patient outcomes and building sustainable healthy communities. Read more
---
Awards and Honors
Galit Alter, professor in the Department of Immunology and Infectious Diseases and a professor at Harvard Medical School, and Ashish Jha, adjunct professor of global health at the Harvard Chan School and dean of the Brown University School of Public Health, were both named among the Boston Globe's 2020 Bostonians of the Year for their efforts during the coronavirus pandemic.
---
Mary T. Bassett, director of the François-Xavier Bagnoud (FXB) Center for Health and Human Rights and FXB Professor of the Practice of Health and Human Rights, was honored by the New York Academy of Medicine as part of its Black History Month celebration. Bassett, a former New York City health commissioner, was one of eight Black leaders in medicine and health recognized alongside eight Black pioneers in those fields. Bassett was recognized in medical education, alongside William Augustus Hinton, the first African American professor at Harvard Medical School in 1949.
---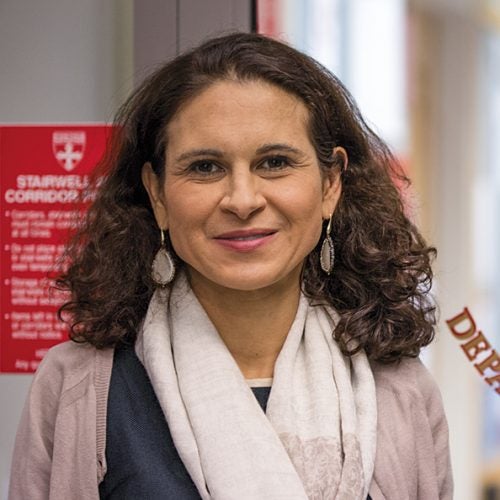 Francesca Dominici, Clarence James Gamble Professor of Biostatistics, Population, and Data Science and co-director of the Harvard Data Science Initiative, received two awards last year related to her work on the health consequences of air pollution. The Karl E. Peace Award for Outstanding Statistical Contributions for the Betterment of Society was presented by the American Statistical Association "for her high-quality, innovative, and policy-relevant science, [and] her commitment to transparency and reproducibility in science." She received the Jerome Sacks Award for Cross-Disciplinary Research from the NISS Board of Trustees in recognition of "her leadership in high-impact cross-disciplinary research."
---
James Hammitt, professor of economics and decision sciences, received an Outstanding Achievement Award from the Society for Benefit-Cost Analysis.
---
Albert Hofman, Stephen B. Kay Family Professor of Public Health and Clinical Epidemiology and chair of the Department of Epidemiology, received the honorary title of doctor medicinae honoris causa from the medical faculty of the University of Bern, Switzerland, on December 5, 2020. He was recognized for his influential research on large population studies using new genetic and imaging methods and for supporting training exchange opportunities between young scientists at the University of Bern and the Harvard Chan School.
---
Nora Kory, assistant professor of molecular metabolism, was awarded a Damon Runyon-Dale F. Frey Award for Breakthrough Scientists, which recognizes Damon Runyon Cancer Research Foundation fellows "most likely to make paradigm-shifting breakthroughs that transform the way we prevent, diagnose and treat cancer." Kory studies the role of mitochondria in metabolic homeostasis and signaling, with a focus on mitochondrial transporters. Her work aims to lay the groundwork for future development of metabolic inhibitors with potential chemotherapeutic value.
---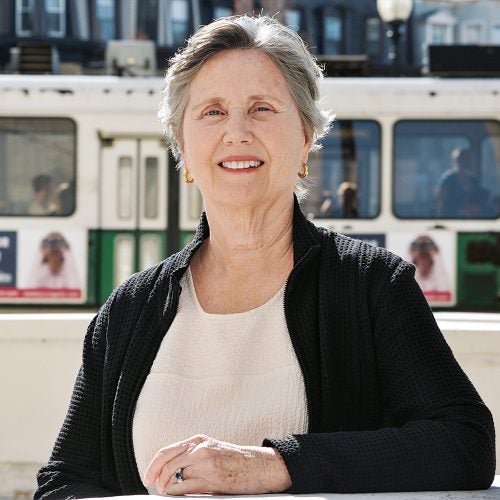 Nan Laird, Harvey V. Fineberg Professor of Public Health, emerita, received the 2021 International Prize in Statistics in recognition of her work on powerful methods that have made possible the analysis of complex longitudinal studies. The International Prize in Statistics honors major achievements in the field and is awarded every two years by a collaboration among five leading international statistics organizations.
---
Xihong Lin, professor of biostatistics and coordinating director of the Program in Quantitative Genomics at the Harvard Chan School, and professor of statistics in the Faculty of Arts and Sciences, serves on the World Health Organization (WHO) and the United Nations Department of Economic and Social Affairs (UN DESA) Technical Advisory Group on COVID-19 Mortality Assessment. She recently received two awards, including the 2021 Mosteller Statistician of the Year Award from the Boston chapter of the American Statistical Association. A virtual award presentation took place on March 10. She also received the L. Adrienne Cupples Award for Excellence in Teaching, Research, and Service in Biostatistics. A virtual awards ceremony was hosted by the Department of Biostatistics at Boston University School of Public Health on April 1.
---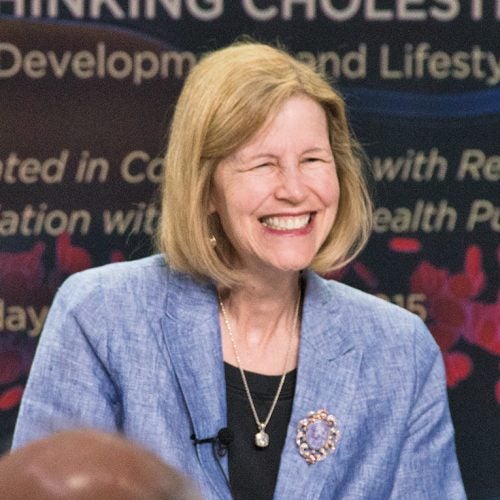 JoAnn Manson, professor in the Department of Epidemiology, received a James D. Bruce Memorial Award for Distinguished Contributions in Preventive Medicine from the American College of Physicians.
---
Jeremy Nobel, lecturer on global health and social medicine in the Department of Health Policy and Management, was named to a list of 2020 Influencers in Aging by Next Avenue, a nonprofit journalism website produced by PBS. Nobel is founder of the nonprofit Foundation for Art & Healing, which has promoted using art as a way to find solace during the COVID-19 pandemic.
---
Michelle A. Williams, Dean of the Faculty and Angelopoulos Professor in Public Health and International Development, was recognized by Research!America for effectively communicating important health and science information to the public in the fight against COVID-19. She received the Clear Voice Award. It was presented at an online event on April 14.
---
Appointments and Promotions
APPOINTMENTS
Sudha Biddinger, associate professor in the Department of Molecular Metabolism
Kizzmekia Corbett, assistant professor of immunology and infectious diseases
Jean Schaffer, professor in the Department of Molecular Metabolism
Daniel Schrag, professor in the Department of Environmental Health
PROMOTIONS
Yonatan Grad, Melvin J. and Geraldine L. Glimcher Associate Professor of Immunology and Infectious Diseases
From the Issue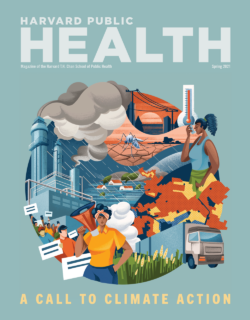 Spring 2021
A Call to Climate Action