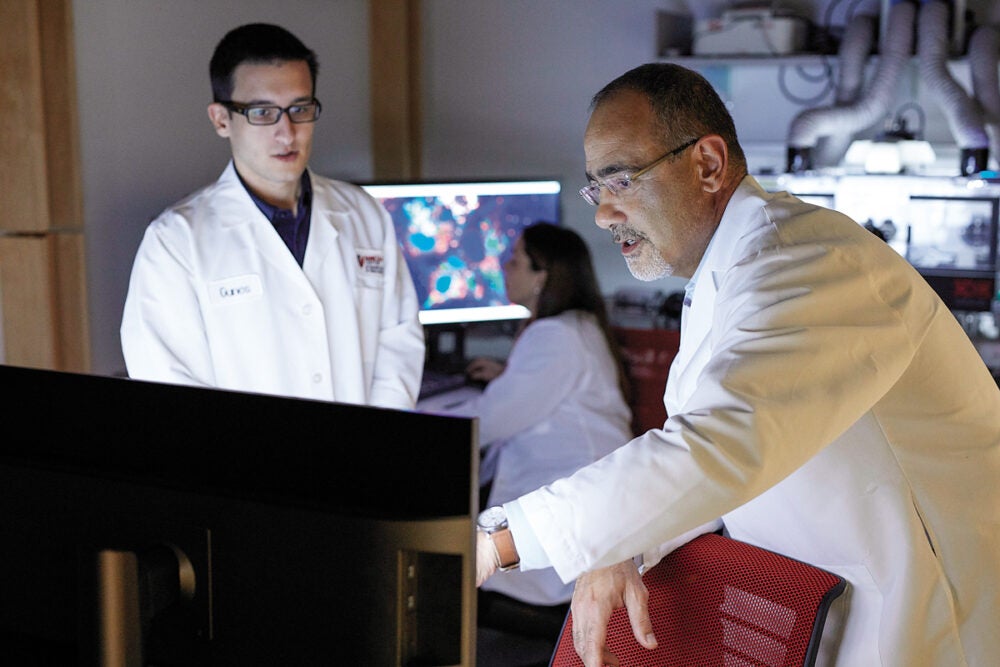 Philanthropic Impact: Equipping the fight against metabolic disease
Support for laboratory technology opens new research possibilities at the Sabri Ülker Center.
A $1.4 million gift from the Ülker family has greatly enhanced the physiology research capacity of the Sabri Ülker Center for Nutrient, Genetic, and Metabolic Research through the installation of cutting-edge laboratory equipment.
Led by Gökhan Hotamışlıgil, James Stevens Simmons Professor of Genetics and Metabolism in the Department of Molecular Metabolism, the center examines the fundamental mechanisms behind metabolism and metabolic diseases.
Conditions like diabetes and obesity tend to occur in clusters, leading to millions of deaths each year and dramatically reducing quality of life. They also act in the background to magnify risks related to other diseases.
"If we had done a good job managing metabolic disease, the impact of COVID-19 would have been much more manageable," notes Hotamışlıgil. "When the dust settles, we will have massive problems to address. Our goal at the center is to push basic science to its limits and to open up some new paths for understanding and treating metabolic disease."
Sign up for Harvard Public Health
What works. What doesn't. And why.
Delivered to your inbox weekly.
The Ülker family established the Sabri Ülker Center in 2014 with a $24 million gift from Murat Ülker, who was then chair of Yıldız Holding. The center was named in memory of his father, Sabri Ülker, who founded the multinational Ülker food and beverage company in 1944. Although the business has expanded into many other areas under the umbrella of Istanbul-based conglomerate Yıldız Holding, the Ülker family still holds a deep interest in food and nutrition, funding research and communications initiatives through its foundation.
"Metabolism is a fundamental process for health, and its problems are critical for many diseases," says Ali Ülker, current chair of the board of Yıldız Holding and grandson of Sabri Ülker. "Such complexity requires long-term commitment to tackle the most difficult of questions. The center is a source of pride in every way—with its extraordinary people, enthusiastic works, dedication to research, discoveries that advance metabolic science, and determination to improve public health."
---
Metabolism and Life | May 25–26, 2021 (virtual)
The third Sabri Ülker Symposium brings together global experts exploring metabolism in health and disease states, and during aging. Register at sabriulkersymposium.org/2021.
---
Uncovering Molecular Mechanisms Behind Disease Risk
"We wanted to address some of the big knowledge gaps in metabolism," says Hotamışlıgil, whose relationship with the family helped spur the launching of the center. "Without really understanding the exact molecular mechanisms making someone susceptible or resistant to disease, it's not really possible to design and implement effective interventions."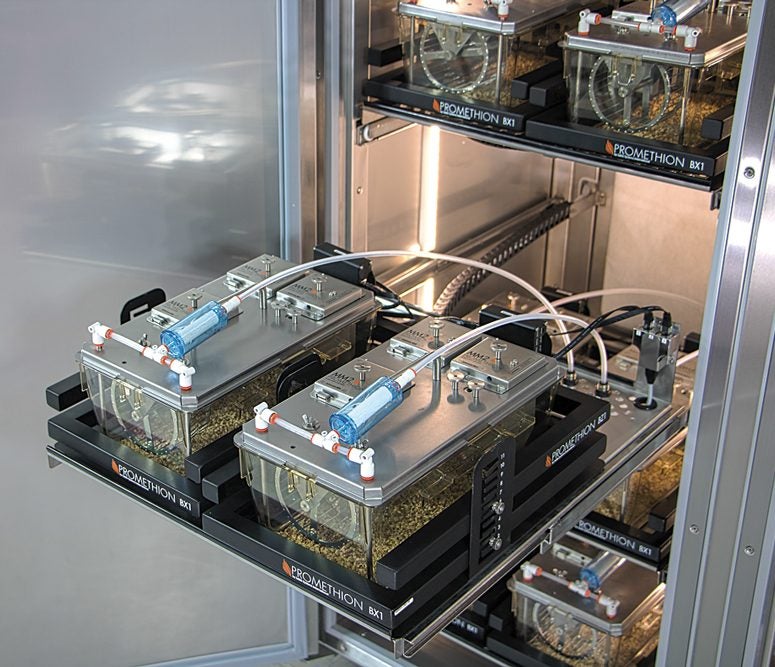 The initial gift from the Ülker family funds the annual research activities of the center, as well as its biannual research symposium and awards. In keeping with its forward-looking stance, the center and the family are also committed to supporting early-career scientists, many of whom already have gone on to lead independent labs around the world.
The family's most recent gift funds new technology for the Sabri Ülker Center Physiology Laboratory, including improved imaging and telemetric systems. The Physiology Lab, directed by Karen Inouye, a research scientist in the Department of Molecular Metabolism, allows the center to conduct frontline research in living animals, a whole-systems approach that complements other studies in molecular and cell biology.
"With this new instrumentation, we can do much more sophisticated experiments while keeping animals happy and comfortable," says Hotamışlıgil. "Without touching the animals, we can do metabolic studies, cardiovascular and pulmonary function analyses, and monitor biochemical parameters in real time."
For example, a hormone recently discovered by the center is coupled with the breakdown of fat cells to release energy and regulate associated responses. By measuring minute changes in gas composition and other factors, researchers can determine exactly how an increase or reduction in this hormone affects metabolism—and can even monitor the origins and destinations of different metabolites within the body. This type of research provides important clues that might one day help us monitor risk for cardiovascular diseases, obesity, or other conditions and test whether we can intervene to reduce risk or even reverse the course of disease.
Top photo: Gökhan Hotamışlıgil, James Stevens Simmons Professor of Genetics and Metabolism, right, with members of his lab.
Contributors
AR
Amy Roeder
Amy Roeder is senior editor of Harvard Public Health.
KD
Kent Dayton
Kent Dayton is the staff photographer and photo editor at Harvard Public Health.
From the Issue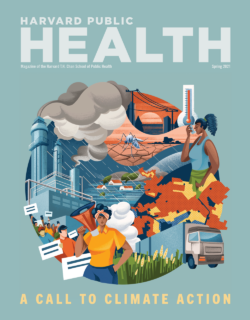 Spring 2021
A Call to Climate Action