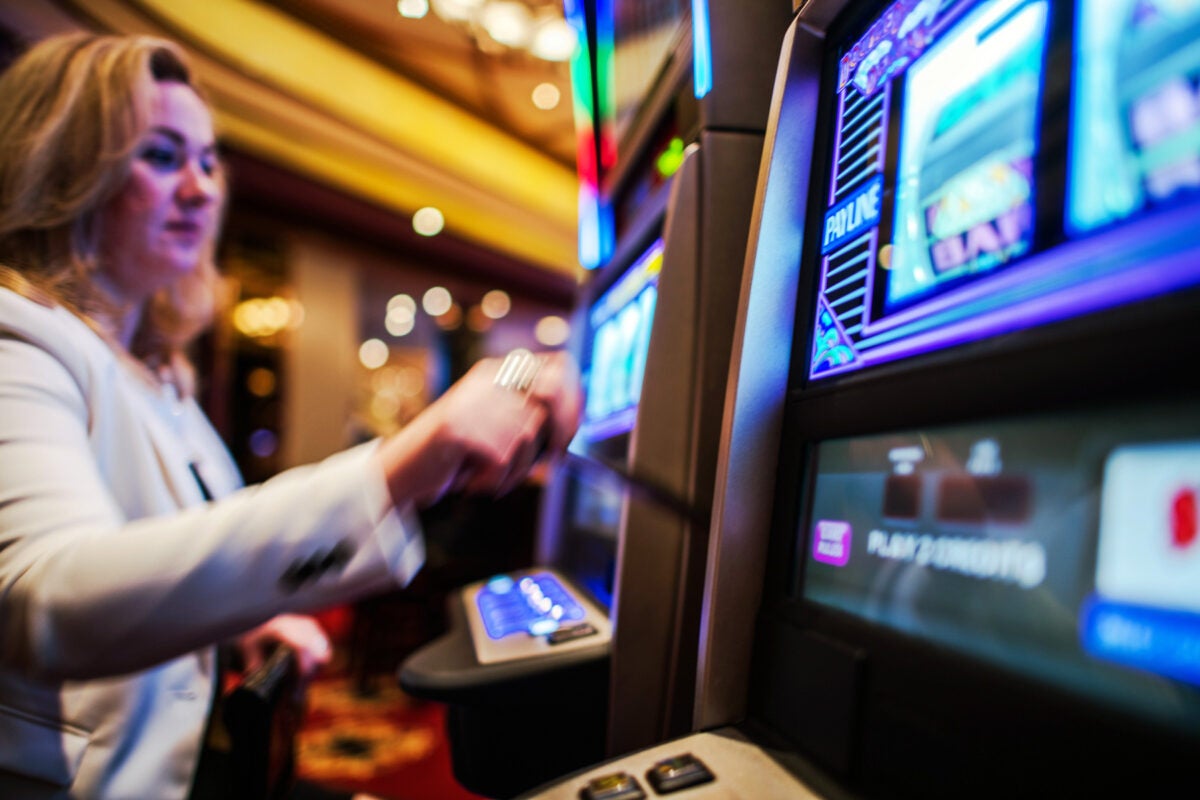 Feature
Tackling problem gambling from inside the casino
The GameSense program "meets people where they're at, and where they're gambling."
When Amy Gabrila arrives at the MGM casino in Springfield, Massachusetts, she makes the rounds on the gaming floor. She walks up and down rows of clanging slot machines as people pull levers and press buttons, hoping to win. If a player looks up, Gabrila asks how they are doing.
"They may tell me, 'Oh no, I spent more than I meant to.' And I say, 'Oh, yeah? When you come in, do you normally try to set a budget?' And we'll go from there," she says.
Gabrila, 47, who has short spiky hair and a no-nonsense demeanor, works for the state-funded GameSense program, now operating at all three casinos in Massachusetts and meant to promote responsible gambling. She used to be part of the casino industry; as a table dealer, she says, "my job was to keep butts in the seats."
Now, as a GameSense advisor, Gabrila's job is to watch for people who have been in their seats too long, and possibly lost too much money. The advisors are trained to offer information and teach basic gambling literacy, including the slim odds of winning. "We understand these guys," she says. "We know how they think; we know their misconceptions; we know their jargon."
Sign up for Harvard Public Health
Exploring what works, what doesn't, and why.
Delivered to your inbox weekly.
Mark Vander Linden, the director of Responsible Gaming and Research at the Massachusetts Gaming Commission, launched GameSense in 2015, when the first slots parlor opened. He says the program's mantra is harm reduction—not judging or even necessarily discouraging gambling, but "meet[ing] people where they're at, and where they're gambling."
Massachusetts is the only state that requires gambling intervention in its casinos, paid for by the casinos themselves. A 2011 state gambling law requires casinos to funnel a portion of their revenue into the Public Health Trust Fund, now reported at $24 million, which is distributed by the gaming commission and the state's public health department. The law requires regulators to develop a comprehensive framework to address problem gambling and to fund research. Most other states are less attentive to the potential harms of gambling, even as experts worry about the rapid expansion of gambling across the country, through legalized sports betting, online gambling, and mobile betting apps.
The National Council on Problem Gambling estimates that people in the U.S. lose about $125 billion on gambling every year. Forty-five states now host casinos, and 38 states have legalized sports betting. Only Utah and Hawaii continue to outlaw gambling altogether.
So far, national surveys have found the majority of gamblers are "recreational," but research shows that two percent of the population suffers from severe gambling problems—with ruinous financial, relationship, or mental health results. States have been piloting piecemeal solutions, often without knowing whether they will work. A National Association of Administrators for Disordered Gambling Services survey found that state spending on problem gambling ranges from nothing at all to $10.2 million per year.
GameSense was created in 2009 in Canada, by the British Columbia Lottery Commission, to educate people about how gambling works and to try to reduce its harms. Typically, the program hires advisors like Gabrila and mandates that casinos install tools like "Play My Way," which allows players to set a budget and notifies them when they near their limit.
When he traveled to seek ideas for Massachusetts, Vander Linden saw versions of "Play My Way" in places like Scandinavia and Singapore, where budgeting tools are mandatory. Gambling experts have praised measures in Norway, in particular, where the central gambling authority replaced older electronic gambling machines with (fewer) new models that limit players' losses over a given time period. Researchers found the rate of problem gambling went down.
But Massachusetts regulators decided the Norwegian approach was unlikely to be accepted in the U.S. "Americans don't like anything that smells like a nanny state," says Rachel Volberg, a University of Massachusetts at Amherst professor who conducts gambling research for the Massachusetts Gaming Commission. (Self-budgeting is voluntary in Massachusetts.)
GameSense also allows gamblers to join the state's "voluntary self-exclusion list." Users choose a one-year, five-year, or lifetime ban, with the option of receiving follow-up recovery coaching by phone. More than 1,500 gamblers have signed up for the "self-ban," Vander Linden says, and early evidence suggests problem gamblers find it helpful.
Lia Nower, who directs the Center for Gambling Studies at Rutgers University, says it's possible to skirt the self-exclusion list by gambling out-of-state or creating a fake account online. Still, she believes bans can be effective tools for many gamblers.
Gabrila, who has been with GameSense since it launched, was originally skeptical; she didn't believe players could learn to gamble in moderation. Indeed, evidence supporting GameSense's approach is mixed. An early evaluation of the program found that while advisors like Gabrila had thousands of player interactions a year, many were superficial and did not change gambling behavior.
In Gabrila's experience, some relationships she builds with players over time can lead to subtle changes in habits, although not always. On a recent afternoon, she chatted with an MGM regular named Monroe who says he used to spend multiple days inside casinos, never seeing the sun.
"I got some horror stories to tell, but I keep them to the grave because it was that bad," he says.
He says he learned to limit himself to winning or losing $50 per visit—partly by using the Play My Way tool, and partly by choosing electronic games that allow smaller bets.
"And now I'm going to take my money out and just walk around with my $12 and be happy," he says.
Experts say the GameSense approach likely works with some players better than others. "It depends on where along the problem gambling spectrum they are and why they're gambling," says Nower.
Ted Hartwell, now with the Nevada Council on Problem Gambling, once had such a gambling addiction—resulting in massive debt and lying to family—that he had to quit entirely. But he supports the harm reduction model as a way of reaching the most people.
"These programs should be for everyone, so everyone has access to budgeting tools that set personal limits or learn to take healthy breaks in play," he says. "Those can be protective factors for people who are gambling normally, before they have a problem."
Vander Linden says a new evaluation of GameSense is underway, and his office has learned that meaningfully addressing problem gambling requires a range of interventions. Some people might need basic tutoring on low-risk gambling; others need more aggressive budgeting help; and still others need mental health treatment.
Gamesense advisors are not licensed counselors, nor do they claim to be. When they sense a player is in distress, they are told to share a list of certified treatment providers or support groups.
But few therapists are certified to treat problem gambling in Massachusetts. Although the state offers a free 30-hour training for therapists, only 150 providers are certified, and only one outpatient clinic within 20 miles of the MGM casino in Springfield offers treatment. "It's not clear to me that … most Massachusetts residents with gambling problems are able to access the level of problem gambling treatment that's appropriate for their condition," says Keith Whyte, director of the National Council on Problem Gambling.
A treatment shortage is not unique to Massachusetts. Emily Brunner, a physician and member of the board of directors of the American Society of Addiction Medicine, calls the national landscape for problem gambling services "a horrifying desert." A 2021 survey found that of the approximately 6 million people in the U.S. with a gambling disorder, less than one percent received any treatment.
Advocates would also like more data on specific ways to reduce problem gambling, but few states conduct that kind of research.
The National Council on Problem Gambling is pushing for passage of the Grit Act, which would create funding gambling addiction research and treatment, similar existing resources for smoking, alcohol, and other drugs.
Contributors
KB
Karen Brown
Karen Brown is a print and public radio reporter based in western Massachusetts who frequently covers mental health issues.