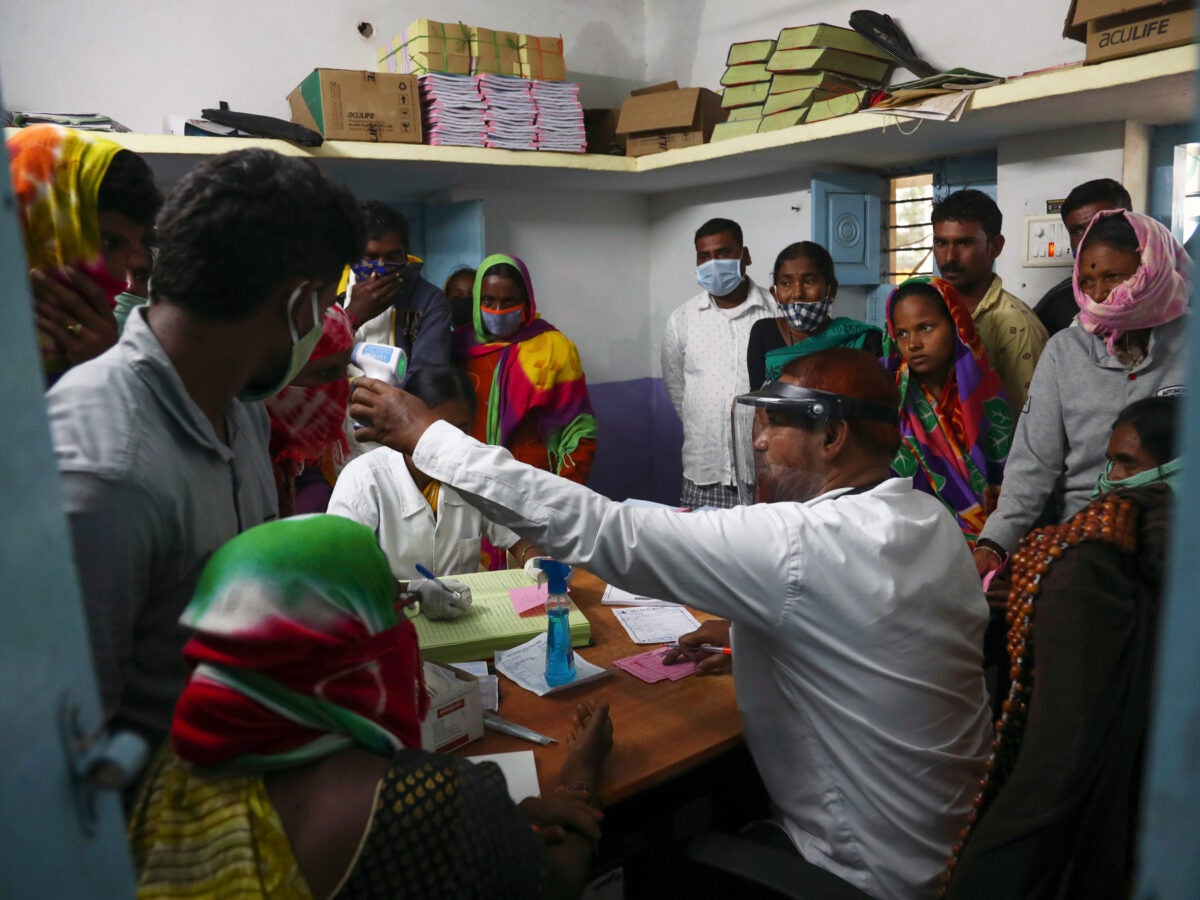 Opinion
Could telemedicine make universal health care a reality in India?
The Indian government faces an uphill battle to meet the country's health care needs by 2030. Two researchers argue remote health technology may hold the key.
Health care has always been a challenge in India. The country is home to more than a billion people, two-thirds of whom live in hard-to-reach rural areas. Just meeting everyday health needs is a challenge—not to mention treating rare or complex diseases. So, the Indian government's goal of making access to care universal by 2030 will require extraordinary creativity.
Universal health care means that everyone can access the health services they need without financial hardship, something most countries struggle to deliver. Digital health tools—carefully implemented—are indispensable to ensuring that this goal becomes a reality. These include a range of technologies like mobile phone apps and wearable devices to collect data and monitor patients, remotely operated medical devices, teleconsultations, electronic health records, and artificial intelligence-based analytics for monitoring and diagnosis. As researchers with the Lancet Citizen's Commission for Reimagining India's Health System, who study how to use technology to improve public health, we believe that telemedicine is particularly promising.
Although the COVID-19 pandemic was devastating in India, it also acted as a catalyst for telemedicine and other digital health initiatives—from remotely monitoring hospital patients, to providing telehealth consultations for people with chronic conditions. In one case, emergency room doctors in Himachal Pradesh, a mountainous and remote northern Indian state, were able to consult with medical specialists in Chennai, 1,800 miles to the south.  In another state, Andhra Pradesh, the government launched a telemedicine service during the pandemic that allowed people who required attention for non-pandemic related medical conditions to set up consultations. A study of Andhra Pradesh's telemedicine service found that patients were more likely to continue with treatment of their chronic condition if they set up telehealth consultations, providing a promising first look at the potential of telemedicine.
Sign up for Harvard Public Health
What works. What doesn't. And why.
Delivered to your inbox weekly.
Before the pandemic, telemedicine was extremely uncommon in India. Now, we see that it could help address India's need for more skilled health workers, including doctors, nurses, and mental health professionals. The country still needs 1.8 million health care workers to reach the W.H.O.'s recommended standard of 45 workers for every 10,000 people, a huge gap.
Justifiably, both telemedicine and the government's plan to make health care universal have been met with skepticism. Critics point out that the country's public health care system is underfunded, understaffed, and much of the existing health workforce lacks adequate training. Limited digital literacy and access to internet connections and smartphones are all significant barriers to adopting telemedicine, especially in rural areas. Only half of the Indian population currently has access to a smartphone, and more than 25,000 villages don't have access to the internet.
Most families in rural India travel miles to reach a health clinic and are often met by underpaid staff with minimal training. Health care in India is mostly private, with more than 70 percent of the workforce in private practice. Costs are high for everyone, in rural and urban India alike, despite recent government efforts to provide free medical care to the poor. More than 60 percent of Indians lack health insurance, and the country has some of the highest out-of-pocket health care costs in the world. This is one of the driving forces behind creating universal health care.
India is not alone in facing these challenges. Countries around the world, including the U.S., struggle to provide universal access to adequate health care, and face shortages of health care workers. The pandemic has exacerbated the shortage in many places, driving health care staff from the field as they burned out from overwork. In India, already understaffed government hospitals were overwhelmed with COVID-19 patients and became targets of frustration and violent attacks.
So, Narendra Modi's government seems to be trudging uphill as it seeks to reform health care. India does have a track record in creative approaches to health—but many of them have been solely private initiatives. The Aravind Eye Care System, a network hospitals and clinics specializing in eye care, has made cataract surgeries affordable for thousands in southern India since its founding in the late 1970s. The government is seeking to connect public and private health care, but it still has a long way to go to make any of it universal.
Last year, the government rolled out the National Digital Health Mission, an initiative to create a national electronic patient records system that spans public and private institutions. The mission claims that electronic health records, accessible by any health provider, public or private, will be the backbone of a universal health system.
This is a remarkably bold effort—especially given India's size—that could point the way forward for many other countries. But the government's challenge remains improving quality of care, recruiting more health care workers, and lowering costs, especially in rural areas.
We know telemedicine and other digital health technology are not panaceas. But if done right, they can help make health care universal in India. If done wrong, it will only further fragment and make the health care system even more unequal.
The world should closely watch India's efforts over the next few years. Given the scope of the country's plans, including its attempts to digitize health records—which presents major data security challenges, grow its health workforce, and provide free health care for more than half its population of nearly 1.4 billion people, other countries stand to learn a great deal from India's ambitious experiment.
top photo: Mahesh Kumar A / AP Photo
Contributors
PS
Parth Sharma
Dr. Parth Sharma, blog editor and researcher, Association for Socially Applicable Research (ASAR), Pune, India; commission fellow, Lancet Citizens' Commission for Reimagining India's Health System.
SZ
Siddhesh Zadey
Siddhesh Zadey, senior research assistant, Department of Surgery Duke University School of Medicine; co-founding director for Association for Socially Applicable Research (ASAR) in Pune, India; and research fellow with the Lancet Citizens' Commission for Reimagining India's Health System.