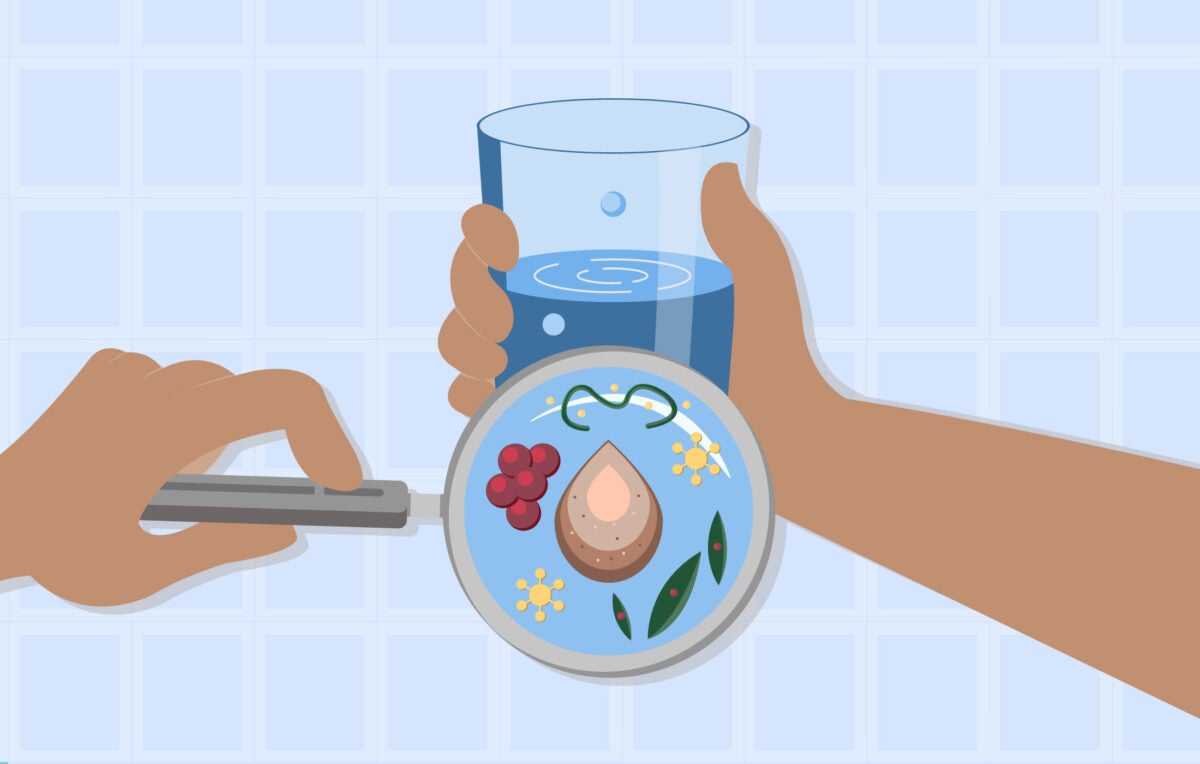 News
Will COVID-19 mark the highwater point for sewage surveillance?
Wastewater surveillance was a key tool in the fight against COVID-19. As pandemic control measures wane, does it have a future?
For all the ruin COVID-19 caused, it also made a hot commodity out of what we normally flush straight down our commodes, never to think about again: poop.
During the pandemic, hundreds of communities in the U.S. started monitoring their wastewater for SARS-CoV-2 to gauge the virus's community spread. Mayor Matt Mahan of San Jose, California says talking about sewage has become a matter-of-fact part of policymaking over the last three years. "We were trying to figure out, 'should we put a cap on large public gatherings?' And [we were] like, 'Hey, what [did] the poop say?'" he recalls.
Sign up for Harvard Public Health
What works. What doesn't. And why.
Delivered to your inbox weekly.
San Jose was an early partner for WastewaterSCAN, a program developed in 2020 by scientists from Emory University, Stanford University, and the University of Michigan. WastewaterSCAN fed data from San Jose and other partner cities into the National Wastewater Surveillance System (NWSS), which was spearheaded by the Centers for Disease Control and Prevention during the pandemic, in partnership with other federal agencies and states. Other NWSS data sources include community public health departments and local wastewater utilities, as well as Biobot, a wastewater analysis company that manages roughly 30 percent of reporting sites across the country. As of last October, more than 1,250 testing sites in the U.S. contributed data to the NWSS.
The system functions as a "health weather alert," says Amy Kirby, a CDC microbiologist and epidemiologist who leads the NWSS program. She says it was obvious from the start it could be applied beyond COVID-19, "so we built it to be flexible enough to expand to other pathogens in the future." Experts say wastewater surveillance could help detect a variety of health threats from foodborne pathogens to fungal infections.
The question now is, does wastewater surveillance really have a long-term future in policymaking?
Officials have long known human excrement contains disease particles, making it an effective way to understand disease levels across communities. "The trends that we see in wastewater give us a really early and reliable indication of the community level of disease," says Marlene Wolfe, an environmental microbiologist at Emory University who was involved in the development of WastewaterSCAN. San Jose's mayor Mahan calls it an "incredible source" of information about potential outbreaks.
But only 21 percent of local agencies said they were likely or extremely likely to conduct wastewater surveillance when the pandemic ends, according to an April 2022 report on wastewater data developed by the Rockefeller Foundation, Pandemic Prevention Institute, and data science company, Mathematica. Respondents said they had difficulty interpreting wastewater data, especially compared with traditional metrics such as hospitalizations and case counts. Among the local agencies that had not implemented wastewater surveillance, only seven percent said they had what they needed to begin doing so.
Further, most of the U.S. sites engaged in wastewater surveillance are local pilot studies, with little collaboration across states, says Aparna Keshaviah, a biostatistician and principal researcher at Mathematica, and a co-author on the report.
Many U.S. wastewater utilities are small and might only have a single staff member on-site most of the time. This presents an obstacle for timely wastewater analysis and reporting, says NWSS's Kirby.
To address these obstacles, the NWSS is working with the National Association of City and County Health Officials, which provides a mentoring program for local health departments that want to participate in wastewater surveillance. Meanwhile, technical resources are being developed to help with data analysis, such as Mathematica's alert algorithm, which flags patterns that should concern health officials.
Mahan says wastewater surveillance could even increase engagement in public health. "It's generated more public interest in the state of our health in San Jose," he says. "We've been thrilled to be a part of it. And I look forward to seeing where the science goes from here."
Many observers are watching North Carolina, one of the first to contribute data to the NWSS. The state now has 49 wastewater surveillance sites covering about one-third of its population, according to Virginia Guidry, head of occupational and environmental epidemiology at North Carolina's Department of Health and Human Services.
According to Guidry, the state has expanded its wastewater monitoring beyond COVID-19 to include influenza and respiratory syncytial virus (RSV), and public health officials are working with the CDC to prioritize additional infectious diseases.
North Carolina spends about $900,000 of CDC-supplied funding annually on wastewater surveillance, a much more cost-effective way to monitor disease spread in a community than individual testing, says Guidry. However, the CDC has only committed funding to support wastewater surveillance through 2025. It is unclear whether North Carolina would continue to fund the program without federal support. Guidry hopes funding will continue because "there is just so much potential and value to the program."
Where wastewater monitoring goes depends, like so much in U.S. public health, on whether something started in a crisis will continue to receive support when that crisis recedes.
Contributors
PY
Pingping Yin
Pingping Yin is a graduate student at Northwestern University's Medill School of Journalism.