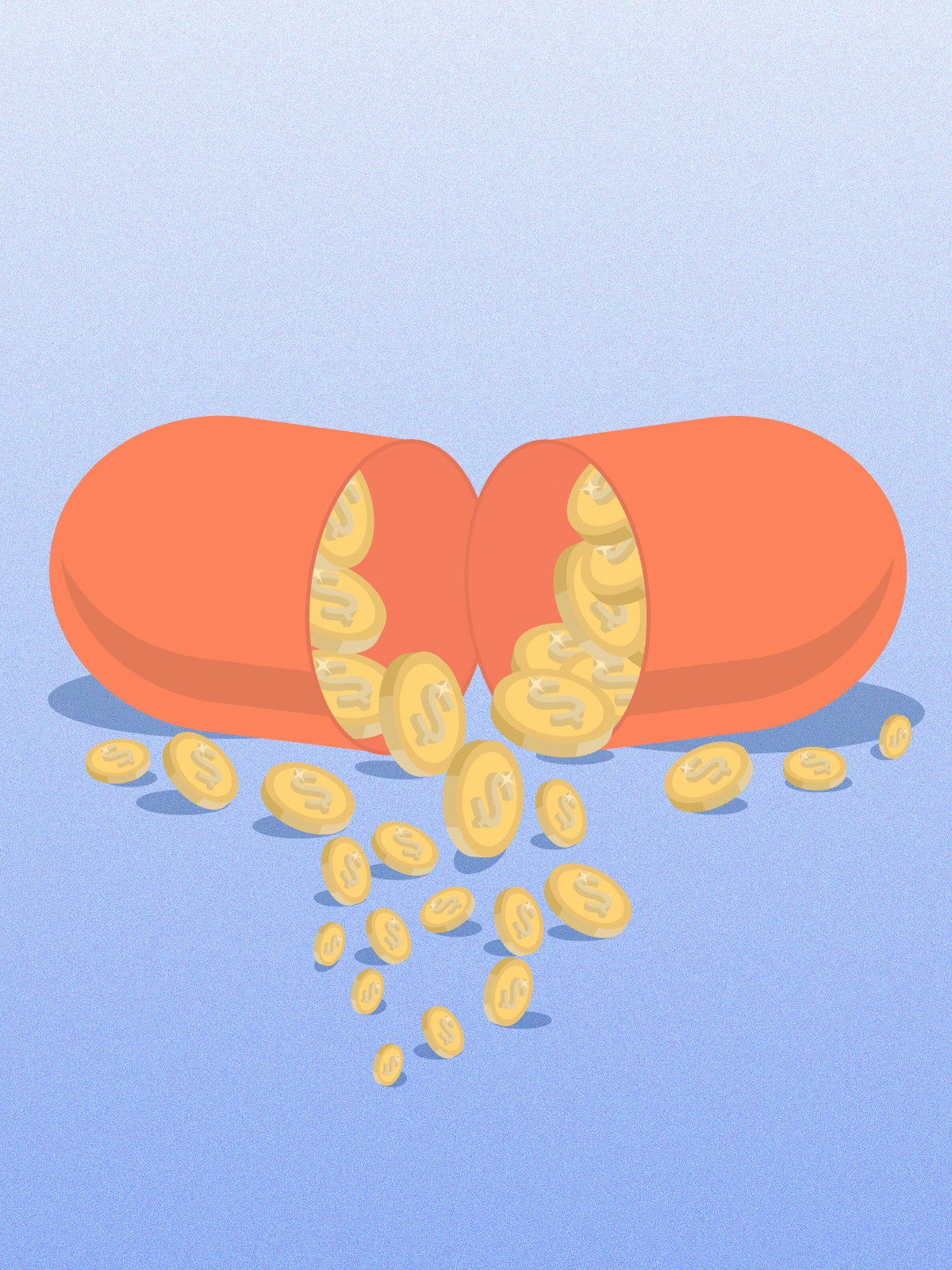 News
Pharmacy benefit managers claim to lower drug costs. Congress isn't convinced.
Legislators and patient advocacy groups question whether the cost savings secured by PBMs make their way to consumers.
President Biden has made lowering drug costs a centerpiece of Medicare spending negotiations for the 2024 fiscal year budget. The president announced in March that drugmakers would face fines if they raised prescription drug prices faster than inflation for patients on Medicare. But he has so far avoided addressing the elephant in the room: pharmacy benefit managers. New legislation before the Senate requiring more transparency and accountability within the pharmaceutical industry could soon change that.
Pharmacy benefit managers, or PBMs, are little-known brokers between health insurers and drug manufacturers. They act as distributors of drugs to pharmacies across the country—much like Amazon acts as an intermediary between sellers and consumers—and play an important role in determining drug prices. Just three PBMs now dominate more than 80% of the market, CVS Caremark, Express Scripts, and United Health's Optum Rx, through mergers over the last two decades.
Sign up for Harvard Public Health
What works. What doesn't. And why.
Delivered to your inbox weekly.
Despite claims they lower drug prices, patient advocacy groups and some pharmacies have argued they do little to make prescription drugs more affordable.
An estimated 18 million Americans can't afford the prescription drugs they need, a 2021 Gallup poll found. A 2020 study from West Health Policy Center estimates an additional 1.1 million Americans on Medicare could die by 2030 because of unaffordable drug prices.
PBMs market themselves as expert negotiators who secure lower drug prices, but pharmacies, patient groups, and others say few of those benefits trickle down to patients, said Anne Cassity, a senior vice president with the National Community Pharmacy Association. "Much of the credit [for raising the issue to Congress] goes to independently-owned pharmacies, who have been carrying this and screaming about this from the rooftops for the last 18 years."
In fact, a 2021 study found that drug manufacturers offering rebates to PBMs and insurers actually increase out-of-pocket costs for patients—by an average of $6 more per prescription for people with private insurance, $13 for Medicare, and $39 for the uninsured. Madelaine Feldman, physician and former president of the Coalition of State Rheumatology Organizations, told Congress in 2021 that the "savings" PBMs claim to save consumers actually create revenue for themselves. "The discussion around 'savings' reveals the underlying distortion of this broken market: in our current system, the benefits of market competition accrue to the PBM, rather than the patient," she said in her testimony.
Feldman further explained that a PBM claims it reduces the price of medications, for example an $8,000 medication to $4,000, but that doesn't mean the drug is 50 percent off for the patient. Instead, it means the patient is still paying coinsurance or out-of-pocket costs based on the original price of the drug ($8,000), and the $4,000 "savings" goes into the PBM's pocket.
Advocacy groups like Patients for Affordable Drugs Now have spent years pushing for transparency in PBM practices.
"We have called on Congress and the Federal Trade Commission to investigate PBMs, and basically just lay it all out," said Sarah Kaminer Bourland, the organization's legislative director. "Are they doing right by patients? Or are they lining the pockets of their shareholders?"
There's been little to no government oversight of PBMs since the sector emerged in the 1970s. But now, Congress is finally looking at regulating them with new legislation, the Pharmacy Benefit Manager Transparency Act. The bipartisan bill was introduced by Sen. Maria Cantwell (D-Wash.) and Sen. Chuck Grassley (R-Iowa) and designed to inject transparency into the pharmaceutical industry.
"We're trying to bring daylight into a very dark corner," said a representative for the Senate Commerce Committee chaired by Cantwell, who was not authorized to speak on the record. "How does all this work when you have a particular entity that has all of the information about pricing in the market, and it's the only entity that has all that information? There are all kinds of opportunities for mischief and arbitrage."
The bill will require PBMs to be more transparent about how they and manufacturers work to set drug prices and whether they receive rebates from drug manufacturers for distributing and selling their products.
Under the new law, PBMs would be required to file annual reports with the Federal Trade Commission. The legislation would also require PBMs to pass along all of their rebates from drug manufacturers to health plans or patients, instead of pocketing a portion of the discounts.
Representatives for both Grassley and Cantwell said they are hopeful about the bill's opportunity to advance, thanks to its bipartisan nature. The bill achieved its first step toward a full vote in the Senate on March 22 when the Commerce Committee voted in favor of the bill 18 to 9.
The bill's limited provisions mean it's only a first step at solving this problem, according to Cassity. "I don't think there's one silver bullet to sort of stop all these practices," she said. "I think this is a really good step, but there's going to be multiple steps."
Still, Cassity said, the bill allows the FTC to go after PBMs engaging in bad practices.
The Pharmaceutical Care Management Association, which represents the major PBMs, opposes the legislation, saying PBMs have a proven track record of securing savings for consumers.
"Any assertion that pharmacy benefit companies increase drug costs is false. The fact is PBMs are the only members of the prescription drug supply chain that are negotiating to lower costs," the association said in a statement. The association has also said bills like Grassley and Cantwell's risk increasing costs for patients rather than lowering them.
Groups seeking to change the industry say PBM's lobbying influence over lawmakers poses an obstacle. "Both pharmacy benefit managers and drug manufacturers are highly profitable, which makes them very powerful forces on Capitol Hill," Kaminer Bourland said. But even with their lobbying power, members across the aisle are taking a second look.
In early March, the Republican-controlled House Oversight Committee called on CVS Caremark, Express Scripts, and United Health's Optum Rx to turn over documents, communications, and other information related to their business practices.
Now that Congress is taking action, Cassity said she is hoping the administration will start to focus on the issue. "We would like the White House to engage more," she said. "Unfortunately, they really have been silent on the PBM issue. Hopefully that might change with all the noise we're seeing come out of Congress."
The White House referred questions to the Center for Medicare and Medicaid Services. The Center said it is committed to working with President Biden, Congress, and others to help Americans access affordable prescription drugs. In an emailed statement, Grassley's office said PBMs must be a target of the administration to accomplish that goal, and that "we must look at all aspects of the prescription drug industry."
Contributors
AK
Avani Kalra
Avani Kalra is a managing editor at her college newspaper, The Daily Northwestern, and has reported for Stat News, the Wisconsin State Journal, and the Columbia Journalism Review.
DG
Davis Giangiulio
Davis Giangiulio is a freelance writer based outside of Philadelphia, and a journalism student at Northwestern University.