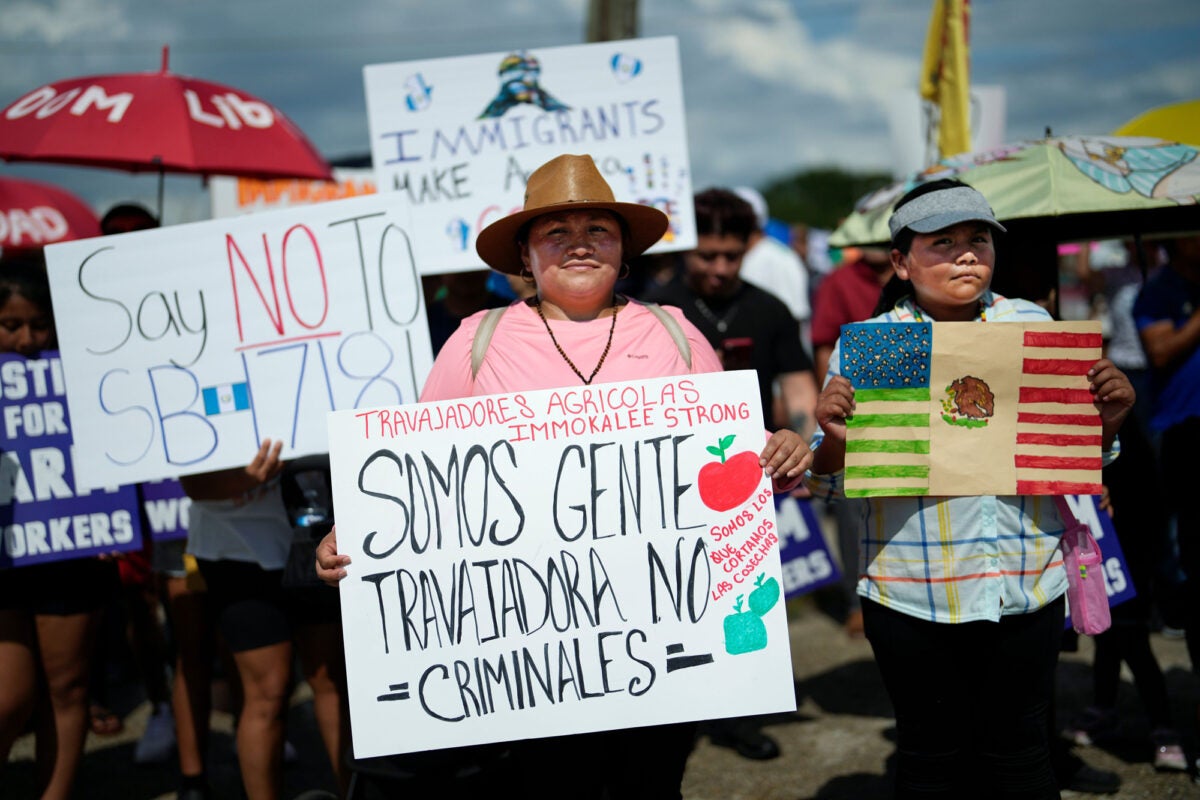 Feature
Florida law sows misinformation among immigrants about health care access
The law requires hospitals that accept Medicaid to ask for patients' immigration status. It doesn't require patients to answer.
Like millions of farmworkers in the U.S., Petra migrated from Mexico to Florida nearly two decades ago, seeking safety and a job. She established her home in Immokalee, a farming community of almost 25,000 people, nearly 40 percent of whom were born outside of the U.S. She was drawn there by the possibility of work in the area's vast tomato fields.
Immokalee doesn't have many health care options, and as a single mother of four, Petra relies on a federally-funded nearby health center, run by the Healthcare Network, and on hospitals located at least a 30-minute drive away. But in June, when her nine-month-old baby needed urgent medical care, she was nervous: She didn't know how she would be treated at the hospital, given a new Florida law.
Florida's new immigration law makes visiting the hospital feel risky
Florida had just changed its immigration laws as part of Governor Ron DeSantis' sweeping effort to crack down on illegal immigration. The state now imposes harsher penalties on employers for hiring undocumented immigrants, invalidates some out-of-state drivers' licenses for immigrants without legal residency, and requires hospitals that accept Medicaid to ask for patients' immigration status.
That last provision has sparked a cascade of uncertainty and fear for people like Petra and her family, who feel they've been put in an impossible position: avoid the hospital and risk a loved one's health, or seek care and potentially risk deportation. She is not alone. "Whenever there is a restrictive immigration policy in place, there is always a chilling effect," says Drishti Pillai, director of immigrant health policy at KFF, a health policy research nonprofit. Pillai says the legislation could drive many immigrants to leave the state. A recent KFF report also argues the new law is likely to lead to greater prevalence of short and long-term health issues amongst immigrant communities.
Despite her uncertainty, Petra opted for the hospital. "I am not going to let my children die out of fear," she says.
Sign up for Harvard Public Health
Exploring what works, what doesn't, and why.
Delivered to your inbox weekly.
Ana, a farmworker from Mexico who migrates seasonally between Florida, North Carolina, and New Jersey, understands Petra's anxiety. Although she is a U.S. permanent resident, her partner is undocumented.
"If a family member gets sick and you take them to the hospital, and you get stopped by the police, what are you going to tell them?" she says.
A misunderstanding of the law sparks confusion
At the hospital, at least, patients and caregivers don't actually have to say anything at all — a fact that's widely misunderstood. Maria Plata, a project manager for Partners in Health who trains community health workers in Immokalee, says that although Florida hospitals are required by the new immigration law to ask about residency status, no one is required to answer. But political rhetoric has stoked confusion, and with misinformation rampant, Plata says many have stopped seeking health care altogether out of fear of immigration consequences.
To counter misinformation, the Healthcare Network's community outreach team is using strategies established during the COVID-19 pandemic. They train trusted community members to provide accurate information in their neighbors' native languages. They spread the word by knocking on doors, holding health fairs in accessible locations, and distributing fliers. The team has also partnered with Radio Conciencia, a popular local station, to air segments dispelling common rumors.
Partners in Health is collaborating with the Florida Immigrant Coalition on the "Decline to Answer" campaign, which aims to spread the word that the law requires hospitals to ask for immigration status—but it does not require patients to answer. Plata says the campaign also seeks to educate health care providers on patient rights, and encourage everyone, regardless of legal status, to refuse to disclose their immigration status on hospital forms. "Having everyone decline to answer encourages all Floridians to stand in solidarity with those who are most afraid of being penalized," Plata says. In an email, Florida's Agency for Health Administration declined to comment on the law further, but the bill contains no text indicating a patient is required to report their immigration status in order to receive care.
Health care in Immokalee was already difficult to access, and the new law has made it even harder. Public transportation is scarce, and the dispersed agricultural area is not easily walkable. Some people in Immokalee speak only Spanish, Creole, or indigenous Guatemalan dialects, creating linguistic barriers that combined with economic instability and grueling labor conditions, have long posed hurdles to maintaining good health and accessing adequate care. Now, locals say, the law has sowed new uncertainty around how to safely find work, housing, and medical care.
Jean Paul Roggiero, the director of community relations and community outreach for Healthcare Network, says the streets of Immokalee were empty on the day before the law went into effect. Roggiero suspects residents were afraid they would encounter immigration raids if they left their homes. And Natalia Falcon, a psychologist at Immokalee's Healthcare Network clinic, says there's been more "no shows" for newborn check-ups since the new law passed. She adds that the new law has particularly affected pregnant women, who interact with the health care system frequently, and has even prompted some women to leave the state to get prenatal care. "I always say to myself… 'think of this session as the last session you'll have with them, because probably you won't see them again,'" Falcon says. She worries that mental health care appointments will dwindle, too.
As the next agricultural season approaches, Petra remains unsure whether Immokalee's farmers will hire her back to pick tomatoes. Florida now requires private employers with more than 25 employees to verify employment eligibility for all hires, and Petra has not yet heard back about extending her work authorization.
"I don't know what to do. I'm thinking about where to work where I won't be in danger," she says.
Contributors
JK
Julia Knoerr
Julia Knoerr is a 2023 Global Health Inequities Reporting Fellow with the Pulitzer Center on Crisis Reporting and is based in Washington, D.C.