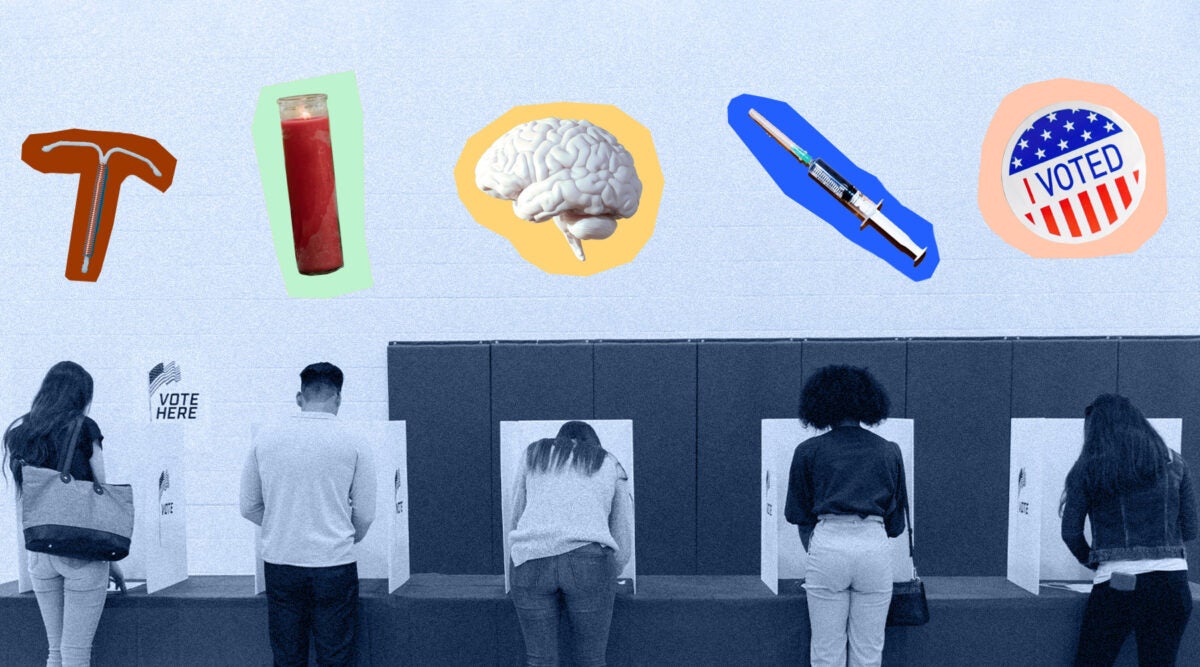 Opinion
Five public health reasons to vote in the midterms
Your vote on Tuesday is good for democracy and your health, says Zoe Siegel.
Voting is essential to engaging with democracy and our health. Tuesday's midterms will determine the future of our health policy.
Policies can curb or exacerbate public health emergencies like gun violence, teen mental health, and "deaths of despair" from opioid overdoses and alcohol-related liver failure. Our votes can actively improve or harm health outcomes for all of us, which is why the American Medical Association has called voting a "significant determinant of health."
Not only does voting impact the laws and policies that determine health outcomes, voting itself is correlated with better health. People who vote tend to have higher incomes and social capital, both of which predict better health. They are also more likely to be insured. One survey found that 63% of Americans with health insurance voted in the 2016 presidential election. Only 34% of those without insurance voted.
The people most in need of policies that support public health care vote at far lower rates, meaning their voices are not reflected in the country's policymaking. As I wrote last year, voting is "an essential public health duty," that must not be "stolen, infringed upon, or abused."
Sign up for Harvard Public Health
What works. What doesn't. And why.
Delivered to your inbox weekly.
Here are five public health reasons to vote next Tuesday.
Vote to protect reproductive choice and health. In the wake of the Dobbs decision, half of voters nationwide (50%) report that abortion policy has made them more motivated to vote in this year's midterms, especially Democrats, independents, and women.
A recent study estimated a 21% overall increase in pregnancy-related deaths in states banning abortion, and a 33% increase amongst Black women alone. Those denied access to reproductive care and choice often face financial insecurity, partner violence, and sometimes end up raising their child without adequate support. Thirteen states now ban abortion. California, Montana, Michigan, Kentucky, and Vermont will vote on whether to adopt new abortion protections on Tuesday.
Vote to stop gun violence. Vote for a candidate that supports a public health approach to guns. That means supporting red flag laws, investing in crisis prevention services, and other evidence-based gun safety measures. Every day, more than 110 Americans are killed by guns. And 58% of American adults have had someone they care about impacted by gun violence. It is a public health emergency.
Vote for healthy minds. U.S. children are experiencing a mental health crisis. During COVID-19, 37% of high schoolers reported they experienced poor mental health, and 44% felt consistently sad or hopeless. Over 60% of youth with major depression do not receive any mental health treatment. Elect officials who will increase access to mental health care, especially for children.
Vote to prevent drug overdoses. In 2021, drug overdose deaths topped 100,000, with the biggest increase among young people ages 15-24. These deaths disproportionately impact people without health insurance, the formerly incarcerated, and people living in poverty. Look for candidates who support a public health approach to the overdose epidemic, including increasing harm reduction services.
Vote to protect your right to cast a ballot. Although we are on track to match 2018's historic midterm voter turnout, the U.S. still lags far behind other high-income countries in voter participation.
A wave of voter restrictions could mean fewer people make it to the polls next week. When large numbers of the public are silenced, the health policy set by our elected officials is no longer created by and for everyone. Voting restrictions not only violate civil rights, but also undermine health. By nature, suppressing the vote prevents a healthy, just society. Vote for candidates who actively counter forces seeking to undermine democracy and are committed to equitable voting access.
More voter engagement at the federal, state and local levels means a healthier society. As important as federal elections are for health policy, don't forget that state and local elections also have a significant impact on the nation's health.
Get out to vote on Tuesday. It will be good for your health.
Contributors
ZS
Zoe Siegel
Zoe Siegel works in global health communications with a background in supporting grassroots voting efforts in New York City. She holds an M.P.H. from Columbia University's Mailman School of Public Health.
MD
Mary Delaware
Mary Delaware is the senior graphic designer at Harvard Public Health.