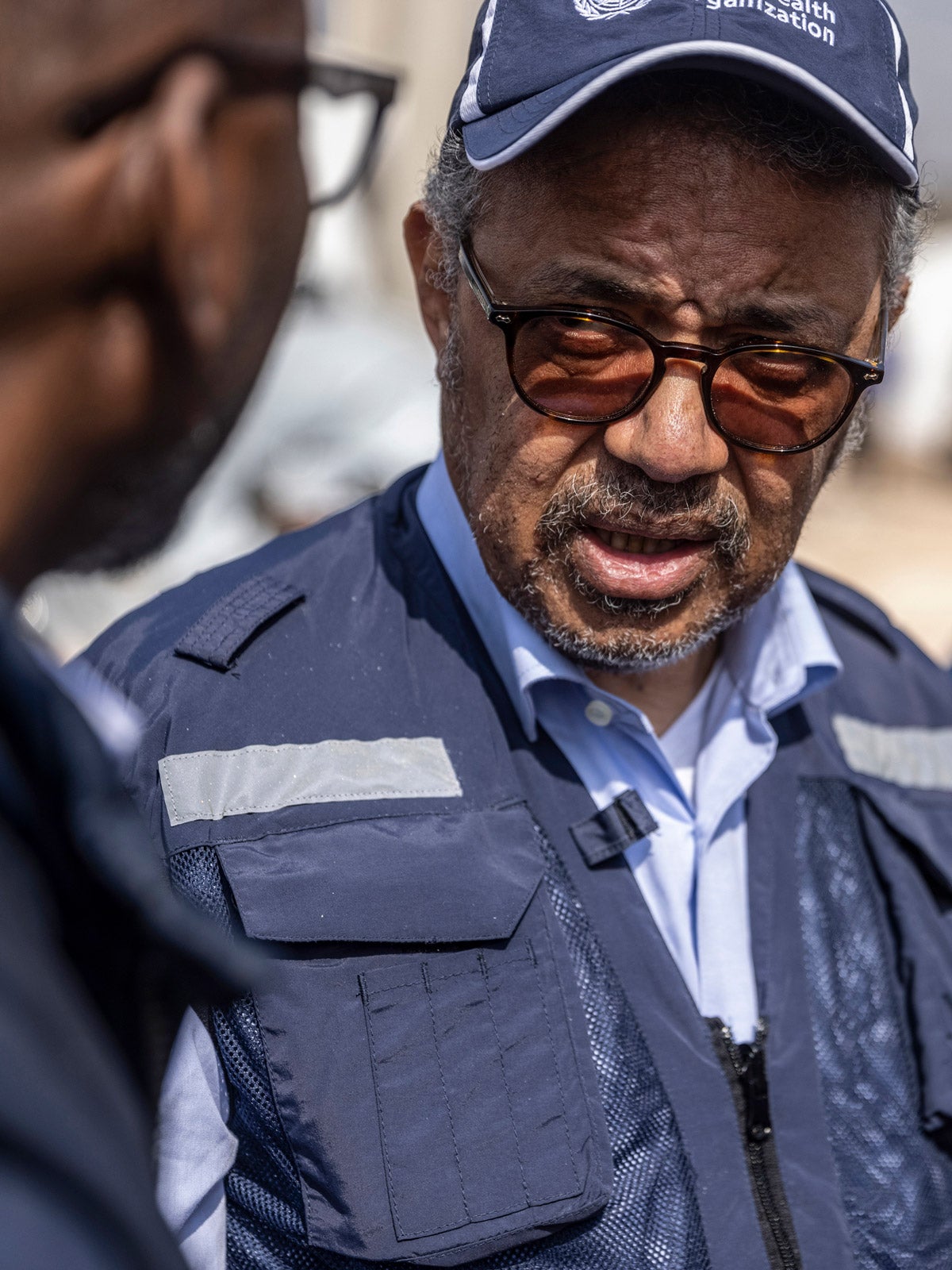 Opinion
Global health past and future: The W.H.O. at 75
The organization's director-general lays out five key priorities for global health as the W.H.O. looks towards its next 75 years.
The COVID-19 pandemic thrust public health onto the front pages, the nightly news, and into dinner table discussions. It affected everything we do, from school to work. It was in some ways a great global equalizer, especially in the beginning, when the entire world faced the same uncertain threat—and same uncertain future.
That feeling of shared fate was the reason the World Health Organization was founded 75 years ago, as countries were rebuilding after the collective trauma of World War II. It's why the authors of the W.H.O.'s constitution affirmed both that health is a human right, and that the health of all people is fundamental to peace and security.

Sign up for Harvard Public Health
What works. What doesn't. And why.
Delivered to your inbox weekly.
In the three quarters of a century since then, the world has seen major improvements in health. Life expectancy globally, for both sexes, has increased from 46 to 73 years, with the biggest gains in the poorest countries. We led a successful campaign to eradicate smallpox, and are part of a consortium that has driven polio to the brink. 42 countries have eliminated malaria, and we've pushed back the HIV and TB epidemics. In the past 20 years alone, smoking has fallen by a third, maternal mortality has fallen by a third, and child mortality has halved. In just the past five years, new vaccines for Ebola and malaria have been developed and licensed.
Of course, the W.H.O. can't claim sole credit for these successes—the very nature of what we do involves working with partners to support countries as they implement policies and programs that drive change. But it's difficult to imagine the world would have seen the same improvements in health had the W.H.O. not existed.
The most visible part of the W.H.O.'s work is responding to crises. In 2022 alone, we responded to more than 70 health emergencies around the globe, including the COVID-19 pandemic, outbreaks of cholera in 30 countries, localized flare-ups of Ebola, measles, and mpox, conflicts in Ethiopia, Syria, Ukraine, and Yemen, floods in Pakistan, and humanitarian crises in the greater Horn of Africa and the Sahel.
However, much of the W.H.O.'s work doesn't make headlines. We bring experts together to distill the best science into treatment guidelines on which many countries rely. We set global standards like the International Classification of Diseases. We name pharmaceutical substances, monitor disease patterns, and provide technical advice to more than 150 countries on strengthening their health systems. Much of it is unglamorous, painstaking, and slow-moving work. But it makes a huge difference.
The challenges of today are very different from those we faced in 1948. Noncommunicable diseases now account for 70 percent of all deaths globally. Obesity rates have skyrocketed. Antimicrobial resistance threatens to unwind a century of medical progress, and air pollution and climate change are jeopardizing the very habitability of our planet.
People also face vast disparities in access to health services, between and within countries and communities. Since 2000, access to essential services has increased significantly, but we estimate the number of people incurring financial hardship by out-of-pocket health spending has increase by a third, to almost 2 billion in 2017.
The W.H.O. also faces its own institutional challenges. Over the past 20 years the world's expectations of the W.H.O. have grown substantially, but our resources have not. Moreover, 86 percent of our budget comes from voluntary, earmarked contributions, which are neither predictable nor flexible, jeopardising our independence and compromising the quality and sustainability of our work. Then there is the challenge of being a technical, scientific organization in a political—and increasingly politicized—environment.
We can't predict what the world, or the W.H.O., will look like 75 years from now, but we see five priorities that were relevant in 1948, and still will be in 2098:
Promote health by addressing the root causes of disease in the air people breathe, the products they consume, and the conditions in which they live and work. Such work requires clear-sighted political leadership to drive action across agriculture, commerce, education, energy, finance, trade, transport, urban planning, and more.
Provide health by closing gaps in access to, and affordability of, essential health services. This requires reorienting health systems toward strong primary health care and public health services, including decent pay and working conditions for health workers.
Protect health by strengthening the world's defenses against epidemics, pandemics, and other health emergencies. This is something countries can only do together by fostering shared solutions to shared problems. That is why we support the international pandemic accord now being negotiated, along with the amendments to the International Health Regulations, and other initiatives to improve the governance, financing, and systems and tools needed to make the world safer.
Power health by harnessing science, research, innovation, digital technology, and data to drive evidence-informed decision making.
Perform for health by building a stronger and sustainably financed W.H.O. at the center of the global health architecture.
It's often said that if the W.H.O. didn't exist, it would need to be created, and in the current geopolitical environment, it's far from certain it would be. Ultimately, the W.H.O. belongs not to those of us who work for it, but to the nations and people of the world who created it 75 years ago, with a vision for a healthier, safer, fairer world.
Today, the nations and people of the world must work together to build a W.H.O. that will create a healthier, safer, and fairer future.
Contributors
TAG
Tedros Adhanom Ghebreyesus
Tedros Adhanom Ghebreyesus is the director-general of the World Health Organization.