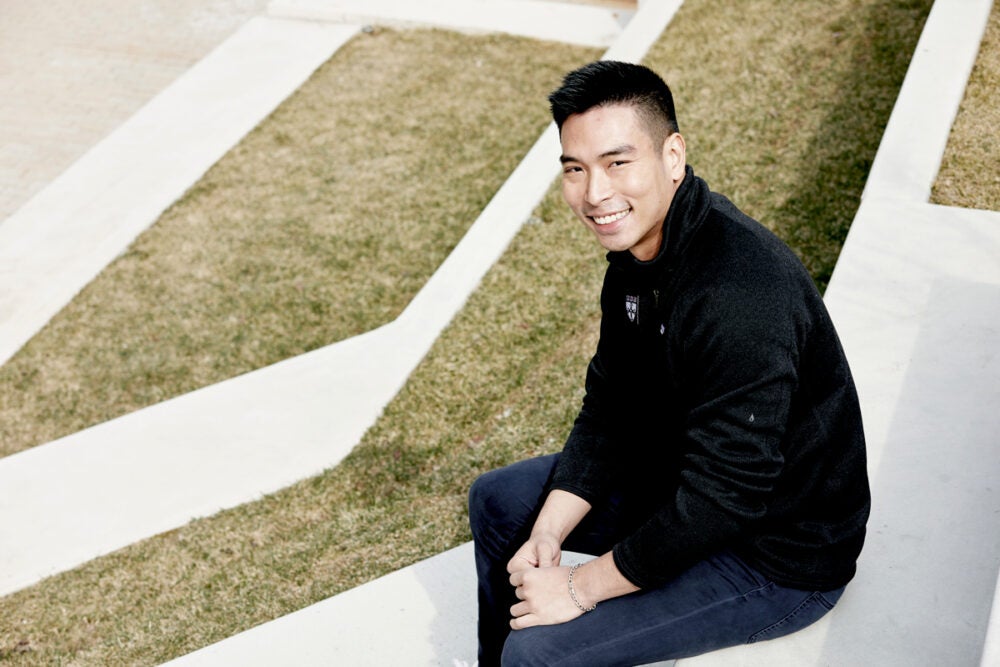 Philanthropic impact
Affirming care
Financial aid and student support funds are helping Tanat Chinbunchorn, MPH '22, lead initiatives for patient communities that often face stigma.
When physician Tanat Chinbunchorn started working with the Thai Red Cross Society in 2018 on improving access to HIV services, the young physician found a major part of the job wasn't covered in his medical training: understanding a community and its needs.
Chinbunchorn, 29, was tasked with establishing Thailand's first programs offering HIV Pre-exposure prophylaxis (PrEP)—a pill to prevent infection—in 10 free clinics run by health workers without formal medical certifications. The clinics were placed in strategic hot spots in six provinces, such as the Patpong red-light district in Bangkok. Many of the providers came from the communities they serve, which can include men who have sex with men, transgender women, and sex workers.
"Nothing like these clinics existed before," he says. "People previously had to go to conventional hospitals to receive care and were often subjected to stigma and discrimination." Chinbunchorn, who identifies as gay, relished the chance to create an affirming alternative, but he soon realized it would require hard work and a lot of listening.
His job was to train and empower the providers. This required extensive coaching, he says. "I had to travel to the community centers quite frequently to listen to any of the problems they faced, any difficult cases that they might have encountered. I was also in constant communication with the providers and they were able to contact me to receive 24/7 assistance."
The effort has been a success—he notes that more than 10,000 people were accessing PrEP through the clinics in 2020. But through the process of getting the program off the ground, Chinbunchorn realized he needed to know more about how the circumstances of his patients' lives, such as their socioeconomic status or sexual orientation, affected their health and created barriers to care.
Having such knowledge would mean he could do more to help the communities he was serving. So, he decided to come to the Harvard T.H. Chan School of Public Health in the fall of 2021 to earn an MPH-45 in Global Health and Population.
The power of financial aid
Chinbunchorn was able to attend the School thanks to the Thai Scholars Fellowship Fund. And with additional student support, he has been able to pursue passion projects in research and innovation. "Financial aid really makes a difference," Chinbunchorn says. "Taking away financial hardship helps students focus on their studies, be creative, and kick-start new work." In turn, he believes that having students from a wide range of backgrounds makes education at the Harvard Chan School richer and more effective.
The prestigious Rose Service Learning Fellowship is giving Chinbunchorn a new chance to continue his work in community-centered public health—in this case, with people in the Boston area who use injected drugs, such as heroin. Along with his mentor Kenneth Mayer, professor in the Department of Global Health and Population, he is working with The Fenway Institute, a clinic focused on the LGBTQ community, to identify facilitators and barriers to PrEP uptake among people who inject drugs. The aim is to better understand the needs of this population and to ultimately help health care providers improve services and harm reduction strategies.
Broader horizons
Along with classmates Gauthier Willemse and Yousef Abuhaimed (both MPH '22), Chinbunchorn is also working on Residents Abroad, an online resource-sharing platform to facilitate international rotations for medical residents from countries around the world. The goal, Chinbunchorn says, is to "increase doctors' exposure in terms of health and equity, how a health system runs, and the different epidemiology of diseases."
Residents Abroad was started by Willemse in 2019 but wasn't able to get off the ground due to the pandemic. Now, the Sastry Harvard iLab and Innovation Fund is helping the partners relaunch. In addition, the venture is a semifinalist for the Harvard President's Innovation Challenge, giving the students access to mentorship and assistance.
---
Funding student success
Three different student support funds at Harvard Chan School have contributed to Tanat Chinbunchorn's ongoing work and leadership.
Thai Scholars Fellowship Fund
Established by the King of Thailand Birthplace Foundation, the Thai Physicians Association of America, and other donors to give financial aid to Harvard Chan students from Thailand, with the aim of enriching public health and medicine across nations.
Rose Service Learning Fellowship Fund
Made possible through the generosity of Deborah Rose, SM '75, these fellowships allow Harvard Chan students and postdocs to apply and expand their skills through serving community needs. In 2021, the fellowships supported 25 projects in seven countries.
Sastry Harvard iLab and Innovation Fund
Founded by Srinivas Sastry, MPH '90, the fund backs social entrepreneurship projects which may grow into companies and nonprofits. The Fund supported six ventures by Harvard Chan students in 2021.
---
The Road Ahead
Chinbunchorn sees himself as both clinician and researcher. "I'm mostly focused on community-based interventions and community empowerment," he says. He is also passionate about being an advocate for HIV and other LGBTQ health issues and says he'll likely continue working in this sphere after graduation. He believes that the Harvard Chan School has given him new ways to both voice his opinions and broaden his views.
"It's really eye-opening for me because conversations about LGBTQ history aren't happening back home in Thailand," he says. "Public health is not only about the clinical. It's about the environmental or social factors, like stigma, that come into play and affect our health."
He is grateful for the financial aid funds that have made his new ventures possible and will allow him to continue his mission with increased perspective and a strong network of peers and faculty. "They inspire me every day," he says. "Each person brings their own perspective to the table, and the School, being a very diverse and inclusive space, allows conversations to happen."
Contributors
KD
Kent Dayton
Kent Dayton is the staff photographer and photo editor at Harvard Public Health.