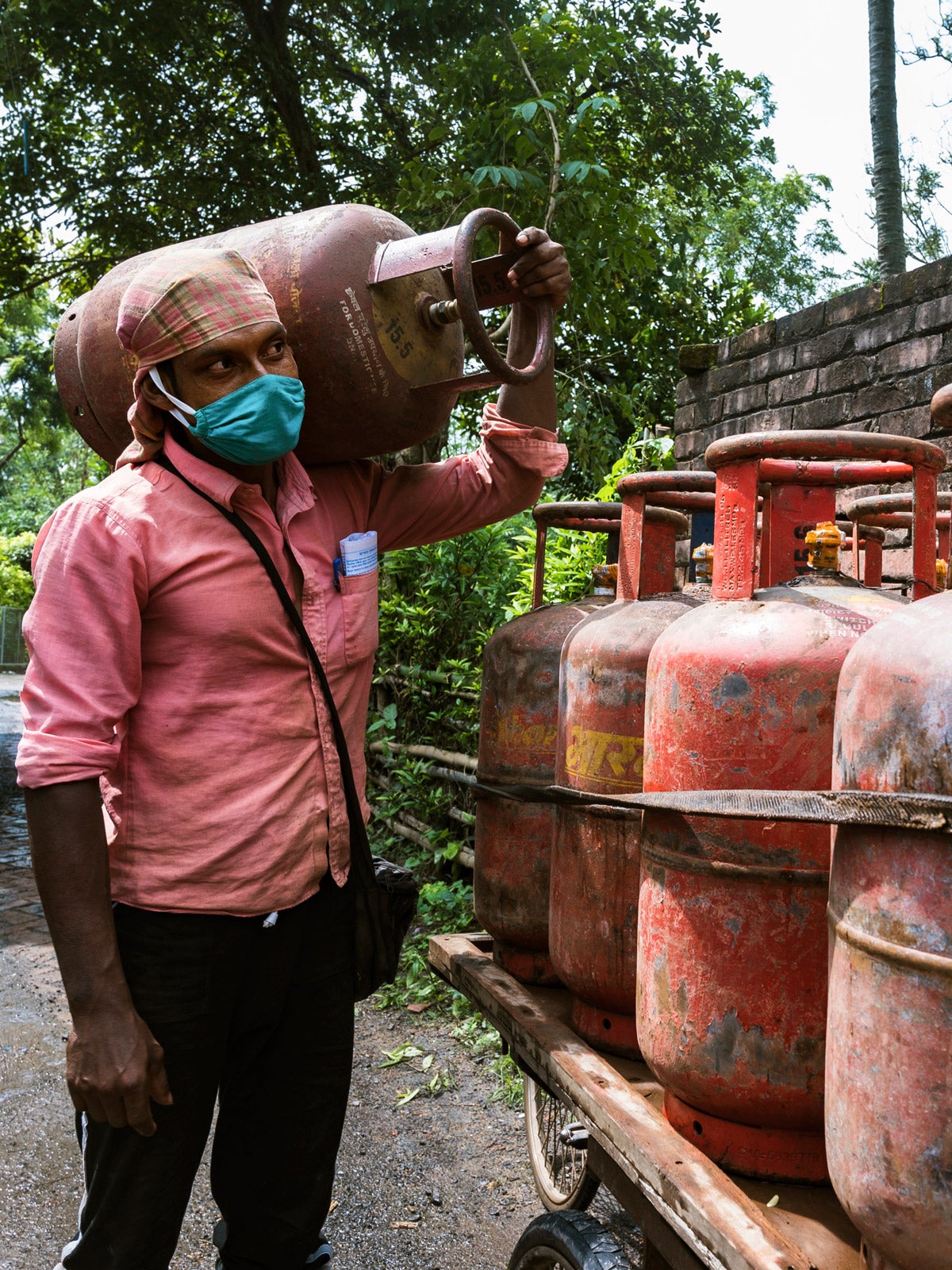 Opinion
Home is where the harm is—India's indoor air pollution problem
In 2019, nearly 1.7 million people in India died from air pollution, but the smog outside is only part of the problem.
Air pollution levels surged in 2022, and South Asia remains the region with some of the unhealthiest air in the world, with Pakistan, India, and Bangladesh all making the list of top ten countries with the highest concentrations of air pollution.
In India, where I live, nearly 20 percent (1.67 million) of total deaths in 2019 could be traced to air pollution, according to a study published in Lancet Planetary Health. Pollution from all sources—motor vehicles, construction, and industrial emissions—contribute to the smog blanketing Indian cities, but household air pollution is an overlooked and significant source of disease.
Indoor pollution is highly concentrated due to often poor ventilation, heat, and humidity. An average person's exposure to pollutants in India can be up to 13 times higher inside the home than outdoors.
Sign up for Harvard Public Health
What works. What doesn't. And why.
Delivered to your inbox weekly.
More than 40% of Indian households still rely on solid fuels like wood, leaves, dung, and charcoal. These fuels release toxic pollutants including carbon monoxide, sulfur dioxide, particulate matter, and benzene, all of which are linked to acute and chronic health problems from pneumonia in children to chronic obstructive pulmonary disease to lung cancer.

To reduce indoor air pollution, the Indian government has tried to make cleaner sources of fuel available, like liquified petroleum gas. For example, in 2016 Prime Minister Narendra Modi launched a program to improve access to liquified petroleum gas for women from low-income households. But this year, the government has significantly cut funding for the program, raising concerns that indoor air pollution will rise even more in poor households. Although some experts are concerned that gas stoves also contribute to indoor air pollution (as demonstrated by the recent controversy in the U.S. around gas stoves in American kitchens), the pollution emitted by gas stoves is exponentially less than that produced by solid fuels.
The program's goal was to provide subsidized cylinders of liquified petroleum gas to 80 million women from poor households across the country. The government claims that 99 percent of Indians now have access to cooking gas, and a Lancet study found the government's program succeeded in reducing indoor air pollution by helping households switch to cooking gas. But critics argue the government's claims may be overstating the program's success.
It turns out that just subsidizing cooking gas doesn't necessarily mean it completely replaces solid fuels for heating and cooking. Despite the government program, there are several reasons many Indian households still rely on solid fuels.
First, the rising cost of cooking gas means more Indians are returning to solid fuels, whether as their sole or partial source of energy.
The current cost of one gas cylinder for domestic use is about $12 or 1,000 Indian rupees. The government subsidy covers $2.40 or 200 Indian rupees per cylinder, up to 12 refills a year. But the government has been inconsistent in its commitment to providing the subsidy to low-income households. In February, the government announced it would eliminate most subsidies for cooking gas starting in April, but then reinstated them suddenly on March 24.
Even the existing subsidy is often not nearly enough to cover household energy needs. More than 75 percent of families eligible for this subsidy make less than 10,000 rupees a month, and need more than one cylinder or gas refill a month to meet their needs. In middle or high-income households, gas is primarily used for cooking. In low-income households, it's used for much more: cooking, boiling water to make it potable, and heating water for bathing.
Second, the devil is in the details, and the government has been vague about what constitutes "free and subsidized" when it comes to cooking gas. While most people signing up for the program believe they are eligible for "free" cylinders, that's not the whole story. To make use of cooking gas, a household first needs a gas stove and connection.
The government-led program extended interest-free loans of around $30 to women in low-income households for new connections and gas stoves, paid back over time, usually through a deduction from their already small gas cylinder subsidy. Given the paltry subsidy, it's not a surprise that a quarter of families enrolled for the government subsidy in 2018 chose not to return the following year. Recent data show that 20% of people who enrolled in the program only refill their gas cylinder once, and 60% came back to get their gas cylinders refilled less than four times between 2021 and 2022. In fact, the government distributed fewer subsidies between 2015 and 2020, even as the price of gas continued to rise.
Another major challenge for the government program is targeting households that have the most need. In Jharkhand, one of India's poorest states, a 2021 report found that 50 percent of gas subsidies were actually being claimed by the richest 40 percent of households, both urban and rural, in the state.
Finally, caste has been another blind spot for policymakers. Just as Black and Hispanic communities in the United States often face higher levels of pollution in their communities due to a legacy of discriminatory housing policy, India's marginalized caste groups and tribal communities—who often belong to low-income groups and live in rural areas—are also disproportionately affected by household air pollution.
If India plans to meet its Sustainable Development Goal of providing access to clean energy to all households, and reduce indoor air pollution, policymakers must:
Increase liquified petroleum gas subsidies for poor households.
Better understand how low-income households use fuel, and how best to meet their energy needs.
Improve education about the long-term impacts of indoor air pollution.
Resolve issues like delays in subsidy payments, and delays in getting gas cylinders to homes in need.
Ensure subsidies are actually going to low-income households, and establish mechanisms to prevent ineligible households from misusing the subsidy.
The lives and health of millions will benefit from this simple intervention: supplying cooking gas and stoves to all low-income households.
Contributors
MJ
Mahima Jain
Mahima Jain is an award-winning independent journalist covering the environment, health, and gender. You can follow her on Twitter @theplainjain.