Alumni news
Alumni News Winter 2022
Career updates from past classes, starting with a note from the class of 1990.
1990
Steven Galson, MPH, was appointed to the boards of directors at BioCryst Pharmaceuticals and InSilico Medicine in August. He most recently served as senior vice president, research and development, at Amgen. Galson previously spent more than 20 years in public service roles across the U.S. Department of Health and Human Services, Department of Energy, Environmental Protection Agency, and Centers for Disease Control and Prevention, serving as the Acting Surgeon General from 2007–2009. He is also a Trustee of the Keck Graduate Institute and on the Executive Committee of the Clinical Trial Transformation Initiative.
1997
Scarlett Bellamy, SM, SD '01, received the 2021 Lagakos Distinguished Alumni Award from the Department of Biostatistics in October. Bellamy is an adjunct professor of biostatistics at the Harvard Chan School; and at Drexel University Dornsife School of Public Health, she is professor of biostatistics in the Department of Epidemiology and Biostatistics, and associate dean for diversity, inclusion, and faculty development. Bellamy is an internationally recognized biostatistician whose methodological work has focused on evaluating intervention efficacy in longitudinal trials.
1998
Joseph Betancourt, MPH, joined the advisory committee of the Latino Equity Fund, Massachusetts' first philanthropic fund focused on the Latino community, in July. Betancourt, a specialist in health policy, health care disparities, diversity, and cross-cultural medicine, is senior vice president of equity and community health at Massachusetts General Hospital.
John Yee, MPH, joined the board of directors at ReForm Biologics in August. Yee is a physician and chief medical officer at Sobi North America. He previously served in senior leadership roles at Flexion Therapeutics, Vertex Pharmaceuticals, Intarcia Therapeutics, and AstraZeneca. Prior to joining the pharmaceutical industry, Yee was a faculty member and attending physician at Harvard Medical School and Boston Children's Hospital.
2002
Donald Warne, MPH, was named to the journal Health Affairs' Health Equity Advisory Committee in August. The group will advise on equity issues in scholarly publishing and support researchers from historically marginalized populations. Warne is a professor of family and community medicine at the School of Medicine and Health Sciences at the University of North Dakota, where he also is associate dean of diversity, equity, and inclusion and director of the Indians Into Medicine and Public Health Program. He is a member of the Oglala Lakota tribe from Pine Ridge, South Dakota.
2003
Bisola Ojikutu, MPH, was appointed executive director of the Boston Public Health Commission in September. Boston Mayor Michelle Wu later elevated the position to her Cabinet, expanding Ojikutu's role in leading the city's public health efforts. Ojikutu is an associate physician at Brigham and Women's Hospital and an assistant professor at Harvard Medical School.
2005
Marcella Alsan, MPH, PhD '12, won a prestigious MacArthur Fellowship—known as a "genius grant"—in September for her work examining health inequities and solutions for reducing them. Alsan is a professor of public policy at Harvard Kennedy School. Her work draws from public health policy, medicine, and economics, and its focus has ranged from the historical injustice of the Tuskegee syphilis research on Black men in Alabama to the effects of information gaps around COVID-19.
Ana Viamonte Ros, MPH, was named the first chief well-being officer at Baptist Health South Florida in July. In this role, she'll develop a systemwide strategy to support physicians and other health care workers facing stress, anxiety, and exhaustion common to the industry and worsened by the COVID-19 pandemic. Ros is also medical director of palliative care and bioethics services at Baptist Health. She was Florida's first state surgeon general and the first woman and Cuban American to head the Florida Department of Health.
2012
Monica Bharel, MPH, was named by Boston Mayor Michelle Wu as the new cabinet-level senior advisor to address the intersecting crises of substance use disorder, mental health, public safety, and homelessness at the area of the city known as "Mass and Cass." Bharel served as commissioner of the state Department of Public Health for six years and stepped down in June.
2013
James McPhee, SM, was promoted to associate professor of vascular surgery at Boston University School of Medicine in July. He also was recently promoted to VA Boston's associate chief of surgery for quality and safety. McPhee's research focuses on comparative effectiveness in surgical outcomes.
Christopher Meduri, MPH, was appointed chief medical officer at Anteris Technologies in September. Meduri, an interventional cardiologist at the Karolinska Institute in Stockholm, Sweden, was an active member of the company's medical advisory board and contributed to the development of its aortic replacement valve.
2015
Madhury (Didi) Ray, MPH, was named one of the deBeaumont Foundation's 40 Under 40 in Public Health in September. She held many roles in New York City's COVID-19 response, including serving as the COVID-19 Health Equity Data Lead at the New York City Department of Health and Mental Hygiene. In this role, Ray worked to address neighborhood disparities in COVID-19 resulting from historical and ongoing structural racism. She and her team utilized data and operational analyses to leverage resources across the NYC government to implement a novel hyperlocal approach to disaster response.
2018
Matt Logan, MHCM, became president and CEO of Self Regional Healthcare in Greenwood, South Carolina, in September. He previously was the hospital's vice president of medical affairs and chief medical officer.
2020
Fernando Bruno, MPH, started a Science & Technology Policy Fellowship from the American Association for the Advancement of Science in August. He is working at the National Institutes of Health's Center for Translation Research and Implementation Science, which integrates the National Heart, Lung and Blood Institute. His responsibilities include working on health and science policy and research to identify the best strategies for ensuring successful integration of evidence-based interventions within clinical and public health settings. During his fellowship, Bruno is taking a sabbatical from Touro College of Osteopathic Medicine–Middletown, where he is an associate professor in the Department of Anatomy.
From the Issue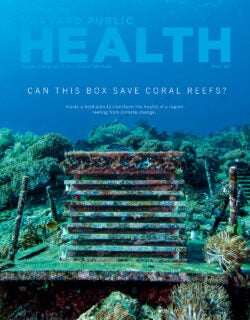 Winter 2022
Climate, changed